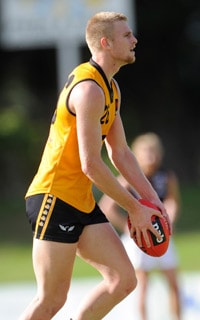 JONATHON Marsh wishes he wasn't tall.
The 191cm key-position forward starred for WA in round two of the NAB National Under-18 Championships, gathering 22 possessions and kicking four goals against the Northern Territory.
His performance has raised eyebrows from talent scouts around the country but Marsh is still coming to terms with his size and role.
"I'm still a bit disappointed I am tall," Marsh said. "I did want to be a midfielder.
"I've never played centre half-forward before so it's a big change."
The 17-year-old from Margaret River, three hours south of Perth, is the younger brother of Sydney Swan Harry Marsh - pick No.46 in the 2012 national draft.
After failing to gain selection in WA teams at under-15 and under-16 level Marsh was stung into action and worked hard to gain selection in the Margaret River league side in 2012.
He followed his older brother to the city to play colts with East Fremantle, which led to his selection in the WA under-18s side.
Now his performance against Northern Territory has thrown him into the national spotlight.
"I think this youngster is one that all of the clubs are having a look at in this championship," AFL national talent manager Kevin Sheehan said on
AFL.com.au's under-18 championships wrap Eyecatchers
.
"He has got brilliant speed. He's a lovely size at 191cm.
"But I think that X-factor, that speed makes him very hard to match up on."
It's an attribute Marsh agrees is his strongest.
"If I was slow I probably couldn't get the ball," Marsh said.
"I play small, a powerful thing for me against a big defender is that I can compete as a little man."
Marsh has learned a lot from his brother's experiences.
"He's taught me how full on it is and that you don't take it lightly," Marsh said. "If I'm lucky enough to get picked I'll burrow into that."
Marsh is already working hard on his endurance after getting lapped by his brother during running sessions at home over summer.
"When I came up here at East Fremantle I realised that endurance is a massive factor in this game so I went away during the pre-season and tried to do a bit with my brother," Marsh said.
"I tried to keep up with him, which I couldn't. But it was a good mark to set myself to try and get close to him."
He is also working hard with East Fremantle mentor Mark Foster on the intricacies of playing as a key forward.
"He's really helped me with my footy this year," Marsh said of Foster.
"I wanted to play midfield but he said 'no I'm going to send you down forward and I'll really help you'.
"I usually get to training an hour early and I do all of these drills on leading and running patterns.
"He puts a bag on his back and lets me take hangers on him so that's really good."