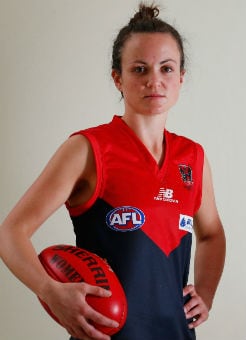 WITH THE draft done and the national championships completed, the best women footballers in the country will play in the inaugural AFL Women's Exhibition game on Saturday between Melbourne and the Western Bulldogs.
The curtain raiser is the centre-point of the League's Women's Round, and it could also be a glimpse of the future, where each AFL club has a women's representative side.
The 50 best players were picked at the first national women's draft last month, with Darebin's Daisy Pearce Melbourne's No.1 selection.
The Melbourne and Bulldogs players were mixed throughout the states competing at last week's 2013 National Women's Championships, and Pearce hopes Saturday's game will be a precursor to more clubs joining the initiative.
"It's very exciting, and a very exciting time for the AFL as well; [women's football] is one of the fastest growing aspects of the game so hopefully this is a platform for some other AFL clubs to get on board," she said on Monday.
"One day we might see a women's competition based on a similar structure to the AFL."
Pearce will captain Melbourne against Aasta O'Connor, who will play for the Bulldogs.
O'Connor supported Pearce's view more clubs should join the venture.
"[The next step] will need to be about getting another AFL team on board and supporting the idea. So we're putting the idea out there, we're certainly worth it and it's really good for women's football," she said.
The teams will play for the Hampson-Hardeman Cup, which recognises Barb Hampson and Lisa Hardeman, pioneers in developing the first women's championships in 1998. Victoria, Western Australia, South Australia and the ACT contested it.
This week the squads will gather in Melbourne, with the Demons players to train on Friday under the guidance of stand-in coach Neil Craig and co-captain Jack Grimes, who will be assistant coach for the side in Saturday night's encounter.
Injured Western Bulldogs forward Shaun Higgins will be assistant coach for the Bulldogs women's team.
"I'm looking forward to the experience," Grimes said.
"We've got a bit of training this week. I've met a few of the girls and got to know them. We'll catch up on Friday, when we have a training session together, so we'll see the girls put through their paces and get ready for the big game.
"I'm sure there's going to be a few nervous girls going into it."
Follow AFL website reporter Callum Twomey on twitter at @AFL_CalTwomey.