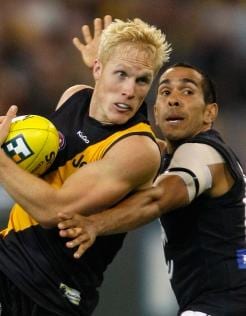 Whether it's Cyril Rioli, whether it's Eddie Betts or whoever, Damien [Hardwick] must take comfort knowing Stevie will fight for him and, more often than not, take out his opponent
Andrew Collins
IS THERE a better defensive small backman in the AFL than Richmond's Steven Morris?
Three-time Hawthorn premiership defender Andrew Collins doubts it.
Collins is well qualified to talk on the subject having been one of the tightest-checking small defenders of the late 1980s and 1990s. The Hawks regarded him so highly that in 1991 they gave him the No.5 jumper that had been 'retired' since club icon Peter Crimmins' death in 1976.
Collins was also Morris' coach at West Adelaide for 2008-11 and oversaw his transformation from a midfielder into a small defender via a brief stint as a defensive forward.
Having seen Morris' fierce competitive streak and unflagging discipline up close for so long, and having followed his career at Richmond closely, Collins can't think of a better defensive small defender in the AFL right now.
"Surely the primary role of a defender is to nullify your opponent," Collins told AFL.com.au.
"I imagine Damien (Hardwick) just sits back and thinks that with Steve Morris in his team the opposition's best small forward won't have an avenue to goal today.
"So whether it's Cyril Rioli, whether it's Eddie Betts or whoever, Damien must take comfort knowing Stevie will fight for him and, more often than not, take out his opponent."
Champion Data statistics support Collins' lofty rating of Morris. Out of a sample of 16 of the competition's best small/medium defenders, Morris ranks second this season for goals conceded a game, with 0.79.
Only Geelong's Corey Enright has been stingier (conceding 0.68 goals a game) but the Cats often send Cameron Guthrie to the opposition's most dangerous small forward, while trying to free up playmakers like Enright and Jimmy Bartel.
Enright is also often manned by defensive forwards more intent on limiting his influence than kicking goals.
St Kilda's Jarryn Geary (0.58 goals a game) and Western Bulldog Liam Picken (0.72 goals) have also conceded fewer goals than Morris, but they are among a group of small backmen who divide their time between defence and run-with roles in the midfield.
In the 19 games he has played this season – just his second in the AFL – Morris has kept his opponent goalless seven times. Those 'victims' have included elite goalsneaks such as Rioli (round 19), Betts (round 21), West Coast's Mark LeCras (round 10) and Geelong's Steven Motlop (round six).
Morris, 185cm, has conceded multiple goals just twice this year, both times against St Kilda, two in round two (Stephen Milne and Ahmed Saad one each) and three in round 14 (Trent Dennis-Lane two and Brodie Murdoch one).
When Morris missed his only game this season, through suspension in round six, Richmond lost to Fremantle by one point after Freo small forwards Hayden Ballantyne and Michael Walters kicked four and two goals respectively.
It's a season that should put the 24-year-old son of two-time Richmond premiership player Kevin Morris firmly in contention for All-Australian selection.
But, ironically, Morris' supreme defensive focus could count against him come selection time.
Keeping elite small forwards quiet is a demanding job and it's meant Morris' average possession count has dipped from almost 16 possessions a game in 2012 to 9.8 this year.
Traditionally, the All-Australian selectors have preferred more attacking defenders and Nick Malceski, Enright, Pearce Hanley, Andrew Walker and Adam Cooney all fit that bill this season.
It's also not uncommon for star midfielders to be squeezed into the team through unfamiliar roles across half-back.
But Collins says there is a place for old-fashioned, hard-checking defenders like Morris in the All-Australian team.
"The All-Australian selectors normally choose the full-back who has had the least goals scored against him and you should probably choose your first small defender with that same principle," Collins says.
"Most opposition teams have small forwards just as dangerous as their key forwards, so you should chose a negating defender as part of a balanced team.
"Stevie is so disciplined and adheres so closely to team instructions that he allows others the glory.
"He's such a selfless young man and plays with a very anti-social attitude. He uses legal, strong defensive tactics to stop his opponent and there are very few guys that can score against him."
SMALL/MEDIUM DEFENDERS 'REVERSE COLEMAN MEDAL'
| | | | |
| --- | --- | --- | --- |
| PLAYER | GAMES | GOALS CONCEDED | AVG |
| Corey Enright (Geel) | 19 | 13 | 0.68 |
| Steven Morris (Rich) | 19 | 15 | 0.79 |
| Cameron O'Shea (PA) | 20 | 17 | 0.85 |
| Heath Shaw (Coll) | 17 | 16 | 0.94 |
| Shaun Atley (NM) | 20 | 21 | 1.05 |
| Lynden Dunn (Melb) | 16 | 18 | 1.13 |
| Sam Butler (WC) | 13 | 15 | 1.15 |
| Brent Guerra (Haw) | 15 | 18 | 1.20 |
| Mark Baguley (Ess) | 19 | 24 | 1.26 |
| Nick Smith (Syd) | 20 | 26 | 1.30 |
| Cameron Guthrie (Geel) | 16 | 21 | 1.31 |
| Sean Dempster (StK) | 17 | 24 | 1.41 |
| Zach Tuohy (Carl) | 20 | 31 | 1.55 |
| Adam Kennedy (GWS) | 17 | 27 | 1.59 |
| Dean Terlich (Melb) | 18 | 34 | 1.89 |
| Alan Toovey (Coll) | 5 | 10 | 2.00 |
PLAYED SOME GAMES IN MIDFIELD
| | | | |
| --- | --- | --- | --- |
| PLAYER | GAMES | GOALS CONCEDED | AVG |
| Jarryn Geary (StK) | 19 | 11 | 0.58 |
| Liam Picken (WB) | 18 | 13 | 0.72 |
| Lee Spurr (Frem) | 19 | 16 | 0.84 |
| Rory Laird (Adel) | 16 | 14 | 0.88 |
| Greg Broughton (GC) | 16 | 15 | 0.94 |
Statistics courtesy of Champion Data