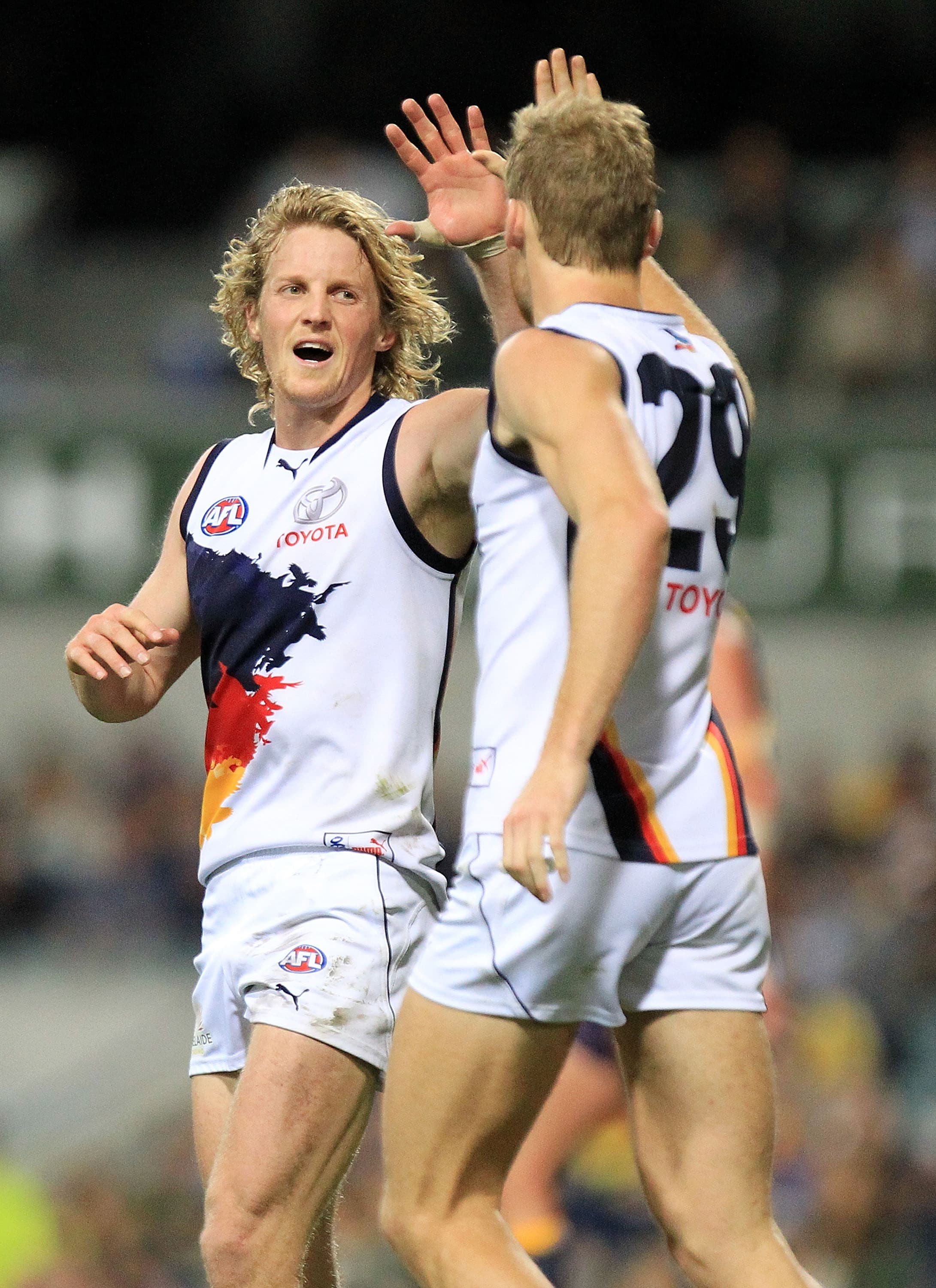 You want to help your team get to finals and that's purely my goal for next season
Rory Sloane
ADELAIDE crowd favourite Rory Sloane has won his first Malcolm Blight Medal as the Crow's best and fairest, the win capping a sensational personal season for the 23-year-old, averaging a career high 24 disposals a game.
Sloane finished just three votes ahead of 2010 winner Richard Douglas and 11 clear of Patrick Dangerfield and Daniel Talia.
He said that, while "humbling", the award would mean more had the Crows ventured deep into finals.
"It was a tough year for the club and you always want to help your teammates as much as you can and I'm glad I did that," Sloane said.
"I always thought 'Dougy' was going to win this for sure for the second time.
"I'm very humbled having the year I've had and receiving the gold jacket and Malcolm Blight Medal, but you want to help your team get to finals and that's purely my goal for next season."
He said the form shown by the club's youngest players, including Brad Crouch who has signed a contract extension keeping him at the club until at least the end of 2016, suggested the near future was bright.
"We definitely weren't ruthless enough and we weren't mentally strong enough to run out some games, but I think with a great pre-season ahead we can definitely train that.
"We've got a lot of good games into some key guys who are going to be very important for us.
"We're starting to develop a really, really strong midfield and I just want to be a part of that."
Skipper Nathan van Berlo finished the count in 16th place, amid external comment that Dangerfield ought to take the captaincy reins.
But the 2013 club champion insisted the best leader was already in place, describing van Berlo as the "perfect captain".
"[He'll] be captain next year…it's funny seeing what gets written in the media, but we know exactly what goes on within our four walls," he said.
"Nathan van Berlo's the perfect captain for us."
TOP 10:
1. Rory Sloane 71
2. Richard Douglas 68
3. Patrick Dangerfield 60
= Daniel Talia 60
5. Andy Otten 51
6. Luke Brown 47
7. Scott Thompson 45
8. Ben Rutten 41
9. Tom Lynch 40
10. Brad Crouch 39
Best Team Man: 
Richard Douglas
Chairman's Circle Emerging Talent: 
Brad Crouch
Chelsea Phillis Vice Presidents Club Coach's Award
: Andy Otten
Mark Bickley Award
(best first or second year player): Luke Brown
19th Man Award: 
Rory Sloane
Premiership Club Leading Goalkicker
: Tom Lynch
Brian Sando OAM Trophy (preparation and dedication to football): 
Daniel Talia
Twitter: @AFL_Harry