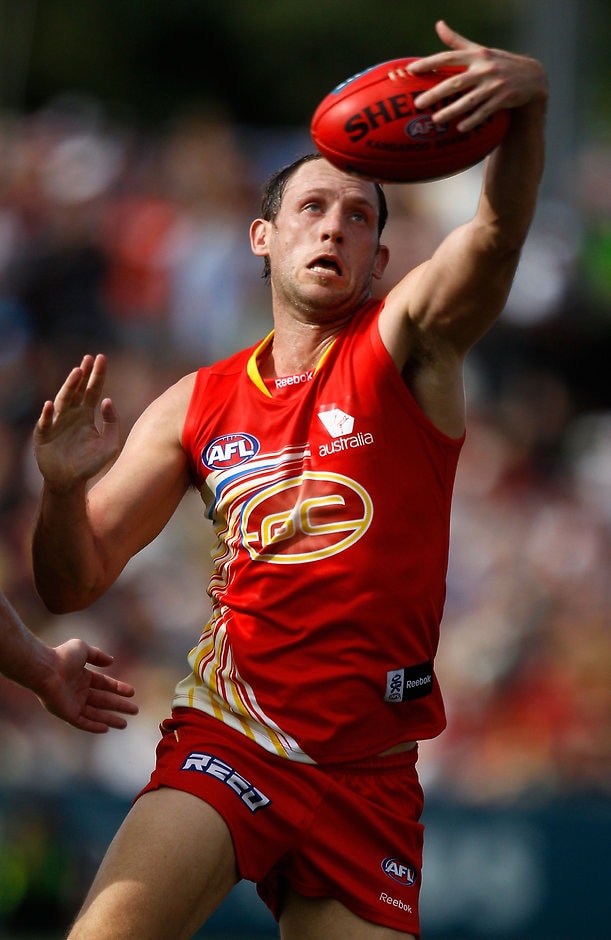 JOSH Fraser wants to join AFL coaching ranks.
The former Collingwood and Gold Coast ruckman says he would ideally land a dual role that encompassed both development and ruck coaching.
However, Fraser is willing to explore a range of options, including full-time and part-time positions in the AFL or state leagues around the country.
The 31-year-old has long harboured an ambition to coach, and has completed the Level Two Coaches' Course and the Next Coach Program.
Following his retirement as a player in 2012 after 218 AFL games, Fraser moved his young family back to Victoria.
He and wife Kylie have two children – Ted, four, and Emmy, 10 weeks – and some business interests, including a share in the family farm at Mansfield.
Fraser was also part of ABC radio's football commentary team this year and hopes to continue the role in some form.
He would prefer to remain in his home state but has spoken to some interstate clubs and hasn't ruled out relocating.
"I feel ready to grab hold of any coaching opportunity that comes my way," he told
AFL.com.au
.
"I planned a fair way out that I wanted to move into coaching role, and I targeted development (coaching). A small part of the reason I went to the Gold Coast (at the end of 2010) was to gain more knowledge and experience working with a younger group.
"I just want to go into the system the right way, as opposed to going in all guns blazing and getting spat out pretty quickly. I feel well equipped for it."
This year Fraser was a playing assistant coach at his junior club, the Mansfield Eagles in the Goulburn Valley League, and found it enlightening.
"It reaffirmed my passion and desire to get involved in coaching," he said.
"While it was initially a decision to step away from the elite level for 12 months and give something back to my old club, it ended up teaching me a fair bit about coaching, how to manage a group and so on. It was actually a pretty valuable experience."
Fraser has plans to coach long-term.
"Initially, I want to be the best development coach I can be, and then hopefully I'll move up the coaching ranks, maybe to a line-coaching position, and from there who knows?" he said.
"I also have some attraction to state league comps. The VFL is a really good standard of footy. Coaching my own side in that league wouldn't be out of the question down the track."
Fraser believes a prerequisite for development coaches is an understanding of how difficult it is to play the game. He says he boasts such empathy, given he confronted a raft of playing challenges, including injury and form issues.
The No. 1 pick in the 1999 AFL National Draft, Fraser was a strong performer in successive grand final losses to the Brisbane Lions in 2002-03.
"My career left me a bit unfulfilled in that I never played in a premiership, but I think that kind of drive helps with coaching," he said.
"It's probably easy for premiership players or guys who've had decorated careers to tell guys what they need to do, but I come from a different angle because I can say, 'I missed out on these opportunities because maybe I didn't do this enough, or I didn't work hard enough in this area.' They can learn from my mistakes.
"Over 13 years I've had a heap of different experiences and learnt a lot from them, along with the coaches and players I've worked with. And I want to pass that on. I'm ready to go."
Communication is also a key to developing youngsters, Fraser says.
"You need to identify the right time to give the direct feedback young blokes need, but also I think half the battle is trying to build their confidence and remind them what they do well," he said.
"The industry is good at telling them what they're not good at, but sometimes they need to be told what they are capable of and be encouraged to fulfill that potential."
Twitter: @AFL_BenCollins