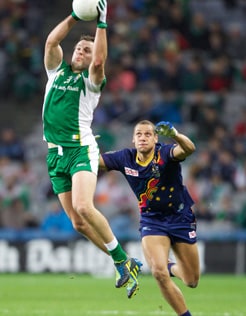 AUSTRALIA has suffered a record 79-point humiliation in a fiery second Test against Ireland at Croke Park, with the home team sealing an emphatic 2-0 International Rules Series victory.
Ireland kicked a record 116 points on Saturday night, beating the previous best of 100, scored by Australia in 2005 at Patersons Stadium.
Ireland's series win was also by a record combined margin across the two games of 101 points.
The Australians came out firing at the start of Saturday night's game after speaking all week about playing with more intensity following their 22-point loss in the first Test.
But their aggression was misguided with Aaron Davey conceding a free kick before the opening throw-up and a Mathew Stokes free kick 30 seconds later gifting Ireland's Lee Keegan the first over of the match.
Then at the 12-minute mark of the first quarter Thomas bumped Colm Boyle, with play stopped for several minutes as the Irishman was stretchered from the ground.
The North Melbourne forward's bump was late, but he was later cleared by the IRS Match Review Panel, which ruled he had not left the ground at the point of contact.
The home team's quest to retain the Cormac McAnnellen Perpetual Trophy was in never in doubt as they rode their mastery of the round ball to a 19-point lead at quarter time.
They stretched that to 37 points at half-time and 53 points at three-quarter time before putting an exclamation mark on their victory with an exhilarating last term.
The Irish have now won the past two series, with the Australians' last win coming in their previous tour of Ireland in 2010.
The Australian's defeat ended a disappointing tour and followed their aggregate 65-point loss in the previous 2011 series at home.
Apart from a 11-minute burst that started in the third quarter of the first Test, the Australians barely fired a shot in the series.
A return series in Australia has yet to be scheduled, but if one is it is almost certain the Australian team will be selected from the entire AFL rather than its indigenous ranks.
It was tough to find good players for the Aussies, but Steven Motlop and Eddie Betts at least fought hard.
Ireland's performance was simply superb, with its ball use a lot slicker than in the first Test at Breffni Park.
Captain Michael Murphy was imposing in attack for Ireland, while Conor McManus and Ciaran Sheehan nipped around at his heels, ready to pounce on any scraps.
IRELAND 2.4.3 3.10.5 4.15.9 6.22.14 (116)
AUSTRALIA 0.2.2 0.4.4 0.7.4 2.7.4 (37)
GOALS
Ireland: McManus 2, McCaffrey, Kilkenny, McBreaty, Begley
Australia: Betts, Neade
OVERS:
Ireland: Murphy 4, McManus 4, Sheehan 3, Keegan 3, Munnelly 2, McBrearty 1, McKaigue, Flynn, Kilkenny, Cavanagh, Shields,
Australia: Betts 2, Wellingham, Lew. Jetta, Al. Davey, Thomas, Hill
BEST
Ireland: Murphy, McManus, Sheehan, Tuohy Keegan, McBrearty, Munnelly,
Australia: Motlop, Betts, Lew. Jetta
INJURIES
Ireland: Nil
Australia: Nil
Reports: Nil
Umpires: Maurice Deegan (GAA), Matt Stevic (AFL)
Official crowd: 28,525 at Croke Park