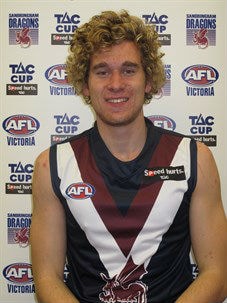 Athletically he's very good, he's quick and has run above 14 in the beep test
Dragons region manager Ryan O'Connor
HAWTHORN has father-son prospect Harry Dear on its radar, the son of Norm Smith medallist Paul.
The Sandringham Dragons key forward kicked three goals in the opening round of TAC Cup action on Sunday, as he continues his progress.  
Dear is eligible as a father-son selection at this year's NAB AFL Draft after his father played 123 games for the club between 1987-96, including the 1991 premiership win against West Coast when he was named best afield.  
The Hawks have met with Harry and his parents and will monitor his games through the season before making a call on whether they nominate him as a father-son pick.  
After two injury-interrupted seasons where he has struggled to play much football, Dear enters his draft year fit and healthy.  
Against the Eastern Ranges at the weekend at Visy Park he contested well on the lead, converted his shots at goal and was competitive when the ball hit the ground.  
"Athletically he's very good, he's quick and has run above 14 in the beep test," Dragons region manager Ryan O'Connor said.  
"He just hasn't played footy for a couple of seasons with some knee injuries and tight hamstrings that came with growing.  
"It's just been pleasing to see him come and make such a fist of it without the time on the track with the coaches."  
Dear has been added to the Vic Metro squad ahead of the NAB AFL Under-18 Championships following his promising pre-season form and round one showing, encouraging O'Connor.  
"He kicked three goals and probably should have ended up with five. I don't think at times our kicking to him helped, but I thought he presented pretty well," O'Connor said.  
"He got caught under the ball a little bit which I think is down to a lack of game play, but there's a lot of upside there."  
Dear is one of several father-son prospects for the Dragons this year, including Josh Clayton (son of Fitzroy's Scott) and Tyler Roos (son of Paul). Clayton and Roos are eligible as father-sons for the Brisbane Lions.  
Another strong Dragons' prospect, Brayden Maynard, has football bloodlines, with his father Peter a member of Glenelg's Hall of Fame in South Australia.  
O'Connor said the club's recent experience with James Stewart – who Collingwood decided not to nominate as a father-son and was eventually drafted by Greater Western Sydney in 2012 – had made it clear there was no guarantees for those in contention.  
"We've spoken to him about it. We've got a number of other father-sons on our list, and they've got to understand it comes with the territory," O'Connor said.  
"People are going to make something off it, and there's the ruling that the clubs can put their hand up if they're playing well enough, but they've got to get the job done."  
Twitter: @AFL_CalTwomey