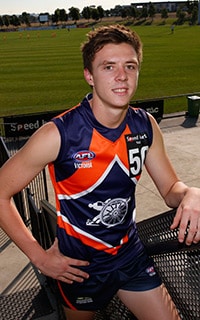 I miss just going up against him. I can't develop with him which is disappointing because he really helps me improve as well
Peter Wright, on Jake Lever
GRADUALLY things were getting easier for Jake Lever. After having his left knee reconstructed in December last year following a training mishap, Lever came to terms with the fact he would not play a game in his draft year.
The first month was busy with icing and resting, simultaneously, and as soon as he could walk without crutches he did; grabbing a footy and making sure it was in his hands as often as possible.
He got back into swimming, and then some work on the bike, and in three weeks is expected to start running again.
"At least I can see myself going somewhere now, whereas in the first month I was at a standstill," Lever told AFL.com.au.
"That's how I've got through in the three-and-a-bit months since it happened, just seeing my progress and being able to feel it's getting better".
That was until round one, two weeks ago, when his side the Calder Cannons played its first TAC Cup game of the year. Lever would have missed the game had he been fit anyway, thanks to a suspension from last year's preliminary final, but that didn't ease the churn in his stomach watching on. It dawned on him it would be his lot for the year.
"That's probably the toughest it's been. The practice matches were all right, but then when you see everyone at the ground, and the atmosphere, and the boys getting up and about before the game, it does hurt," he said.
"I'm trying to keep as involved as possible with the coaching side of things, and telling the guys what I can see happening on the ground. That's helped me, heaps. But it is hard."
Peter Wright was devastated when he heard Lever was out for 2014. Wright, his Cannons teammate, was with Lever at the Gold Coast with the AIS-AFL Academy when he hurt his knee, then only thought to be jarred.
So when Wright texted Lever after training one afternoon and the news came back, a few things raced through his mind.
"It was confirmed he was out for 12 months and I was so shattered for him because he had such a good year last year," Wright said.
"It's unfortunate for him, obviously, but also for us at Calder as he'll be sorely missed at centre-half back and we can't replace him.
"At training I see him on the side doing some handballs and I miss just going up against him. I can't develop with him which is disappointing because he really helps me improve as well."
Circumstances might have forced Wright and Lever to have different outlooks on their draft year, but both are among a handful of highly rated key position players at the top end of this year's pool.
At 203cm and 102kg, Wright is taller, and a long, straight kick. He plays mainly through centre-half forward, his favoured position, and likes to run and roam up the wings, taking marks and kicking goals. At the weekend, in Calder's second game, he booted five, four coming in the first term.  
Wherever he goes not many can keep up: at AIS-AFL Academy testing last November, Wright ran a 14.4 beep test.
Things have been restricted since then, with an irritated hamstring tendon holding him back over the pre-season. The 17-year-old was extra cautious, having dealt with back injuries over the past two years.
"I was pretty interrupted last year missing a whole pre-season, and it affected me while I was playing," he said. "I'm really keen to get out there, play every week back-to-back, try and find some form and see where that takes me," Wright said.
Along with every recruiter in the country, some of which think Wright is the best player available, Lever will be watching him closely. 
"Once he's up and going he's hard to stop," Lever said.
Peter Wright and Jake Lever are expected to be early draft picks this year. Picture: AFL Media
Lever will try to prove himself in other ways.
After a strong bottom-age year in 2013, including captaining Vic Metro in the under-18 championships, the 191cm prospect is confident he has shown enough in his footy to be judged, even though he sometimes catches himself wishing he could run out there, jump, spoil, crash into a pack and run off half-back like he has done so many times before.
"I think I can show recruiters my resilience and the dedication I have to rehab. They've said that's what they'll be watching now and that they've seen me play football, and what I can do. I think the rehab and my mindset is the thing they'll evaluate me on," he said.
"Before the injury happened, you always aim to play the best footy you can and obviously being talked as a potential high draft pick, that sort of got into your head a little bit. But as soon as the injury happened, I just focused on hopefully getting on an AFL list.
"As a lot of people say to me, a draft number is only a number once you get to an AFL club. There's not any consideration that goes into being a high or low pick, the perfect example being Eli Templeton St Kilda and making his debut in round one having been a rookie pick. Some of those stories sort of help you through."
He's set goals to get there. His doctors and physios tell him he's ahead of schedule but not to rush, and he won't.
But he wants to be right to test at October's NAB AFL Draft Combine, and a few weeks later, to compete in the Noosa triathlon, a task set for him by Cannons strength and conditioning coach Steve Forcone.
Lever, who finished school last year and now works part-time at a local school organising sports events as well as a day a week inside the Cannons' office, took on the challenge. "It's going to be pretty hard," he said.
The injury has meant other things. Having nearly been picked to go to the London Olympics as a boxer in 2012, Lever has continued to put on the gloves two or three nights a week.
He had an amateur fight lined up, before the knee happened. "That stopped that," he says.
Wright and Lever have always wanted to get to the AFL, and got a sense of what it might be like in January, when they spent a week at Essendon through the Academy.
They were both in the rehab group, but learned about how to maximise time, and effort. Wright thought he worked diligently by himself when he was recovering from injury, but understood how much more he could do.
"I was running with Cale Hooker one day and he pulled up a bit lame and went inside, and then smashed out a session on the grinder machine," he said.
They also got a chance to interview a player, in Wright's case former Calder Cannon Joe Daniher. 
"I asked him a couple of questions how he dealt with expectations and he said to enjoy it when it comes because you're doing something you love," Wright said.
On Friday, Wright will play for the AIS-AFL Academy at the MCG against Collingwood's VFL side in a curtain raiser to the Hawthorn and Fremantle match.
The next day, the Academy squad of 31 players will depart for a two-week tour of Europe, starting in London and ending in Varese, Italy.
Lever has already asked coach Brad Johnson about what he can do to help, while Wright is keen to make as big impression as possible.
"I remember playing at Etihad when I was a little kid playing Auskick and that was amazing. But the MCG, before the Grand Final rematch, I can't wait," Wright said. "It would be good to get out there and do well."