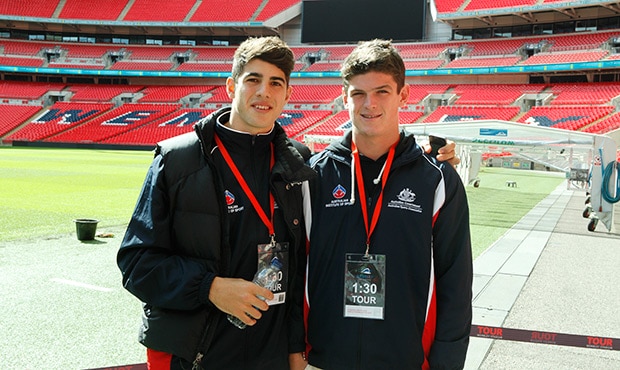 - WA hard-nut stars in London trial game
- AFL career no Stretch for Billy
- Art for art's sake
Sandringham Dragons midfielder Angus Brayshaw will be writing for AFL.com.au throughout the AIS-AFL Academy's two-week tour of Europe. This is the first update of his diary as the boys take off from Melbourne and head to London.
Brayshaw will also shine the spotlight on a teammate every day and highlight some funny moments on tour and some players who impress him throughout the trip.
Day 1, April 4 – Melbourne
I WOKE up with a few emotions as this afternoon we took on Collingwood's VFL side at the MCG.

I don't usually get too nervous before games but today was different. I was excited, ready to go and felt a bit ambitious as well. I wanted to take my chance and play well.
The nerves kicked in a bit before game time and it was eerie before the game in the rooms. Nobody really said much. It was obvious that everyone was feeling the same way.
Running out onto the MCG in the Australian jumper was incredible. Going out there for the first time and looking around at the stands was breathtaking. I've grown up going to the ground and to actually run out there, as a player, was strange but really good.
I wanted to play my role for the team and if I got some touches, I got them, but that wasn't my main focus. I was in the middle when the umpire held the ball up and the siren went, and I was thinking 'What am I doing here?' Thankfully a few touches early settled my nerves and I went from there.
To finish with 21 disposals and be awarded the MCC Chairman's Medal was surprising and satisfying. It was a great honour, but we lost, and that was disappointing. The Magpies out-muscled us, but it was a good lesson.
At one stage, the ball was thrown back into play in Collingwood's forward line and our ruckman wasn't there. I looked around and thought I had better have a go, but I was up against Quentin Lynch. Fair to say I didn't really get anywhere near it. I copped an elbow on the way through, and it was the easiest kick he got all day.
Although we were disappointed with the outcome, it's exciting to have the next two weeks in Europe to work on what went wrong, and what we can do better.
We stayed on after the game and watched the Fremantle and Hawthorn Grand Final rematch. As a Dockers supporter, we might just let that one slip.
I was born in Western Australia and followed Fremantle and still do, even though my dad Mark played with North Melbourne and is a board member there, and my uncle James is president of the Roos.
Obviously they're not overly thrilled I'm a Dockers fan!
Spotlight on: Daniel Capiron: Daniel's a really good player and he went down at one stage after getting a big bump to the shoulder. I went over to see if he was alright because he was in a bit of pain and, almost with tears in his eyes, he looked up and said: "Go on without me." For a moment I thought I was in Saving Private Ryan, but I was glad it wasn't anything too serious.
Day 2-3, April 5 – in transit from Melbourne to London
This was a long trip. I'd never been to Europe before – the furthest travel I'd done was South Africa – so getting through the 24-hour trip was hellish.
Economy seats aren't big enough for me, so I felt for a lot of the bigger blokes in our squad. I did catch a glimpse of Tadhg Kennelly in one of the exit row seats though, so Peter Wright (202cm) and Duom Dawam (201cm) were a little unlucky.
Flying from Melbourne, we departed near midnight and first stop was almost 14 hours later at Abu Dhabi. After that, and a short stopover, we were headed to London.
I tried to get in a bit of sleep, and managed about two hours. To kill the time a lot of the boys started playing poker against each other on the TV panels on the back of their seats. Ryan Lim and Lachie Weller probably took the chocolates.
By the time we arrived in London we were all stuffed. A quick feed was followed by a long sleep.
Spotlight on: Jake Lever Jake's injured at the moment but you wouldn't know it. Around the group, when we were getting a bit tired on the journey over, he was the one to keep the spirits up and encourage us to get through.
Watch: Callum Twomey and Michael Ablett preview the level two AIS-AFL Academy's European tour

Day 4, April 6 – London
We're staying in Wembley, but without many grounds available we are based this week at Harrow School, one of the most prestigious in the country and a short drive away.
After Friday we had a areas to focus on and this was a chance to get them right. We wanted to be composed, not fumble and tackle hard, so this training session, although light, gave us an opportunity to improve.
Among us were the European Legion, who trained with us. On Wednesday we'll play a game with mixed teams and on Saturday we'll play against them, so it was good to scout them out a bit.
After a pretty chilly training session it was good to get into the heated Harrow pool. This was a welcome change to the ice buckets we've been spending a lot of time in recently for recovery.
As well as the players being on tour, and some families, there are recruiters from 15 clubs. We've all met a lot of recruiters over the past few months through the AIS program, both formally and informally, but they come on tour to get to know us more.
Today after training we had a three-hour 'speed dating' session with the recruiters, in 10-minute blocks. I spoke with seven clubs, having already been interviewed by a few of them on Saturday morning.
A couple of the boys got some weird questions, but mine were all pretty straightforward. The recruiters aren't here to trick us or scare us and although some of the boys are a bit wary of what they do and say, we all understand why they are here.
Once you get past the fact they're making decisions on your future, they're pretty easy to get along with.
Spotlight on Bradley Walsh: 'Walshy' captained us on Friday and was named skipper for the tour so he's obviously a good leader. He set the tone at training with his tackling pressure and it seemed a few boys improved with him.
Day 5, April 7 – London
A busy day was started with a trip to Harrow, where we trained and hit the gym.
After training with the boys and spending more time together it's clear we've come closer as a group, and with every day we seem to be training better.
After the footy we had a fun afternoon and night, highlighted by a closer look at the biggest sport in England: soccer.
We are staying about 200 metres from Wembley Stadium, and we were lucky to get some insight into the place with a guided tour.

Although recently rebuilt, there's still so much history in there and the boys all loved getting into the dressing rooms and checking out where the likes of David Beckham, Lionel Messi and others had sat before games.
There were even three hairdryers in the changerooms, something we think our teammate Mac Bower might enjoy back home. We followed that tour with another, this time of Watford Football Club, a team in the Championship division over here.
Later that night we watched the Hornets play – and beat – Leeds United to a full home crowd. I can't call myself a massive soccer fan, apart from playing FIFA, but it was good to watch. The fact they won 3-0, including a ripper goal at our end, made things even better.
Spotlight on: Lachie Weller. I've never seen anyone 'chin-up' as much as him in the gym. Lachie obviously works really hard on his fitness and although he's not a big guy, in the gym he was a real standout in our group.
Day 6, April 8 – London
Clear skies greeted us as we readied ourselves for the first real hit-out of the tour. The 26 European Legion players joined us at our hotel and we were split into two groups, meaning we played with and against other Academy players.
I started on the forward flank, as I'm playing with a little bit of a sore hip, but rotated with Christian Petracca in the middle. My day didn't last as long as I would've liked though, after getting a stray boot in the head from Jaden McGrath.
I tackled him but as he was slipping away I fell down his legs and copped the back of his heel in my cheekbone. I spent the rest of the game sitting on the sidelines icing my face – something I haven't done before and don't really want to do again, especially in English weather.

Picture: Angus Brayshaw nurses his cheekbone next to team doctor Anik Shawdon

The tour so far has been pretty hectic with our days full on, so it was relaxing to spend most of the afternoon with free time. We did a bit of shopping at the complex around the corner, while some boys got stuck into some homework. Or just refreshed their Facebook feeds, because a bit of that goes on.
Spotlight on: Hugh Goddard. I kept trying to be front and centre for Hugh at marking contests, but he just kept grabbing them. Hugh's a good player to have as a teammate because he's a hard worker and a great leader.