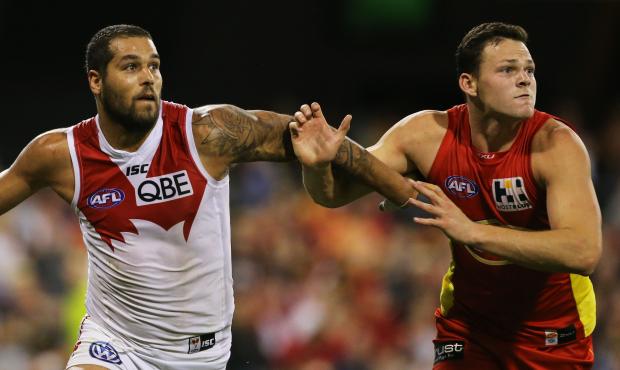 Knowing where I'm playing is a big difference this year
Gold Coast defender Steven May
KEEPING an in-form Lance Franklin quiet is no mean feat, but Gold Coast's Steven May did just that at Metricon Stadium on Sunday.
Pure numbers alone show Franklin kicked three goals – not a bad day's work – but the Suns' full-back easily had the better of their duel.
Franklin's first goal came from a mark against Trent McKenzie after a turnover and quick transition.
His second was a 'gimme' handpass from Kieren Jack in the goalsquare, while his third was a brilliant 50m effort from the boundary line.
He had 11 disposals and just that one mark – a far cry from the averages of 17 and seven over his previous five matches.
In almost every one-on-one battle, May either led Franklin to the ball or spoiled effectively to halve or win the contest.
Adding Franklin's name to his list of scalps is just another mark of the rapidly improving maturity of May, who is undoubtedly in the top handful of defenders in the competition this season.
While full of admiration for the pressure his midfielders applied to the Swans' forward delivery, May did plenty of homework himself.
"Rory (Thompson) played on Buddy last year, so when I had the job, he really got me prepared for it," May said.
It's something the 22-year-old probably would not have done last season – seek out a teammate for help.
"It's maturity, I think you'd say," he said.
"Maturity to know the coaches are going to back us in … so if you do get beaten, take some notes and find out how they beat you.
"Knowing where I'm playing is a big difference this year. Last year I was forward for a bit, back for a bit. By Wednesday I know who I'm playing on and you can put in and do your homework on them."
May has already had the better of Matthew Pavlich, Nick Riewoldt and Drew Petrie among others.
Although Adelaide's Taylor Walker kicked five goals last week, May was often switched to Josh Jenkins and only responsible for conceding a couple of those.
He said having his sidekick Thompson – who blanketed Kurt Tippett and kept him goal-less – back from a wrist injury was a huge confidence boost.
"Last week we had no pressure up the ground and Adelaide's forwards were able to do whatever they want.
"Whereas when there's pressure, it gives myself and Rory a chance to curtail their forwards.
"The bigger or better the forward is, the more nervous you get, but the more reward you get if you do beat them, and your teammates get a lift.
"You might not be getting possessions, but to get a big spoil or a big hit on someone … I just love watching my teammates run forward and kick goals from that."