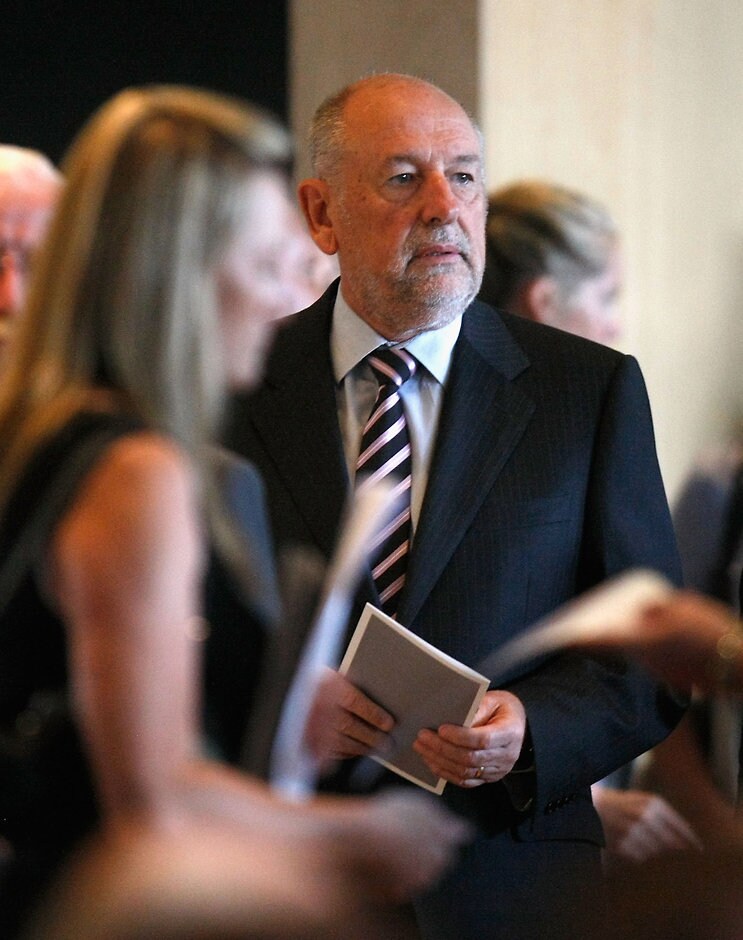 What we are doing is just screwing the middle class while the rich are able to get their affairs in order
Geelong president Colin Carter
GEELONG president Colin Carter has sparked a war of words with Collingwood and Hawthorn counterparts Eddie McGuire and Andrew Newbold over
the AFL's new equalisation policy
, saying it favoured the rich clubs and "screwed" the middle-class ones.
Carter told Fairfax Media the equalisation policy announced last month had been "hopelessly" compromised because McGuire and Newbold had successfully lobbied the AFL to water its measures down.
McGuire and Newbold quickly hit back, with the Collingwood president labelling Carter a "Hall of Fame hypocrite" and the Hawthorn boss describing his comments as "unstatesmanlike".
Save, then spend: League's new player payments scheme announced
The equalisation policy includes a luxury tax on football department spending that, in 2015, will see clubs taxed at 37.5 per cent on any spending above the projected industry average plus $500,000. The tax has been capped at $1 million.
A new revenue-sharing model has also been introduced, where AFL distributions to wealthy clubs will be reduced but only up to a cap of $500,000, with clubs able to retain all revenue they generate themselves.
"The tax has been hopelessly compromised because Eddie refused to pay it," Carter said.
"Eddie and Andrew started screaming about the game taking away their hard-earned and they succeeded in getting a deal which weakens the position of the middle clubs against the wealthy."
Carter said a decision to cap revenue from the Magpies, who boasted a $5.2 million profit last season, at $500,000 would hurt Geelong and the competition's other middle-tier clubs.
"The philosophy is wrong. What we are doing is just screwing the middle class while the rich are able to get their affairs in order, which is what happens in real life," Carter said.
"To take $300,000 from (Geelong) and $500,000 from Collingwood actually weakens our position against Collingwood."
McGuire said Carter, a former AFL commissioner who wrote a paper on equalisation, was hypocritical in complaining about equalisation now that he was in charge of a club.
"He wrote the manifesto on equalisation (when on the AFL Commission) and as soon as he has to put his hand in his pocket, suddenly he goes all cold on the idea," McGuire said on Triple M radio.
"He (complains that he has) to put his hand in his pocket for $300,000 after everything the AFL competition has done to help Geelong ... that is an insult to everybody else."
McGuire said the Cats had been able to significantly improve their financial position because the AFL, along with the Victorian and Federal governments, had helped fund the reconstruction of Simonds Stadium, creating "a revenue stream that will go on forever".
Newbold said Carter's comments about the equalisation policy were simplistic and unfair.
"It's the first year of this. We don't even know what the profits will be in 2014 and 2015. For him to come out and whinge at the beginning of year one is unstatesmanlike," Newbold said.
"You can't go from no tax at all to uncapped tax."
Newbold said Carter's comments were disrespectful to his Richmond counterpart Brendon Gale, who had represented the interests of the middle-tier clubs on the AFL's equalisation working party.
"Brendon was on the committee on a the trip to the US. I think Colin has been disrespectful of Brendon's role in this," Newbold said.
Twitter: @AFL_Nick