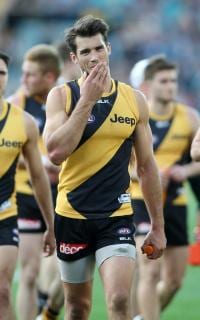 At the end of the day, the wind has got nothing to do with putting your head over the ball and not winning hard contests
Damien Hardwick
• Four burning questions ahead of the semi-finals
• Week two fixture and ticketing information
• After the siren: It's brothers at arms as the Scotts make finals history
• Make your September forecast with the 2014 finals predictor

TRENT Cotchin and Damien Hardwick have defended Richmond's decision to kick into a strong breeze in the first quarter of Sunday's 57-point loss to Port Adelaide.
And, they've found an unlikely ally in Power coach Ken Hinkley, who agreed Cotchin didn't make a "horrendous mistake" as it was simply a tough call.
The Tigers won the toss in Sunday's elimination final at Adelaide Oval and Cotchin signalled they would kick towards the ground's northern end.
The Power then booted eight goals to one to open up a 42-point lead by quarter-time and effectively put the result to bed. 
Cotchin's call was criticised by many commentators – and game great Jonathan Brown, who labelled it "captaincy 101" to kick with the wind when you win the toss – but the Tigers' skipper believed it didn't give away a significant advantage.



"I think if you looked up it looked like it was going the other way but it was pretty swirly out there so I didn't feel there was a tremendous advantage," Cotchin said.
"I think it was more about the way we played in the first quarter that resulted in their [eight] goals, which is nearly how much we've averaged against us for the whole game over the last three months."
Hardwick said they had dubbed the conditions as blustery at both ends and refused to contribute the decision to how the game panned out.
"At the end of the day, the wind has got nothing to do with putting your head over the ball and not winning hard contests," Hardwick said.
"You get your opportunity with the wind the next quarter - the reality is we just didn't play well enough from the start."
Hinkley, who naturally has more experience at Adelaide's new home of football than the Tigers, conceded the Power didn't know what they would have done had the toss gone in their favour.
"In the box we weren't sure …  it felt like the breeze was affecting both ends to be fair," Hinkley said.
"Travis [Boak] asked me two or three times 'which way are we going to kick?' and we weren't absolutely, 100 per cent sure ourselves.
"They looked bad at the end but … Trent Cotchin didn't make a horrendous mistake or anything, it was just a pretty tough decision to make." 
Captaincy 101. You should always kick with the wind when you win the toss.

— Jonathan Brown (@JBrown) September 7, 2014
Cotchin couldn't hide his frustration at the way the game slipped away from his team so easily in the first quarter.
But with players butchering the ball and failing to match the Power on the outside, the home side ran away to the game-breaking lead with little resistance.
"You get frustrated. You want to do something to change that," he said.
"The reality is one person is not going to make a big difference.
"We just had to go back to doing what we knew works best for us but unfortunately we couldn't sustain it for long enough periods in the game to turn the momentum back our way."
As for the Tigers' season, Cotchin said they would "head back to the drawing board" after falling in an elimination final for the second consecutive season.
While he conceded it was a "mighty effort" to recover from a 3-10 status midway through the year to win nine in a row and make the finals, the Tigers simply had to get better.
"It's going to be a tough summer. A bitter pill to swallow again but we'll learn from it," he said.  
"As we've spoken about all year it's just about driving those behaviours and standards that you can't afford to let slip at any stage whether that's just resting on your laurels.
"We just need to keep pushing forward and hopefully guys jump on board and we become a stronger and better side."