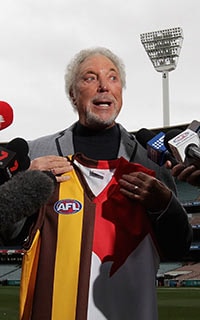 I know Aussie rules is a very old sport. They use 'Sherrin' balls and they have a few posts
Ed Sheeran comes to grips with footy
SIR TOM Jones and Ed Sheeran are ready to rock the MCG at Saturday's Grand Final, and both expressed their keen interest in watching the game live for the first time.
United Kingdom-born musicians Jones and Sheeran are the headline acts for this year's AFL Grand Final Entertainment, which also includes Olivia Newton-John performing the Australian national anthem and Mike Brady singing a reworked version of One Day in September.
Jones, 74, and Sheeran, 23, will perform three songs each before launching into a duet – the first time they will have collaborated together.
Both Jones, of Welsh background, and Englishman Sheeran have performed at Wembley Stadium in London, which has a capacity of 90,000, but they were amazed by the sheer size of the MCG when given the grand tour on Thursday.
"When you look around, it's a big one (the stadium). I know the game is so popular in Australia," Jones said.
"It's great to be a part of it.
"And it's the final. The only thing I would compare it to in America is the Super Bowl."
Sheeran has never seen a match of AFL and had never heard of the MCG before Thursday.
He is a soccer and cricket fan but said he was anticipating a good display on Saturday.
"I know Aussie rules is a very, very old sport. They use 'Sherrin' balls and they have a few posts," Sheeran said.
"I'm really looking forward to seeing the game. I love to see live sports and to come to an event that we don't have in my country, and to be able to experience it, is going to be good."
Jones was tight-lipped about which songs he will perform, although the music icon indicated hit-song Delilah was certainly on the cards.
Sheeran also didn't want to give too much away, although songs from his latest album 'x' (read as multiply) are sure to get a run.
Tom Jones and Ed Sheeran take to the MCG on Thursday. Picture: Getty Images


The pair will also perform at the Virgin Australia post-game concert, which is free for footy fans at the MCG after the game.

AFL CEO Gillon McLachlan said Jones and Sheeran were a perfect combination and indicated the League was expecting 30-40,000 fans to attend the post-game concert.

"We want to make that part of the ritual, that we have this extraordinary stadium opened up for our fans and we put on these amazing acts that we have this year," McLachlan said.

"It's a great initiative by the guys and hopefully we see a big crowd here."

Jones was presented with a half-and-half Hawthorn-Sydney Swans guernsey, while Sheeran had a special 'Sherrin' altered to reflect his surname.

Tom Jones and AFL CEO Gillon McLachlan share a word. Picture: Getty Images