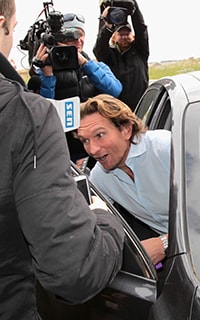 I am extremely sorry for the pain this saga has caused the players of the Essendon Football Club, their families, the Essendon Football Club staff, the Essendon Football Club supporters and the football industry as a whole
James Hird
• Follow the latest Essendon, trade and combine news
• Read the full statement from James Hird
• AFLPA urges ASADA to go ahead despite appeal

JAMES Hird remains as Essendon coach - at least for the meantime - after chairman Paul Little said on Thursday there was "nothing to announce" despite speculation that Hird had been removed from his post.

Little told media at the club's Tullamarine headquarters, "There has been a lot of speculation over the last 24 hours. There is nothing to announce."

He said the club's board would meet over the weekend or early next week to develop a strategy to deal with Hird's decision to launch an appeal in the Federal Court.
It was, Little said, "a strategy to determine a lot of things, but in particular James's decision to appeal the Federal Court case.
"I think the Essendon fans would rather have deliberation around this in a meaningful way rather than a knee-jerk reaction.
Little said the club would have preferred Hird not to pursue his legal action.
"He took the decision to do that and we're still talking to him about that decision."
Speculation about Hird's fate had grown since he
decided to pursue further legal action
against the Australian Sports Anti-Doping Authority despite Essendon's decision to withdraw from the case.
A Federal Court spokesman confirmed on Thursday morning that Hird's legal team had lodged a notice of appeal against Justice John Middleton's decision rejecting 
Essendon's and Hird's claim that the ASADA probe into the Bombers' 2012 supplements program was unlawful.
Hird is seeking to have the appeal process expedited, but has indicated he won't stand in the way of show-cause notices being reissued against 34 current and former Essendon players.
Hird's team wants the matter listed for oral argument before a Full Court 
in the week beginning Monday, October 27.
In a statement, Hird said: "
I have been advised and believe that there are strong reasons why [Justice Middleton's] decision is incorrect and that this is the proper and appropriate course to vindicate the legal rights of the EFC and its players.
"The challenge to the lawfulness of the joint investigation was and is an important step in showing that the Essendon Football Club, its players and staff were submitted to a compromised investigation and were treated unfairly," Hird said. 
"If we don't appeal, our players may be stained forever by the innuendo, misconceptions and falsities that resulted from an investigation that we believe was conducted unlawfully."
While Hird has indicated he won't stand in the way of ASADA reissuing its show-cause notices while the appeal proceeds, the anti-doping watchdog is yet to make a decision on what it will do next.
"At this stage, it is ASADA's intention to wait until the 21-day appeal period has expired before we determine what we do next," an ASADA spokesperson told AFL.com.au.
"We are in the process of seeking legal advice in relation to the issuance of amended notices in the light of a Federal Court appeal."
Mark Thompson
, who filled in as coach in 2014 as Hird served a 12-month suspension for his part in the supplements program, made it clear on Wednesday night that he wanted to remain in the role.
Thompson gave an impassioned address at the club's best-and-fairest award, which Hird did not attend despite returning to the club in late August after his ban ended.
He left on a planned holiday on Thursday morning.
A meeting was reportedly held on Wednesday in the office of club president Paul Little at which Hird reiterated to senior players Jobe Watson, Brendon Goddard and Heath Hocking that he was committed to continuing his legal action.
Club great Tim Watson told SEN radio on Thursday that the board had made it clear to Hird that he could not pursue further legal avenues and remain as coach.
Hird said in his statement: "
Throughout my playing career I vehemently opposed the use of performance enhancing drugs in sport. My stance as a coach has been and is exactly the same. 
"At no time in the 2012 season did I believe any Essendon player was exposed to any supplement or drug that fell outside the WADA, ASADA or AFL code. Two years since the end of that season I still do not believe any Essendon player took anything illegal. No one has shown me any evidence that would lead me to believe differently.
"I am extremely sorry for the pain this saga has caused the players of the Essendon Football Club, their families, the Essendon Football Club staff, the Essendon Football Club supporters and the football industry as a whole.
"The short-term, simple approach would be to acquiesce and plead guilty to ASADA even though the players, the club and myself do not believe we have breached the rules. 
"It would be a lie as would [be] pleading out of the proceedings when I, my lawyers and the Essendon Football Club lawyers firmly believe that the investigation was conducted unlawfully and an appeal will be successful."