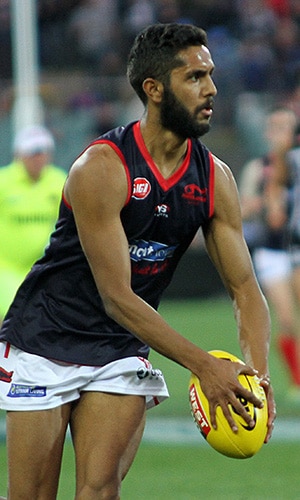 Willo was the speed that we just haven't got, we thought he was the quickest player outside of the AFL
Adelaide recruiting manager Hamish Ogilvie
•
Click here to check out your club's new arrivals on the NAB AFL Pre-Season and Rookie Draft tracker
ADELAIDE entered Wednesday's rookie draft with a need for speed and satisfied its desire by adding what it believes is the fastest player outside of the AFL in Anthony Wilson.
The 22-year-old wingman/half back crossed to Norwood this year from Port Adelaide and managed 16 League games, including the three-point Grand Final win.
Crows recruiting manager Hamish Ogilvie said that although Wilson is a raw prospect, the club couldn't risk leaving him available to other clubs in 2015.
"We just saw Anthony as elite speed and he's probably as quick as anyone outside of the AFL and maybe he's quicker than most in the AFL," Ogilvie said.
"We had a discussion last night; if we wait until this time next year Anthony Wilson will probably have dominated the SANFL, played state footy and everyone will be wanting to draft him.
"When we first saw him when he got to Port Magpies, he was just a skinny little kid with some speed and wasn't doing much at all.
"But he's had a great track of improvement … and we think that can still happen here."
The Crows also targeted more tall timber, drafting versatile pair Reilly O'Brien and Keenan Ramsey.
They compliment the acquisition of Jake Lever, Harry Dear and Mitch McGovern at last Thursday's NAB AFL Draft.
At 201cm, O'Brien is a ruckman at heart but with several quality ruck options at the Calder Cannons, including Gold Coast draftee Peter Wright, he played in defence for much of the 2014 season.
Ramsey is a 192cm defender who can also push forward and was even used through the midfield for South Australia at the NAB AFL Under-18 Championships.
Selection No.9 – Reilly O'Brien (Calder Cannons)
Recruiting manager Hamish Ogilvie says: "The needs to finish off our planning was another developing ruck and the bonus with Reilly is that he can play back – be played basically the whole year back. We like that but we've always thought of him as a ruckman. "
Selection No.27 – Keenan Ramsey (Port Adelaide Magpies)
Recruiting manager Hamish Ogilvie says: "His versatility is his strength because he's played lots of his junior footy as a forward, but we really liked his defensive stuff. He even went into the midfield for South Australia for al little burst."
Selection No. 44 – Anthony Wilson (Norwood)
Recruiting manager Hamish Ogilvie says: "'Willo' was the speed that we just haven't got, we thought he was the quickest player outside of the AFL. He might not quite be ready yet but we're going to back ourselves in to pick him now than let him go for another year."