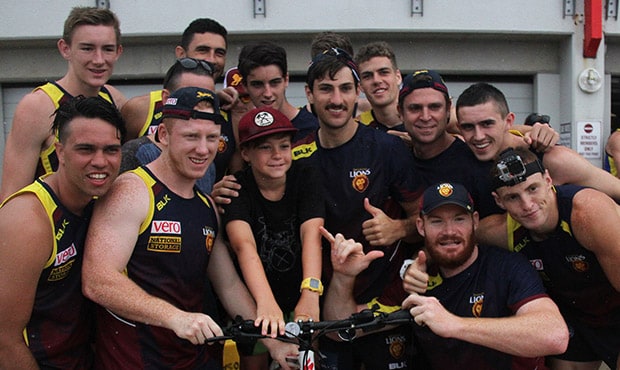 I know happy workers, whether that be staff or players, become motivated
Justin Leppitsch
PRE-SEASON camps are supposed to be about running hard, improving your skills and bedding down a gameplan.
Whether it's altitude training, training in the heat or simply going somewhere different for a change of scenery, most clubs are trying to find the five per cent advantage they think will make a difference come round one.
But for the Brisbane Lions, that difference isn't all about GPS data and hitting targets lace out from 50m.
For Justin Leppitsch and his team, the five-day camp in popular tourist destination Noosa, is a chance to add another layer to the culture he's spent the past 14 months trying to ingrain.
It's about making sure his players feel comfortable. It's about putting the family first.
Leppitsch took over from Michael Voss after the 2013 season just in time for five first round draft picks to walk out the door.
Something wasn't quite right and he had to fix whatever it was.
"Every coach that takes over an organisation has their thing they think will be the difference," Leppitsch said.
"Some think they'll be the fittest team in the world and that'll fix everything and others think 'we'll create a great leadership program' and that'll fix it.
"I'm one for integration and family.
"I know happy workers, whether that be staff or players, become motivated. If you're motivated you listen better, you have better output. That's the thing I push more than anything.
"When this club was going well, in my time, that's what we did well."
And it's been truly tested since Leppitsch's arrival.
Before last season he had to integrate 13 new faces into the team. And this year, it's the same again, with another 13 new faces.
That's more than half the list turned over in the past 12 months.
The Lions have taken a number of steps to ensure that transition for both players and their families is as smooth as possible.
The families of all new draftees (both national and rookie drafts) have been invited to Noosa for the camp.
They've had dinner with the coaching staff, and even taken a cruise down the Noosa River together.
The training side of things has been more about team-building than kicking footballs.
There's been a method behind Leppitsch's madness.
Since arriving on Wednesday, the playing group has been split into four 'teams' to complete a number of activities every day.
They've trained with Queensland's Special Emergency Response Team, played paintball, completed an 'Amazing Race' style challenge around the streets of Noosa, and on Saturday morning invited the locals to Main Beach to take part in a 'Beach Bash' obstacle course event.
Justin Leppitsch is encouraging his charges to be kings of the community
"We've got to be the best at the off-field stuff, because most of us are from interstate, so we've got to be better at those things," Leppitsch said.
The players have often had limited access to their phones, and while that was primarily so they couldn't cheat during the challenges, the restriction was also in place for another reason.
"It's really opened up conversation and it's been good to get to know the young boys and where they've come from and their stories as well," vice-captain Tom Rockliff said.
"They've fitted into the group really well.
"It's been good to have some one-on-one time at different stages, have a coffee and chat to them."
While Leppitsch said only time would tell how good his young team could be, he was confident they had one thing right.
"I think the most important thing is creating a happy environment for people to work, and then when we're out on the field, go hard, and do everything we say and do it properly."