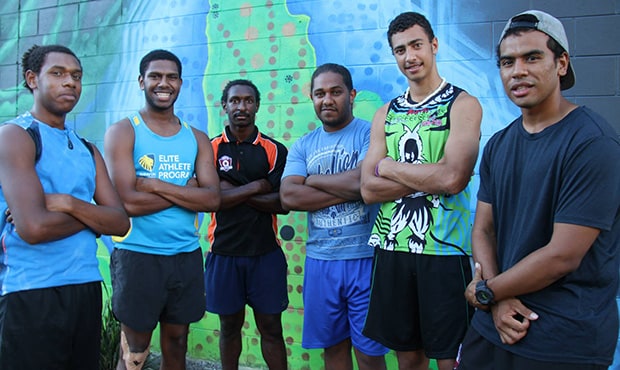 There is nothing operating like this program in the world
Rick Hanlon
FOR RICK Hanlon, Australian Rules ovals are fields of dreams.

Back when he was a gun midfielder running around for New Norfolk in Tasmania, Hanlon harboured aspirations of an elite playing career.

He played senior football in Tasmania as a 17-year-old and even signed a form four with Richmond in the early 1980s.

A VFL/AFL career never eventuated, but the game has always been important to him for other reasons.

During his turbulent upbringing, the footy field was the place where he learnt the life skills and coping mechanisms to deal with issues away from football.

Now, in his present role working for AFL Cape York, the sport is his vehicle to enhance and enrich the lives of indigenous boys under his watch.

Since 1998, when his footy career ended and he relocated to far north Queensland, Hanlon has been charged with developing the game in the region and taking the sport to remote communities, some of which had never seen a football before.

It was during these frequent trips to the Cape that he was struck with the idea for Cape York House – a 48-bed boarding house for indigenous boys to complete their secondary education in Cairns.

"We had been building the football program up over a couple of years, developing Auskick programs and identifying kids to come to carnivals," Hanlon tells AFL.com.au.

"It was about that time I was seeing a lot of stuff around kids' health, welfare, poor education and opportunities.

"That was where the seed was planted."
Stunning artwork and plenty of hard work set the tone at Cape York House. (Image: supplied)
Hanlon, a 51-year-old father of four, says there is nothing quite like Cape York House anywhere else in the world.
Students board at the house, but attend to their studies at seven different partner schools.

Football brings them together, with the Cape York House Eagles' under-15s and 17s teams playing in Grand Finals in their inaugural seasons this year (the under-15s won the premiership).

But sport is just one ingredient in the recipe for success.

The house is built next to a former rugby field, since converted for Australian Rules, and philosophically stands on three pillars – careers and transition, education and welfare.

"What we're doing is changing attitudes around education about being involved in something where you feel a part of it," Hanlon says.

"A lot of our kids don't necessarily understand what success is because a lot of the kids come to us really behind the eight-ball in terms of education. So they struggle in a learning setting.

"So for them to be able to represent something they feel they're a part of, and be successful on the footy field is a massive, massive shift for them."
Cape York House is Hanlon's labour of love, although he is quick to acknowledge the many people who helped him bring the idea to fruition.

They include Jenny Macklin, the former federal minister for indigenous affairs, AFL commissioner Sam Mostyn, Cape York House manager Richard Stewart and education manager Rachel Elphick.

And without "great relationships" with the Department of Housing and Public Works and Sport and Recreation in Queensland the project would never have got off the ground, with the funding coming from the National Indigenous Partnership Agreement.

The residence opened in January 2013 after Hanlon spent nearly a decade battling the local council for access to the disused rugby ground.

The students lead structured lives, with homework to be completed each night, early wake-up calls for exercise before school, chores - such as mowing the lawn, laundry and washing the vehicles – and recreation activities on the weekends.
Cape York students Fitzroy Greenwool, Tyreses Wallace and Michael Zingle. (Image: supplied)

Several times a week, Hanlon coaches football and mentors his charges in life, feeling that he can relate to some of their issues.

Some are dealing with similar problems that Hanlon faced, or worse. Eight of his "crew" lost a parent before they turned eight years old.

"I understand what it's like to have domestic violence, I understand what alcohol and gambling can do," Hanlon says.

"Not all of our kids suffer with these issues either. We've got kids who have got great family lives, but then we've got other kids that struggle.

"If you really struggle to learn, you don't know humiliating that is.

"My mum was out working so we could have power in the house because it was difficult for us growing up.

"So I never had a mum reading with me and doing things with me and my three sisters.

"I'm just drawing on a lot of that stuff to work with our boys and say 'It's OK, I get it. I understand how tough it is sometimes to learn', because my comprehension and maths…I was hopeless.

"But I know the importance of an outlet, which for me was a 160m footy field at New Norfolk in Tasmania.

"A football field can be a field of dreams for many things, not just footy."

Despite being open for less than two years, Cape York House has already produced many success stories.

Three students have found employment and five more are studying diverse subjects at university - engineering, sports management, psychology, physiotherapy and teaching.

"It's not Mickey Mouse stuff," Hanlon says.

"They are pretty good outcomes. And the key factor to all that is the health and wellbeing of the kids…it's really inspiring."

There are also encouraging signs individually on the football field, with under-17s captain Glendon Woosup, who is studying sports management at Bond University, a bottom-age player in Gold Coast's under-18 academy.

"He's a very intelligent player," Hanlon says.

"He's got to learn a bit about work ethic but he's astute, skilful and he's got an opportunity.

"I think the number one thing you need to play AFL football is desire. Desire for the contest, desire for the hard training, and that's the aspect I think as he gets better in he will give himself an opportunity – certainly a rookie opportunity in the future.

"He's the standout (from CYH), but I reckon we've got other kids here that are just as talented but they just haven't had the opportunity yet."

Another student, Anthony Nicholls, hopes to enter the AFL system as a physiotherapist.

Nicholls is a previous recipient of the Peggy Hunter scholarship of $60,000, which has also been awarded to another student from Cape York House, Suma Nona, who is studying psychology at Sydney University.

It's an incredibly promising start for the residence and there are plans in motion to expand.

Incorporating a girls program and building a multi-purpose indoor centre are on the agenda.

Employing a welfare officer is another priority.

"Our boys could be so much more successful if they had the skills at unpacking the hurt that some of them have. Some of the issue they drag around with them every day," says Hanlon.
"That's our third pillar that we haven't been able to get the funding for and fix."

Cape York House relies on funding and is hamstrung by the fact its students study off-site, which exempts them from receiving the under-16 boarding subsidy.

But Hanlon says conversations with the Federal Government and the AFL continue to be positive.

"The AFL should be really, really proud that this is happening under their watch," he says.

"There is nothing operating like this program in the world…with this combination of life skills, education and sports focus.

"There might be similar programs, but nothing operates like we do and it's got the AFL badge on it.

"We've still got people that don't get it and don't understand it yet – and that's OK we can build awareness.

"But there's still people that always say 'Why are we doing it?'.

"My answer to that is 'Why shouldn't we?'. We want multicultural Australians to turn a TV on, to watch a game, to go and buy a hat, to be a member. Why then can't we give stuff back?

"I think it's a part of our corporate responsibility and we talk about the game being for the people, why can't we provide these sort of social responsibility programs if they're making a difference?"