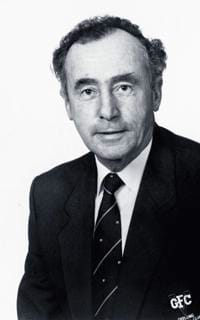 ONE OF the Geelong Football Club's greatest servants, Ron Hovey, has passed away, aged 82.

A former captain, committee member and president, Hovey gave more than 50 years' service to the Cats.
Recruited from Shepparton, Hovey made his debut in a 52-point loss to Collingwood in round three, 1951 at Victoria Park.
But the Cats won the premiership that year and in 1952, with Hovey playing in both triumphs over Essendon and Collingwood respectively.
He was elevated to the captaincy in 1960, but retired just five games into the season due to an ongoing knee injury.
Hovey immediately turned his attention to administration, serving on Geelong's committee and various sub-committees.
In 1988, he took over the presidency and held the position for a decade before he handed over the reins to Frank Costa.
Hovey was a life member of the Geelong Football Club, the social club, the past players, the Pivots – Geelong's longest-standing football corporate group - and the AFL.