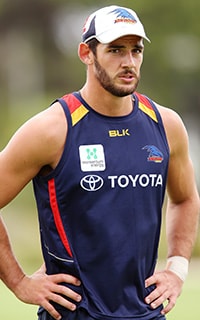 [Sloane and Dangerfield are] important leaders of this footy club, like the other 43 guys we've got sitting in the room – that's where it leaves them
Crows coach Phil Walsh
ADELAIDE has named Taylor Walker as its new captain, ahead of out-of-contract pair Rory Sloane and Patrick Dangerfield.
The gun midfielders stepped in as acting co-captains in 2014, while then-skipper Nathan van Berlo recovered from a ruptured Achilles tendon.
The duo were fancied to take on the full-time role this season, but were overlooked for the top job by coach Phil Walsh.
Walsh hinted his decision to appoint Walker as captain was met by robust discussion but insisted Sloane and Dangerfield remained key leaders at West Lakes.
"[Sloane and Dangerfield are] important leaders of this footy club, like the other 43 guys we've got sitting in the room – that's where it leaves them," he said.
"They had their say, they understand where I came from; at this footy club we don't walk around feeling sorry for ourselves.
"We say what we have to say … and then we get on with being a great football club."
Walsh said the full forward's influence over his peers and his natural competitiveness made him the standout candidate for the role.
After being named Crows coach in October, Walsh said it quickly became apparent Walker was the right man to captain the club.
"Since my first conversation with Taylor until (today) … he's all about making the team better," he said.
"Early days I identified that he had a great influence around the group – you could see that straight away.
"When I came back after Christmas … Taylor's attributes shone even further."
As a Crows fan growing up in Broken Hill and idolising club legend Tony Modra, Walker said it was a dream come true to lead the side.
He's also regarded as one of Adelaide's most popular characters and insisted the responsibility of the captaincy wouldn't see him change his demeanour.
"I'm excited and honoured … I've got 45 great mates sitting over here and I think we're heading in the right direction," he said.
"At the end of the day I'm not going to change Taylor Walker but I'm looking forward to the challenges and bumps that will come along."
Patrick Dangerfield looks on as Taylor Walker is named Adelaide captain (Picture: Getty Images)
The 24-year-old said he had learned a lot from his predecessors in van Berlo and Simon Goodwin and would continue to do so.
Van Berlo, who has skippered Adelaide for the past four years, will remain in the club's leadership group and said he remained committed to supporting the new captain.