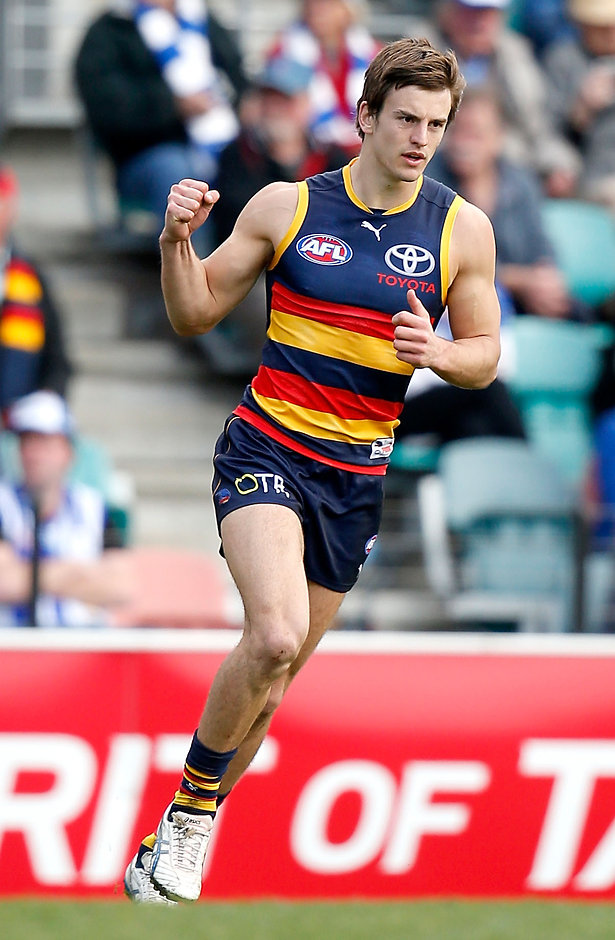 It felt a bit like a mozzie bite, so I didn't think much of it but it just kept getting worse
Jarryd Lyons
ADELAIDE midfielder Jarryd Lyons still doesn't know exactly what bit him last November but he's happy to be back training after spending eight days in hospital before Christmas.
Just a few weeks into the club's pre-season Lyons was asleep when he was bitten by what he said felt like a mosquito.
Club and hospital doctors said his symptoms that followed were consistent with the bite of a white-tailed spider.
His right leg became swollen and sore, forcing him to sit out training on a Friday.
But the swelling refused to settle down and on the Monday, shortly after his ankle had nearly doubled in size, he was admitted to hospital.
"From what I can gather, I think I was bitten when I was home in bed asleep on the Wednesday night," Lyons told the club's website.
"I can't be 100 per cent sure because I didn't see it. It felt a bit like a mozzie bite, so I didn't think much of it but it just kept getting worse.
"On Thursday, my calf started to get sore and swollen, so I didn't train on the Friday.
"On Sunday, my leg had gotten even bigger and all my lymph nodes were blown up.
"By Monday afternoon, I was in the emergency department."
The 22-year-old was on antibiotics in hospital for just over a week because the bite had become infected, causing it to open up rather than heal.
He spent another few weeks recovering after being discharged from hospital and after working harder than most during the Christmas break Lyons is now returning to full fitness.
"It certainly wasn't the ideal start to pre-season when I'd come in fit and firing," he said.
"Fortunately, it's behind me now and I haven't had any lasting effects.
"I'm probably fortunate that we have an extra two or three weeks this pre-season compared to previous years. I've got plenty of time to catch up and get enough work in."
Lyons drew significant interest from rival clubs during last year's AFL Trade Period but re-signed with the Crows for two years.
In August last year he told AFL.com.au he was keen to remain at West Lakes but wanted more opportunities at senior level.
He'll get his chance to showcase his talent in Adelaide's NAB Challenge campaign, which kicks off in Port Lincoln against North Melbourne on March 1.
"With a new coach, everyone starts on a level playing field," he said.
"The guys are burning up the track, so it's going to be hard to get a spot but I'm just looking to play regular footy and contribute to the team."