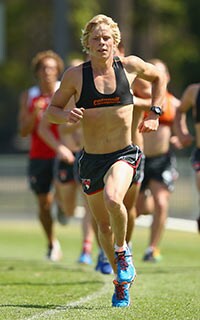 In his soccer he scored 68 goals in 12 games, when they were really young. But then he picked up a cricket bat and played an age above himself in division one up here in Newcastle and his batting average was 216
Adam Heeney on his son Isaac
ISAAC Heeney's mother feels "blessed" her son was part of the Sydney Swans' controversial academy, and his dad says there is no way the gun midfielder would be playing AFL otherwise.
Amid the maelstrom of debate that has engulfed their son, Adam and Rochelle Heeney say they have nothing but praise for the Swans, who have trained Isaac since he joined the academy as a 12-year-old.
"They've been fantastic," Rochelle told AFL.com.au.
"They've never wanted thanks; they've just been really supportive of Isaac and us.
"They took him to Sydney to finish his schooling. It's made the transition to the Swans after the draft just like a little step in.
"He knows all the blokes, so it's just been easier for him."
Living in Newcastle, in the eye of the storm surrounding the academies, the Heeneys have been bewildered that their son has become the face of the debate – led by outspoken Collingwood president Eddie McGuire.
"It hurts and I know it wasn't Isaac that they are having a go at, it's just the academy system, but his face was put to it all the time – and it still is," Rochelle said.
Adam said he's seen enough of his son at the forefront of the bickering to last a lifetime.
"It's hard seeing your son's name there," he said. "You just think 'Leave him alone, he just wants to play footy now'."
The simmering academy dispute was whipped into a frenzy when Heeney became the steal of last year's NAB AFL Draft.
The 184cm on-baller was rated a top-three talent, and Melbourne tabled pick two for him, but the Swans matched the bid with its first selection, No.18.
The bidding system for NSW and Queensland clubs' academy players and all father-son prospects has come under scrutiny since, with the AFL proposing a new points-based process for clubs to consider.
Throughout the entire debate Adam has always held himself back from getting involved, despite his growing frustration.
He unequivocally believes Isaac wouldn't be playing Australian football without the Swans' academy.
Instead he's certain his son would have been lured by rugby league, union, soccer or cricket, "because that's what is here in Newcastle".
"Isaac's a little bit different, everything he touched he did really well at," Adam said.
"In his soccer he scored 68 goals in 12 games, when they were really young. But then he picked up a cricket bat and played an age above himself in division one up here in Newcastle and his batting average was 216.
"He also played rugby league for the school in a couple of carnivals and they went to Sydney and won some tournament down there with the school and he scored five tries in the final.
"When I say he wouldn't be playing Aussie rules if it wasn't for the academy, he might have been playing another sport."
That sporting talent runs deep in the family. Adam played first-grade rugby league in Tamworth, while Rochelle competed in athletics and at a national level in swimming.
But Rochelle admitted they both used to deride AFL before their sons – including their eldest Beau - started training with the academy.
Now they enjoy chatting football, especially when academy general manager, former Swans captain Dennis Carroll, regularly rings up to let them know how Isaac's going.
"They're brilliant. They're very accessible for parents and Isaac anytime of the day and night," Rochelle said.
"Nobody's telling me to say this. If I did have something bad to say I would say it.
"I feel blessed that Isaac's with them. We're not AFL people, well we are now, we're big converts.
"It was a sharp learning curve, but hey, league and union – we don't even have it on our television anymore.
"We've even got Foxtel now so that we can see every AFL game."
The Heeney family – all 80 of them living in Newcastle and others in Tamworth – can't wait to watch Isaac play live in the same No.5 guernsey he's worn since under-10s.
It's something most of them couldn't do if Heeney had been drafted to a traditional football state.
"A few of them were backwards and forwards when he was playing Swans reserves," Rochelle said.
"But nothing will be like the day, if or when, he actually makes the first-grade team – that would just be amazing."