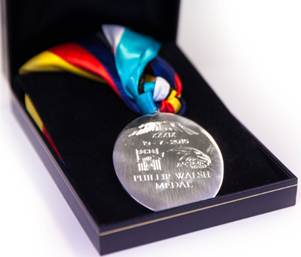 Showdown 39 looms as another incredibly significant opportunity for both of our clubs to almost send our final salute to Phil and his contribution to our great game
Port Adelaide CEO Keith Thomas
IN WHAT Port Adelaide CEO Keith Thomas described as "a final salute" to the late Phil Walsh, Sunday's Showdown Medal will be re-named in Walsh's honour.
The Phillip Walsh Medal will only be awarded to the player judged best afield in Showdown 39, although a more permanent tribute is still being considered.
Walsh was senior coach of the Crows when he died on July 3 and spent more than a decade at the Power, playing a crucial part in securing the 2004 premiership before returning to the club in 2014.
He was remembered on Wednesday at a memorial service at Adelaide Oval that was attended by about 1000 family, friends and mourners from around the AFL.
On Thursday Thomas and his Adelaide counterpart Andrew Fagan gathered at the southern end of Adelaide Oval to unveil the silver medallion, which features the emblems of both clubs above Walsh's name.
"Showdown 39 looms as another incredibly significant opportunity for both of our clubs to almost send our final salute to Phil and his contribution to our great game.
"At this stage it's for this game only - we feel we need to consider this aspect a little bit more at the end of the season as the emotion of Phil's passing [fades].
"But to capture this moment, the significance of this moment, the Phil Walsh Medal for this game only is really significant and special."
Both sides will run through a joint banner before the game and no theme song will play at the match's end for the victor.
Instead the two sides will come together for a minute's applause.
Fagan said the idea was not only to show appreciation for Walsh's life and his contribution to football, but to thank the crowd and wider community for their love and support through the darkest of times.
"It's a good opportunity for the two teams and the two clubs to say thank you to the supporter base and to the football community for what they've done over the last couple of weeks," Fagan said.
"It's a two-way applause – one to celebrate Phil's life but also to say thank you for the support we've received."