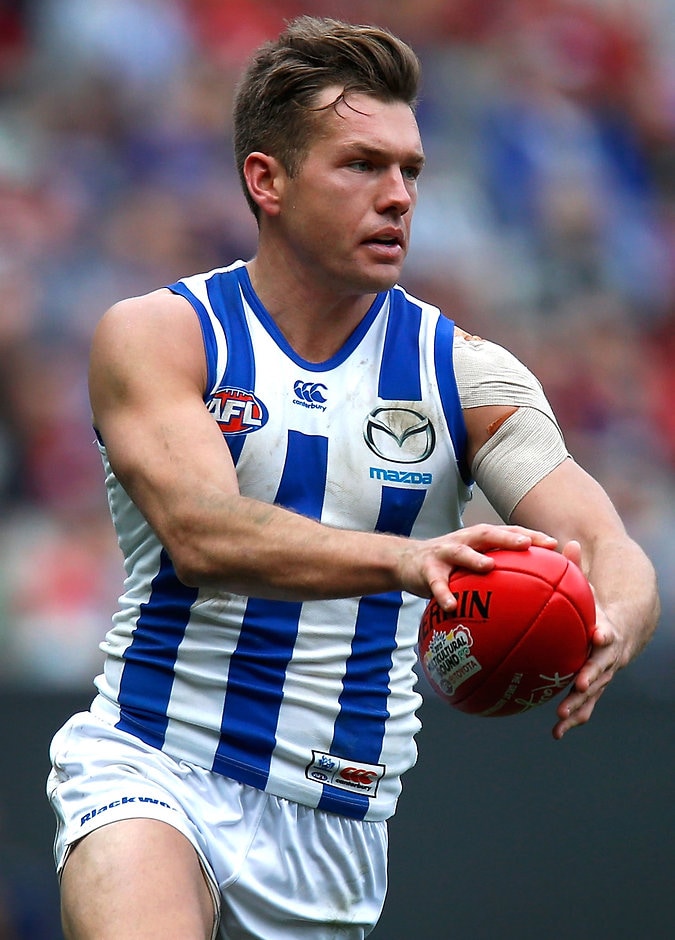 If it was early in the year it might be a slightly different story, but I've settled in now
Shaun Higgins
SHAUN Higgins concedes it will be "a little bit weird" running out to face his former club the Western Bulldogs for the first time in his 150th game on Saturday.
Higgins crossed to North as a restricted free agent last October after playing 129 games in nine seasons at the Whitten Oval.
Higgins told reporters on Tuesday he had caught up with some former Bulldogs teammates – Dogs assistant coach Daniel Giansiracusa and "a couple of the younger boys" – a few weeks ago and Saturday's looming clash at Etihad Stadium came up in conversation.
But the forward/midfielder said he had "no idea" who the Bulldogs would play on him, but expected some sledging from Bulldogs supporters in the crowd – "that's part and parcel of moving clubs," he said.
The 27-year-old said his mates at the Whitten Oval had yet to make contact this week, but noted there were still four days to go until the game.
"(There will be) a little bit (of emotion), but I think it makes it easier that we're 22 weeks in," Higgins said.
"If it was early in the year it might be a slightly different story, but I've settled in now.
"It might be a little bit weird early on … (but) it will be good, I'm looking forward to it."
However, Higgins' focus is not on his milestone game or the 'reunion' with his former teammates, but rather on what is an important game for North as it eyes a second consecutive finals berth.
The Roos sit seventh on the ladder, just percentage behind their opponents in the last two rounds, Richmond (fifth) and the Bulldogs (sixth), and a game behind the fourth-placed Sydney Swans.
Although it might be too big an ask for North to leapfrog the Swans, it will book a home final if it wins its final two home and away games.
Higgins had a "quick chat" to North coach Brad Scott on Tuesday morning about what the Roos could expect from the Bulldogs this round.
But given the Dogs have adopted a far more attacking game-plan under first-year coach Luke Beveridge since his departure, the forward said he would only be able to help with a few insights on certain players.
"From the aspect of the team and the way they're playing, we've all seen it's a totally different look," Higgins said.
"They're playing really good football. They're defending well, they're winning the ball well, they're moving it as good as anyone.
"So we'll be up against it this week."
Higgins has enjoyed an outstanding first season with North, playing every game to date and kicking 33 goals, second only to spearhead Drew Petrie.
After being plagued by injury early in his career, Higgins has finally enjoyed a sustained run of fitness in the past two years.
Asked what he put his recent good health down to, Higgins said "a little bit of everything".
"(Having a full) pre-season obviously helps, a new environment helps, the program here has been fantastic," he said.
"I've probably been building towards this for a couple of years.
"It's not one thing that jumps out, but a lot of things have gone to plan."