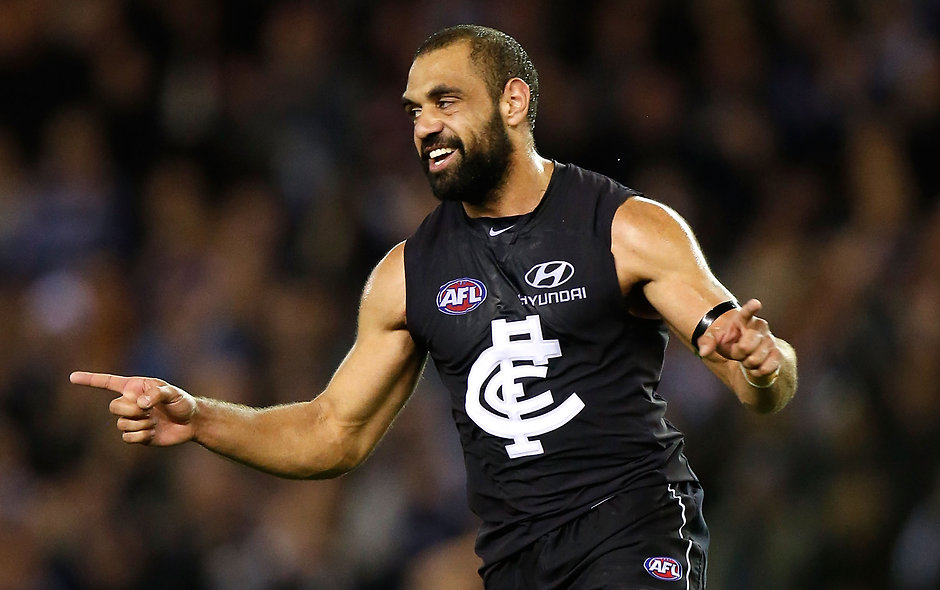 • Think you remember last year's NAB AFL Trade Period? Take the quiz
Patrick Dangerfield would be a free agent in October, the Crows wouldn't be in a position to trade him – unlike last year when Melbourne offered the second and third picks at the 2014 NAB AFL Draft for the superstar. Tom Lynch is Adelaide's biggest trade concern as the workhorse forward's contract negotiations draw out. It's understood Lynch has been offered a two-year deal by the Crows but wants more security and, given his form in 2015, it appears a reasonable request. The 24-year-old is leading the competition for goal assists and his work high in Adelaide's forward line as a link between the attack and the midfield/defence is crucial. Melbourne have been strongly linked to the Victorian, but his departure would hurt the Crows. The club needs outside speed and finesse through the midfield as well as increased key defensive depth.
Dream trade: Harley Bennell. Getting the talented Sun for Sam Kerridge and Adelaide's first draft pick (likely No.10-14) would be ideal. Bennell comes with baggage, but delivers the outside silk the Crows want. Kerridge is a strong-bodied midfielder who can cause trouble as a forward and would help offset the loss of Bennell. - Harry Thring


Twelve months after securing Dayne Beams and Allen Christensen during the trade period, it looks like being another active off-season for the Lions. James Aish will almost certainly leave, and appears bound for either Collingwood or Carlton. Blue Tom Bell has been linked to a return to his home state and might make a nice swap if Aish ends up there. If he goes to the Magpies, the Lions should be satisfied with a high draft pick they could then use to lock up academy products Ben Keays and Eric Hipwood. Suns forward Charlie Dixon has been heavily courted by the club, but appears lukewarm on the idea at best, while Swan Kurt Tippett is again in the crosshairs as the Lions desperately chase a mature key forward.
Dream trade: Kurt Tippett. Tippett has been mentioned as possible trade bait and with the Swans keen on Matthew Leuenberger, there's a deal there if both clubs can convince the AFL to drop the Swans' trading ban. Leuenberger is a free agent, so the Lions would have to use their compensation pick to get Tippett. - Michael Whiting
The Blues are likely to be active during the free agency/trade period and will be looking to bolster their list. At the top of the wishlist would be a key defender and a key forward. Carlton is rumoured to be one of several clubs interested in securing the services of out-of-contract Bomber Jake Carlisle. With his ability to play at both ends of the ground he would be the perfect replacement for swingman Lachie Henderson, who announced last week he wanted a trade. They also need another ruckman to support Matthew Kreuzer, who is likely to stay despite speculation about his future. A class small forward and another flanker/midfielder would also be handy. With the Blues likely to finish second last, they will have pick No.2 in the draft and will invest in the future by securing either key defender Jacob Weitering or tall forward Josh Schache. They will be looking to secure more picks in the first round via trades.
Dream trade: James Aish. The Blues have been considered one of the frontrunners for the out-of-contract Lion and he would provide much-needed depth to their midfield. The South Australian is favouring a move to a Victorian club and with Tom Bell rumoured to be returning to Queensland for personal reasons, a straight trade might be easily orchestrated. - Howard Kotton
Lachie Henderson looks headed for Geelong after requesting a move from Carlton. Picture: AFL Media

Most trade talk about Collingwood has centred on their apparent interest in acquiring two talented young midfielders – Greater Western Sydney's Adam Treloar and the Brisbane Lions' James Aish. To snare Treloar, the Magpies are reportedly keen to offer their first pick in this year's NAB AFL Draft, currently No.7, while for Aish it's believed they might try to package their second-round pick (No. 25) and a player, with some sources suggesting Anzac Day medallist Paul Seedsman as someone the Pies would be willing to part with and the Lions would possibly be happy to accept. Treloar and Aish would provide the Pies with a deep midfield and instantly improve their kicking efficiency, with both players boasting poise and class. And despite the Pies' historic inability to attract uncontracted opposition stars, don't discount them completely for the race for Patrick Dangerfield. The idea of landing two of this trio is fanciful, and all three perhaps impossible, but it would establish one of the most talented midfield groups in modern times. In the meantime, the Pies hope to re-sign South Australian Matt Scharenberg and Nathan Freeman – their top-10 picks of 2013.
Dream trade: Sam Reid. Aside from the aforementioned need for more quality ball-users, the Pies would be keen to secure more key-position class – and Sydney Swans contracted swingman Sam Reid, the younger brother of Magpie Ben, would fit the bill nicely. If deals for Treloar and/or Aish fall over, the Magpies would still have the currency to make the Swans an attractive offer. - Ben Collins
Could the Magpies bring the Reid brothers together in black and white? Picture: AFL Media

The Bombers have 20 players out-of-contract and have spoken about taking a more aggressive look at their list at the end of this season. There might be some concern for rival clubs in trading for players who have the WADA case still hanging over their heads, but if the player is good enough, clubs will be willing to get them on board. Jake Carlisle is attracting the most interest, with the important tall yet to decide if he stays at the club or leaves for a rival offer. If he departs it might open up a chance for the Bombers to bring in another draft pick or a midfielder from a rival club. Given the state of the list, you'd expect the Bombers would focus more on the draft this year and try to keep their selections intact after being stripped of three important picks in the past two years.
Dream trade: Matthew Kreuzer. The Bombers need to boost their ruck division, and have already been linked to Gold Coast's Zac Smith and Brisbane Lion Matthew Leuenberger. Kreuzer has had durability issues, but as he showed on the weekend for the Blues, his best form is better than the other rucks available. Here's the thing that would make it a good option for the Bombers: Kreuzer is a free agent, so they wouldn't need to trade anything to get him. They can keep their all-important draft picks as well as target an established top-end talent. - Callum Twomey
Dockers coach Ross Lyon joked a couple of weeks ago that Fremantle had received COLA (cost of living allowance) and they were recruiting every free agent in the competition with it, after Lewis Jetta joined the long list of names linked to the Dockers. Jokes aside, the reality is the Dockers are active participants in the free agency and trade market, and they haven't really shied away from it. The midfield is in great shape but they need quality forward targets and maybe another young key defender. Jake Carlisle, Jay Schulz, Charlie Dixon and Aaron Black are just some of the names that have been linked to the Dockers. Black has been in the frame previously and as a West Australian could be a good fit. Speedy Swan Jetta remains on the radar but he would not be as high a priority as a key position player. Midfielder Nathan Wilson has also been linked with a move home from Greater Western Sydney.
Dream trade: Jesse Hogan. Luring the young Demons star to Fremantle would be the coup to end all coups, but Melbourne would require something better than what Fremantle delivered to Hawthorn for Trent Croad and Luke McPharlin in 2001. The deal then was picks one, 20 and 37. The Dockers would need to deliver two first-round picks and a young, quality midfielder to even get the Demons to the table. Even then it should probably be knocked back. - Alex Malcolm
Patrick Dangerfield to Geelong has been the constant talk since the start of the season. It's possible a trade would be required to secure the restricted free agent if he chose to leave Adelaide, given the Crows can match any offer. It becomes more likely as each day passes that he will want to join the Cats, but Geelong might have to trade a prospect or three to get him. Lachie Henderson looks bound for Geelong too after requesting a trade from Carlton. The Blues want a first-round pick and a player, but they might be dreaming. A second-round pick plus a player such as Josh Walker would suffice while the Eagles' Scott Selwood has also been linked to the Cats. He is a restricted free agent too, so plenty of water needs to go under the bridge if he decides he wants to be at Geelong. Richmond appears interested in Steve Motlop, and fans will be nervous while he remains unsigned.
Dream trade: Jaeger O'Meara. The gun young midfielder decides the surf coast suits more than the Gold Coast, and Geelong jumps at the chance for some more compensation for the loss of Gary Ablett. The Suns, desperate for experience, take Mathew Stokes, Steve Johnson, Tom Lonergan and Andrew Mackie as a package deal in return. - Peter Ryan
Steven Motlop's strong finish to the year has only increased his value. Picture: AFL Media



Traditionally the Suns have been quiet during this period and you can expect more of the same. It's more a case of who might go out, rather than what they need to come in. Forward Charlie Dixon has been linked to Port Adelaide, Fremantle and the Brisbane Lions. Ruckman Zac Smith is now clearly second fiddle to Tom Nicholls and has attracted interest from Essendon among others. Harley Bennell is still under contract, but attracting interest from a number of clubs – including St Kilda and Hawthorn. While the Suns are happy to keep Bennell for the remaining two years of his deal, they would be foolish to not entertain serious offers from elsewhere.
Dream trade: Jeremy Howe. There's not many holes on the Suns' list, but that athletic third tall that can play either end of the ground is one of them. Howe fits the bill perfectly and has been quietly linked to the Suns. They could offer an end of first round compensation pick (likely to be around pick No.20) that the Demons could use on more young talent or swing around as part of another deal. - Michael Whiting
Gun midfielder Adam Treloar appears likely to head back home to Melbourne with Collingwood reportedly in the box seat, so GWS might look at a swap for Jamie Elliott, Jarryd Blair or Alex Fasolo – plus a pick. The Giants don't have any small forwards capable of kicking 50 goals a season and we've seen the likes of Eddie Betts, Chad Wingard and Jake Stringer show how valuable they are. Treloar will likely finish top three in the club champion award so the Giants will want something significant if he leaves.
Young defenders Nathan Wilson, Adam Kennedy and Curtly Hampton have been in and out of the senior side this year and despite dominating in the NEAFL, have not been able to produce the same form at AFL level. All three have pace and use the ball well but with Heath Shaw in the frame for All Australian selection and Zac Williams cementing his spot in defence, there's been no spot for them. They could seek opportunities elsewhere.
Dream trade: Cyril Rioli. While it's nearly unthinkable that the star forward would leave the Hawks – or that the club would let him go – the prospect of rejuvenating the midfield in pursuit of a fourth flag might leave the door slightly ajar. It's the only hole in the GWS list so if Treloar wants to go, the Giants might as well use him to throw the proverbial kitchen sink at Rioli. - Adam Curley

The Hawks have pretty much all their big names locked away for next season, but still have some cash remaining for another free agency or trade play. Patrick Dangerfield has been ruled out for salary cap reasons, but a player like Harley Bennell would be more affordable and the Hawks would back in their systems and structures to get him sorted off the field. Jake Carlisle would look fetching in brown and gold as a ready-made replacement for Brian Lake. In terms of securing any ready-made talent from rival clubs, the Hawks have always shown a willingness to part with their first pick and with the draft pool believed not to run particularly deep this year, they might do so again.
Dream trade: Jaeger O'Meara. This year's first-round pick, next year's first-round draft pick and Brendan Whitecross to Gold Coast for Jaeger O'Meara. - Ashley Browne
Melbourne will be active in this year's trade period, but not at the expense of the club's strategy of building through the draft. If the right deal comes along – think the Dom Tyson/pick No.9 (Christian Salem) deal in which the Giants received pick No.2 and selected Josh Kelly prior to the 2013 draft – the Demons' list management team will take a look at it. Coach Paul Roos has made no secret of the fact that his club is on the look out for classy midfielders. The Demons have enquired about Gold Coast's Dion Prestia, but he has reportedly rebuffed their advances. Adelaide's Tom Lynch has also attracted the Demons' interest as they look for a forward line foil for Jesse Hogan. The Demons' kicking out of their backline is still a major issue and a polished ball-using defender, in the mould of Hawthorn's Matt Suckling, would address those concerns. Adding players with speed and line-breaking ability will also be an area the club will be aiming to address.
Dream trade: Patrick Dangerfield. The Demons were prepared to offer picks No.2 or No.3 for the Crows star last year, but they were turned down. As a restricted free agent, the Demons would have to table a significant offer for Dangerfield, and even still Adelaide could come over the top and match it. Plus, the consensus is that he will either leave for Geelong or stay in Adelaide. – Ben Guthrie
The Roos have made Greater Western Sydney midfielder Adam Treloar their main trade target this year but it's expected Collingwood will win the battle for the star youngster's signature. Given GWS is likely to set a hefty trade price for Treloar, North won't concede defeat on him until Collingwood – or his other serious suitor, Richmond – have satisfied the Giants' demands. Essendon key defender Jake Carlisle is also in North's sights, but Carlton and the Western Bulldogs are among a host of other clubs vying for the Bomber's signature. The Roos were not among the early pacesetters in the race to lure Steven Motlop from Geelong, with Richmond and Adelaide fastest out of the blocks, but are understood to have since entered the chase, enticed by the outside dash the Cats speedster would add to their on-ball division. North might also have to consider trading Aaron Black, with the contracted forward a chance to request a move for greater opportunity.
Dream trade: Harley Bennell. The Gold Coast midfielder would fit perfectly alongside North's inside brigade of Ben Cunnington, Jack Ziebell and Andrew Swallow, especially given Daniel Wells' injury battles over the past two seasons. Convincing the Suns to part with 2010's No.2 draft pick won't be easy. North could offer their first-round pick (currently No.12), or a later pick and Black, who would help bolster the Suns' forward line should Charlie Dixon request a trade. Even then, the Suns could still demand more. - Nick Bowen
The Power have been heavily linked to Gold Coast tall Charlie Dixon, who appears set to leave the Suns at season's end. Port coach Ken Hinkley has strong ties to the Suns' playing group having spent several seasons there as an assistant before arriving at Alberton. The key forward be a great asset, but his arrival would likely see the departure of Jay Schulz, whose contract talks have hit a snag. Schulz is a much-loved player but is into the twilight of his career, while the football world has yet to see the best of 24-year-old Dixon. The Power won't give up vice-captain Matthew Lobbe, but they've got plenty of young talls they could afford to lose if they landed Dixon. Hinkley has pointed to the club's middling depth of inside midfielders as an area of concern, although Brendon Ah Chee's recent form would have eased the coach's mind.
Dream trade: Charlie Dixon. Dixon to Alberton for Port's first draft pick (likely No. 9) - a simple trade and one that would deliver to both. Draft pick No.9 is a hefty price to pay, but Dixon could quickly develop into something truly special. - Harry Thring
Charlie Dixon would be a strong addition to Port Adelaide's forward line. Picture: AFL Media

The Tigers only managed to land former Geelong midfielder Taylor Hunt last year after attempts to lure David Armitage and Jack Trengove in the trade period went bust. With their key position stocks relatively solid, they're unlikely to pursue the likes of Lachie Henderson or Jake Carlisle, and they'll again chase midfield depth, speed, half-back talent and possibly a small forward this off-season. Carlton's Chris Yarran, Geelong's Steven Motlop and Greater Western Sydney's Adam Treloar have already been linked to the club, and of those, Yarran seems the most realistic, with the Cats set to fight to keep Motlop, and Treloar seemingly Collingwood-bound. A trade would be needed to secure Yarran given the half-back is contracted until the end of next year. Currency wise, defender David Astbury has played forward at times in the VFL this year and faces a tough battle to break into the senior side if he stays there. He's contracted for another year, but could be keen for more opportunities.
Dream trade: Patrick Dangerfield. The word is he's either staying at Adelaide or going to Geelong but that shouldn't stop Richmond at least asking the question. He'd bring experienced inside hardness to the Tigers and offer them much-needed outside explosive pace, which could be the missing piece after they succeeded in locking away other key figures to long-term deals. - Jennifer Phelan
The Saints have strategically bolstered their draft presence in recent seasons, but a successful 2015 should see them become more active in player trade and free agency discussions. Coach Alan Richardson has been strong on not targeting experienced free agents, so any potential recruits would have to fit their youthful list profile. Brisbane Lions midfielder James Aish, 19, is one such player, and expect the Saints to explore ways to get involved there. Outside speed would be their priority, however, making Gold Coast midfielder Aaron Hall, 24, a more likely option. Hall is out of contract and the Suns are struggling to re-sign him with salary cap issues. Harley Bennell, 22, is a less likely but still feasible target. There is also no reason the Saints shouldn't get in the queue to sign Geelong speedster Steven Motlop, 24, who has mostly been linked to Richmond and North Melbourne. Their best option of landing a quality player under 25 who can add to their midfield is by parting with their first-round pick, likely to be No.6. They could seek to turn their first and second round picks into two picks in the mid teens. Future picks would also need to come into play, unless they part with valued players, such as ruckman Tom Hickey.
Dream trade: Greater Western Sydney midfielder Josh Kelly, 20, who grew up in St Kilda's heartland in Melbourne's south-east, would be the perfect fit. To snare the No.2 pick from 2013, the Saints would need to give up their No.6 pick this year and a future second-round selection as a starting point. – Nathan Schmook
There's plenty the Swans need, but unless the AFL decides to reverse the trade restrictions placed on the club, there's little hope of any significant trade activity in 2015. In the event the League does a backflip, speedster Lewis Jetta might find himself headed home to the west with his young family to either Fremantle or West Coast. It would be a disaster for the Swans because midfield pace is something they desperately need. Their ruck stocks are low with Mike Pyke struggling with knee issues so the Swans might look around for a suitable backup ruckman if Pyke decides to retire at the end of the year. Youngster Toby Nankervis is raw, Sam Naismith can't stay on the park and Tom Derickx has struggled for form. If Jetta wants to get to WA then Freo's Jonathon Griffin or West Coast's Scott Lycett might work for both parties.
Dream trade: Steven Motlop. It's unlikely the Swans can get the Geelong star to the club for less than $350,000 a season – roughly the limit imposed on them by the AFL – but he's everything they need. The Cat has blistering speed, kicks goals and breaks the lines with his midfield run. Perfect. - Adam Curley
The Eagles copped some criticism for not acquiring a trade target last year but they have been very shrewd in their approach and can afford to be again. They are active in the trade market but not dependent on the outcome, given the quality and the age profile of the list already. They can afford to heavily consider the likes of Lewis Jetta and Nathan Wilson, given both may be seeking to return home to Perth. The Eagles would be wary of giving up too much given their intent on building a list through good drafting. Harley Bennell and Chris Yarran are two other West Australians that might be on their radar. Adam Simpson has shown with Sharrod Wellingham that he can create the type of environment in which players who are battling to make the most of their talent can flourish. Yarran appears likely to stay in Melbourne and Gold Coast would not want Bennell to go easily, despite the issues he's faced.
Dream trade: Harley Bennell. While Lewis Jetta could be a wonderful addition to the Eagles, the dream trade would be Bennell. Adding a player of his class into the Eagles' midfield would almost vault them into outright favouritism for the flag next year. But they would have to consider giving Gold Coast a key position player who is readymade and some quality draft picks to even get the conversation started. - Alex Malcolm
The Eagles would be 2016 flag favourites if they could land Harley Bennell. Picture: AFL Media

The loss to West Coast on the weekend highlighted the Bulldogs could do with some reinforcement in their key defensive and ruck stocks. They have long been linked to Bomber key defender Jake Carlisle, but rumours abound that coach Luke Beveridge isn't a fan, especially at a reported asking price of $750k a season. With Fletcher Roberts, Michael Talia and Joel Hamling all still to prove they are long-term options, at 24, Carlisle is an attractive proposition for a side quickly approaching a premiership window. He would cost the Dogs their first pick in November's draft, but that wouldn't be issue as the they have stockpiled some impressive youngsters over the past few years. Carlton's Matthew Kreuzer would also cost the same price, but they could claim him for free as a restricted free agent if the in-form Blue decides to leave Princes Park. At 26, he fits the age demographic at the Kennel, but the risk is whether he's overcome his injury-riddled past. Brisbane Lions ruck duo Stefan Martin and Matthew Leuenberger have also beenlinked with a move to Whitten Oval.
Dream Trade: Jake Carlisle. They pulled off the biggest and most expensive deal of last year's trade period by securing key forward Tom Boyd, so the Dogs are unlikely to be involved at that level again. Securing Carlisle for their first round pick would be a good result for the up-and-coming Dogs. – Ryan Davidson
• Who's on the move? Vote on the future of 2015's remaining free agents