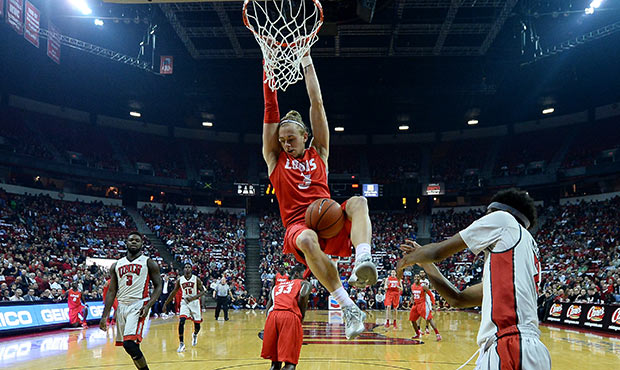 I know there will be plenty of challenges and obstacles ahead for me, but as an athlete that is what excites me and drives me the most
Hugh Greenwood
ADELAIDE has signed former basketball star Hugh Greenwood, who walked out on the Perth Wildcats a little over a month into a three-year contract.
The 23-year-old 193cm big man will join the Crows as a Category B rookie on a two-year deal and has been training with the club for two weeks.
Greenwood trialed with NBA outfit the Utah Jazz in May, a month after being crowned the University of New Mexico's co-MVP in his final year of college.
He has also been a part of the Australian Boomers squad for several years and captained the country's under-19 side.
A talented junior footballer, Greenwood has previously said he'd consider a move back to the sport if his NBA dream didn't eventuate.
"I am blessed and humbled to be given this opportunity by the Adelaide Football Club," Greenwood said.
"After a short visit to the club earlier in the week, the professionalism and environment of the organisation as a whole is what impressed me the most.
"I know there will be plenty of challenges and obstacles ahead for me, but as an athlete that is what excites me and drives me the most."
Greenwood has great agility, endurance and elite speed for a player of his size, running a 2.97-second 20m sprint during the first week of the Wildcats' pre-season in early August.
He has a football background and represented Tasmania at the 2006 Under-16 national championships; he was offered both football and basketball scholarships at the AIS.
He has football in his blood too – his grandfather Peter Marquis won three consecutive VFL premierships with Melbourne in 1955-57.
Crows recruiting manager Hamish Ogilvie and his team have tracked Greenwood's progress for almost a decade.
He said the habits he already lived to as an elite basketballer would give him a great shot of transitioning into an AFL environment.
"At 193cm, Hugh is a gifted and unique athlete who is driven to play sport at the highest possible level," Ogilvie said.
"He is fiercely competitive, lives to elite standards and is well aware that plenty of hard work lies ahead."
The Crows have a history of luring basketball talent to West Lakes, with Greenwood the fourth basketball convert on the club's list.
Fellow Tasmanian Jack Osborn is nearing the end of his third year as a rookie, while established Crows Ricky Henderson and Josh Jenkins both have basketball backgrounds.
In recent seasons the club has also delisted former ballers Tim Klaosen and Ben Dowdell, who was a national basketball representative as a junior.
Greenwood's code-switch blindsided and upset the Wildcats, with the club's managing director Nick Marvin telling reporters: "it's one thing being left at the altar, it's another thing being dumped a month into the marriage."