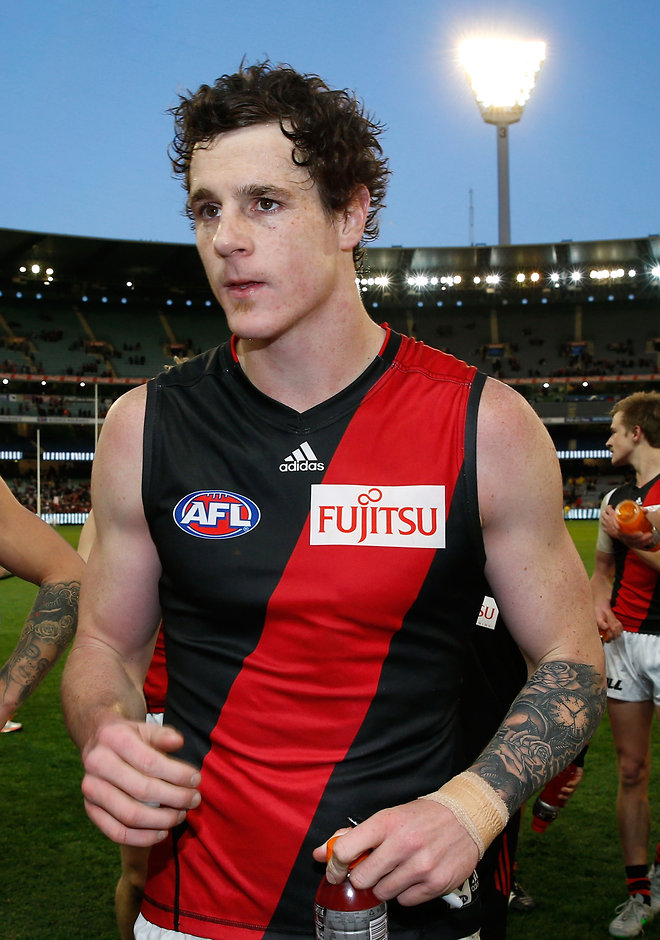 If you're not signed on the dotted line, it's not great news
Matthew Egan on Jake Carlisle
JAKE Carlisle has ended a season of speculation about his future by requesting to be traded by Essendon.
The key defender informed the club on Tuesday of his decision to depart the Bombers after holding off contract talks all season.
He has not yet nominated a preferred destination, but a number of clubs have been linked to the 23-year-old, including St Kilda, North Melbourne, Carlton and the Western Bulldogs.
The Bombers are likely to push for a strong deal, but their capacity to do so will be hindered by the fact Carlisle is out of contract and could walk to a club through the pre-season draft if no suitable trade is struck.
Essendon had been bracing for Carlisle to confirm his desire to quit, despite his recent return to his preferred position in defence.
Essendon said it would work towards attaining a "positive outcome" for the club in next month's trade period.
"Jake and his management have indicated they wish to work with the club to ensure a fair and reasonable trade deal that is appropriate for both parties, and this is what we will be endeavouring to achieve," said the club's football manager Rob Kerr.
Carlisle is the third Essendon key forward to quit the club in as many years, following Stewart Crameri and Paddy Ryder the past two seasons.
Stand-in coach Matthew Egan said on Tuesday morning the Bombers were aware the longer talks held off the more likely he would leave.
"His actions have been excellent and the way he's played … I think he enjoyed going down back again just for some confidence and you can see how he reads the game really well and gets a lot of intercepts and uses the ball well," Egan told SEN on Tuesday morning.
"But, he hasn't signed, so that's a sign – if you're not signed on the dotted line, it's not great news.
"I really hope he does [stay], because he's really important with his age demographic and how he fits in the group, and those sorts of guys don't grow on trees.
"He's a big, big man and he can play forward and back, so if we do lose him it will be a big loss, but he hasn't signed yet so that's a hard one.
"It's really hard to know."
Carlisle's contract talks were always going to take place at the end of the season, but the Bombers had been buoyed by his level of engagement at the club in recent weeks after he appeared disenchanted in round 19.
Against Greater Western Sydney, it was reported Carlisle yelled, "This club is f****d" during the Bombers' loss.
Complicating matters is the fact he is one of the 34 past and present Bombers that remain subject to the WADA appeal, which is scheduled for November.
Egan isn't planning on applying for the vacant Essendon senior job after taking over from James Hird on a temporary basis last month, but he said troubled Gold Coast midfielder Harley Bennell would not be targeted by the Bombers after being put up for trade on Monday.
"I think where we're at it's probably not [the right place for him]," he said.
"I'm not in those list management discussions at the moment, because Hirdy has been in those all year.
"He's obviously a huge talent, but I think with where we're at with our list, it's probably a no."