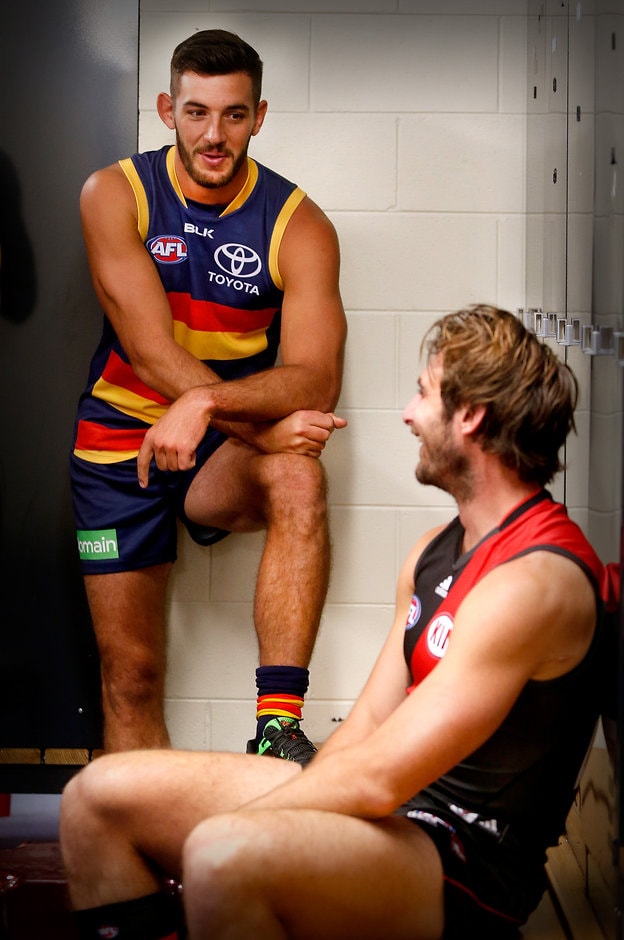 FILMMAKER Peter Dickson spent the past 10 months studying AFL club captains, coming away from the process with a changed view of aspects of leadership.
Dickson's 90-minute film, The Chosen Few 2, was woven together from more than 100 hours of interviews conducted in some 50 locations across the country with about 30 people, including the captains of 17 clubs, some of their partners and family members, leadership experts and several former skippers. Gold Coast captain Gary Ablett declined to be involved.
"Last year (when he produced The Chosen Few), I saw how coaches were at the extreme end of leadership at club level. In many ways, the coaches are the club. It had me thinking, 'How does the captain fit in?' I wanted to explore that," Dickson said.
"The captains were completely different. They're not the supreme club figurehead like the coach is It was a different dynamic, probably because the captains are a younger demographic."
Dickson started with a view that leaders were born, but altered his position to an extent after witnessing the clubs' modern approach to building learning environments.
"There's a massive emphasis now on clubs developing leaders. I always thought leadership was a characteristic some people naturally have. My view's changed a bit," he says.
"They were a 50-50 split when it came to 'born' or 'made'. Some are still developing; some have it (leadership) in spades. I'm firmly of the belief the best leaders have something special in them."
He says several traits were unique to many of the captains, particularly the more experienced among them.
"They care. They don't fear not being liked or upsetting others in their quest for doing what they think is right. They're assertive in giving direction and they have the ability to shoulder responsibility," he said.
"They also have a pure love of the game, their club and the people in them. They want others to see that. If they can get everyone else at that level, they believe that can be an avenue to team success."
"I was surprised by the weight of responsibility and expectation they feel, of having to live the principles every day, because everyone is watching them. For some of them, the pressure and expectation can too much."
Dickson wanted to capture the captains in environments and situations never seen by the public – in on-ground huddles and in leadership meetings, for example.
"I had to show them in their game-day environment. We used drones, we were in their homes and we used cameras on the ground immediately before the start of games. The access they gave was incredible," he said.
"I had a unique opportunity to witness them and how they go about their business. You get a really solid picture of them as a captain and as a person."
"People are going to see stuff they've never seen before. That's powerful."
"I wanted the public to see another side of the leaders, to understand what it takes and what sort of person it takes to do that job. I found there's no model. They're all different," he said.
Dickson said the documentary would not have been possible without the pioneering work of his late brother Rob Dickson, who used unprecedented access and cutting-edge techniques to produce football films including The Passion to Play, Shane Crawford: Exposed and The Essence of the Game. Rob Dickson, who played for Hawthorn and the Brisbane Bears, was killed in a car accident in South Africa in 2009.
"You can't do these films without trust. I was with Rob very early on, when he worked on Passion to Play, and watched how he went about it. I would never let his legacy down, so having that trust is a big part of it for me," Dickson said.
"Rob was so well-respected in the industry. I didn't want to let the subjects down. I wanted the story to be strong and to be able to hold up in 20 years. I hope it's a stamp in time.
"I just wish Rob could have a look at it and tell he what he thought," he said.
The Chosen Few 2 will air on Channel Seven at 9.45pm (AEST) on Tuesday, September 29 in Victoria, Tasmania, Western Australia and South Australia, at 12.15am (AEST) on 7Mate on Wednesday, September 30 in Queensland and NSW, and at 12pm (AEST) on Friday, October 2 nationally.