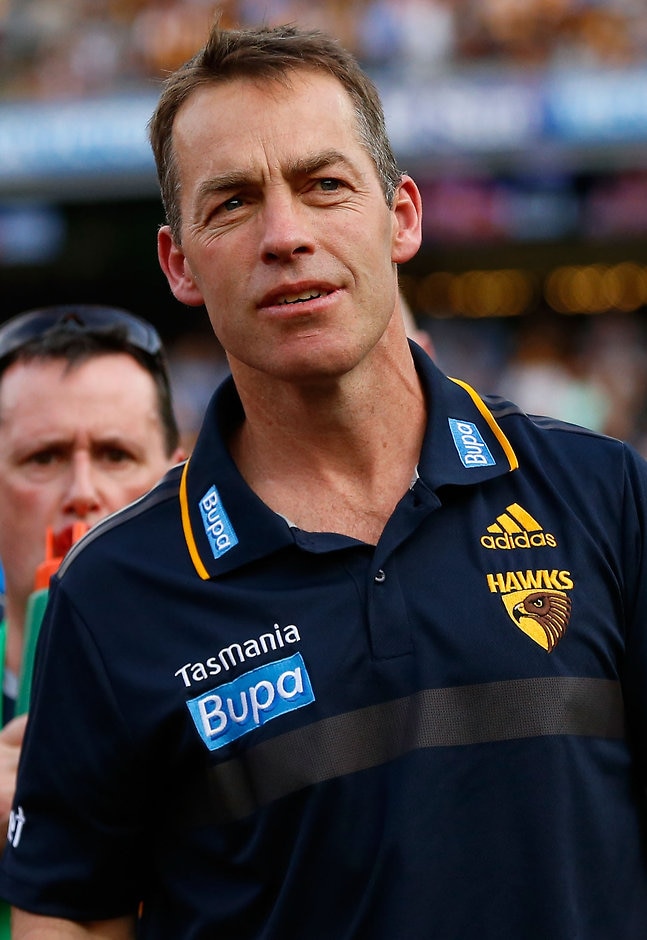 Each year we've had an enormous amount of adversity throughout the course of the year
Alastair Clarkson
• Click here for full match coverage and stats
HAWTHORN president Andrew Newbold has dedicated the club's historic third-straight flag to the its grieving assistant coach, Brett Ratten.
Ratten's 16-year-old son Cooper was killed in a car accident in August, and Newbold said the tragedy had brought the tight-knit club even closer together.
• Analysis: How the Hawks unravelled the Eagles' web
• From the outer: How you saw history's hottest GF
• Match report: Hawks secure historic three-peat
"It's not the silverware that makes this club what it is, it's the people behind the silverware that defines this club," Newbold said, as Hawthorn's victorious players were presented on stage at the official premiership function on Saturday night at Crown Palladium.
"Although it's not mine to give, this cup's for you, Brett Ratten."
Coach Alastair Clarkson said he was proud of the way the club had handled what was a testing year.
"I am very proud of this group of players. I'm incredibly proud of their resilience and I'm really proud of their humanity," Clarkson said.
"I don't like losing games of footy, but we lost a game against Port Adelaide (in round 21) on the back of Ratts' young feller getting killed in a car accident.
"I know we didn't turn up to play that day because these guys really felt [that impact]."
Clarkson also singled out football manager Chris Fagan and head fitness coach Andrew Russell, declaring: "We don't have these guys, we don't win".
Each of the Hawks' 2013, 2014 and 2015 triumphs has been achieved through adversity but Clarkson said this season's success was extra special.
Ten things we learned from the Grand Final
"Strangely enough all the flags are the same in terms of excitement and reward for a lot of work by a lot of people at our football club. But the last three in particular, each year we've had an enormous amount of adversity throughout the course of the year," Clarkson said post-game.
"The adversity that we had to endure this year was a different type again – it was around tragedy and death and that's really, really hard to cope with because it really affected our playing group. It was all about humanity and that made it particularly tough this year. But we're enormously proud of their resilience.
"We were up against it throughout the course of the year and they were just a really proud group that wanted to represent their club really, really proudly again and they did so again."
• The Kennedy assassination: How 'Chip' stopped JK
• Every Hawks premiership player rated

Hawthorn's 13th premiership saw Clarkson elevated into legendary status as a coach, joining the likes of Allan Jeans, Tom Hafey, David Parkin and Kevin Sheedy as four-time flag winners.
The Hawks did it the hard way too, overturning their qualifying final loss to West Coast in Perth to thump the Eagles at the MCG in the hottest Grand Final day on record.
Clarkson said he had remained confident if the Hawks could have played the Eagles in Melbourne they would have been able to return to form after the early finals defeat.

As it happened: Hawks romp to three-peat

"The nature of the finals series, most of the footy is played at night, so despite everybody saying 'this is going to suit the team that comes from Perth', all they've done is play night footy for the last little bit, similar to us," Clarkson said.
Here's the moment Hawthorn clinched the 2015 premiership by 46 points! What a team! #ohwhatafeeling #AFLGF http://t.co/h8G3dHUeLd

— #AFLGF (@AFL) October 3, 2015
"In terms of dealing with those oppressive type of conditions, we gave ourselves a chance. We worked really, really hard as a club, particularly after that qualifying final loss, to give ourselves a chance back on our home deck at the MCG.

"We thought if we could get it back to this ground, it's where we play our best footy and fortunately this is where the Grand Final is played each year. That suits us just fine."
The last team to win three-straight flags – the Brisbane Lions in 2001-03 – made the Grand Final in 2004 but suffered a sharp decline before being stuck in the bottom rungs of the ladder.
Clarkson said the Hawks will be determined to keep refreshing their list, but that they wouldn't push out ageing premiership stars just because of their veteran status.
Captain Luke Hodge will turn 32 next year, and Sam Mitchell and Shaun Burgoyne both turn 33 this month.
Ohhhh! The crowd roars in appreciation of a Luke Hodge cracker! #ohwhatafeeling #AFLGF http://t.co/wlesuI6BDj

— #AFLGF (@AFL) October 3, 2015
"We've got to do some really, really strong work with our list. When you stretch through to the last game of the year, there's at least 10 clubs that have got a four-week head start on you [for next year]," Clarkson said.
"We're really excited with the youngsters who are coming through at our football club. We need to make some decisions at some point in time over the next 12 months to two years about our ageing veterans.
"But…they're playing some of their best footy, they're managed particularly well by our medical and conditioning team under the guidance of Andrew Russell.
"We don't want to push those guys out of our football club just because they've got a birth certificate that says they're past that ripe old age of 30."
CLARKO AMONG THE GREATS: Most premierships as coach
| Flags | Coach |
| --- | --- |
| 7 | Jock McHale (Collingwood) |
| 6 | Norm Smith (Melbourne) |
| 5 | John Worrall (Carlton, Essendon), Frank Hughes (Melbourne, Richmond) |
| 4 | ALASTAIR CLARKSON (Hawthorn), Leigh Matthews (Collingwood, Brisbane Lions), Tom Hafey (Richmond), Dick Reynolds (Essendon), Allan Jeans (St Kilda, Hawthorn), Ron Barassi (Carlton, North Melbourne), David Parkin (Hawthorn, Carlton), Kevin Sheedy (Essendon) |