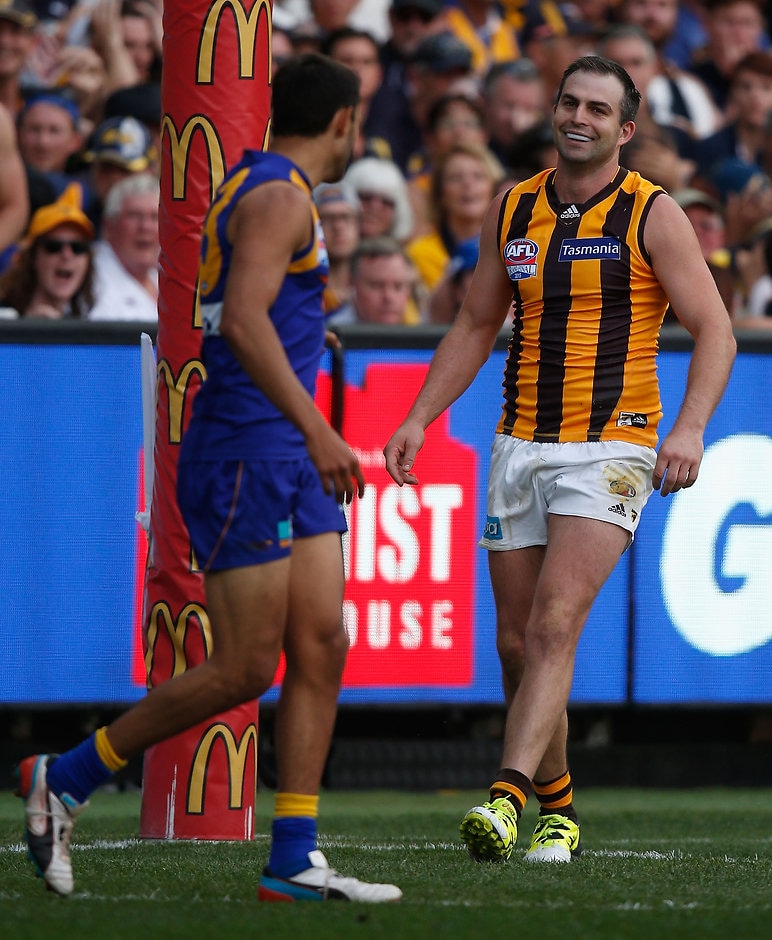 RETIRING triple-premiership defender Brian Lake admits he would have liked to have played on in 2016, but won't seek a new contract at a rival club.
And fellow three-time flag winner David Hale - who also announced his retirement on Tuesday - will pursue a teaching career if an opportunity to remain in football doesn't present itself.
• How well do you know 2015's retirees? Take the quiz
In a light-hearted press conference at Waverley in front of the pair's families, several teammates and club staff, both players were at ease with the announcement and happy to talk about some of the less-serious moments of their careers.
These involved Lake sleeping in the stands at Whitten Oval one night early in his career as a Bulldog because he forgot where he was living after a few drinks at the club, and Hale's ill-fated venture into hair replacement.
• Interactive timeline: Lake's arrival and other moments that defined the three-peat
The duo drew plenty of laughs during the 25-minute chat, a jibe from Alastair Clarkson about Lake's flatulence problem, and some tears from Lake's son Cohen when the ex-Bulldog referred to the youngster's concern that no one would like him anymore because his dad didn't play football.
Lake said he had the conversation with Clarkson on Monday about his future, and while retirement wasn't his preferred outcome, he was content with what he'd achieved since crossing from the Bulldogs for the 2013 season.
"I would have loved to have kept going, but always things have to come to an end," Lake said.
"I'm happy with that.
"I've come to terms with it now and I'm looking forward to enjoying food and a few beers and not stressing about coming back for pre-season in good shape.
"You're looking at three years, three premierships. I left the Bulldogs to win premierships and I think Hawthorn is going to go close again next year, and I can't really go back here, can I?"
David Hale and Brian Lake pose with the kids and their cups at Waverley. Picture: Getty Images

Lake said he would look to play local football next season, most likely at his local club of Caroline Springs "if the price was right".
He was also hopeful of continuing in football in some capacity, whether in media or in an administration role at a club.
Lake won the Norm Smith Medal in 2013 and initially seemed keen to sign a new deal with the Hawks after playing well in last Saturday's most recent triumph.
A dual All Australian, he played 251 career matches, 197 with the Western Bulldogs and 54 with the Hawks.
Hale played 237 career games, 129 with North Melbourne before moving to Hawthorn prior to the 2011 season.
Both veterans played in the Hawks' premiership trifecta of 2013, 2014 and 2015.
Hale, 31, said he was close to finishing a teaching degree, which had taken him "about 14 years", but like Lake was interested in possibly staying in the game.
He also said while he wasn't retiring because of any major issues with his body, he acknowledged it had suffered plenty of wear and tear over the years.
"I think if you looked at any of my scans, it's not very good viewing," Hale said.
"Nothing was really hurting me too much ... It was just about getting out there on the track and getting it done.
"I had a few niggles here and there but nothing too major.
"I guess after 14 years of playing ruck and forward, it eventually wears you down."
Clarkson said the two players had made a significant impact on the club, particularly over the last three premiership-winning years.
"This club's had to retire some very, very decorated players over its journey and it's nearly the most difficult part of your job," Clarkson said.
"It's always really tough to be involved in coaching and put an end to some careers, in a sense.
"But these guys made a great contribution; it's very, very rare in footy that players get to go out on a really good note like this.
"We're just delighted with what these guys have been able to do for our football club."
.@BrianLake17 the buggie bandit #AFLGF pic.twitter.com/IgkIKQsuvc

— #AFLGF (@AFLGrandFinal) October 3, 2015
Brian Lake
Age: 33
Games: 251 (197 with the Western Bulldogs from 2002-12 and 54 with Hawthorn from 2013-15)
Member of the Hawks' 2013, 2014 and 2015 premiership teams
Winner of the 2013 Norm Smith Medal
Western Bulldogs best and fairest in 2007
All Australian in 2009 and 2010
David Hale
Age: 31
Games: 237 (129 with North Melbourne from 2003-10 and 108 with Hawthorn from 2011-15)
Goals: 217
Member of the Hawks' 2013, 2014 and 2015 premiership teams
North Melbourne leading goalkicker in 2008