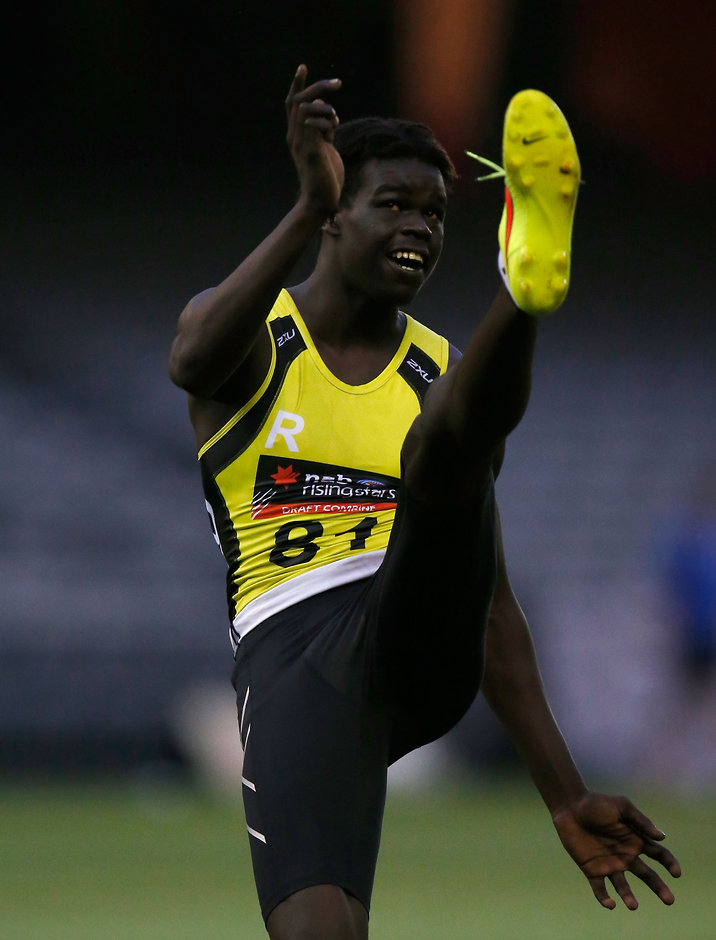 RUCKMAN Gach Nyuon has equalled a benchmark set by West Coast star Nic Naitanui, matching his absolute running vertical jumping record on day three of this year's NAB AFL Draft Combine.
Nyuon, named ruck in this year's under-18 All Australian team, jumped 94cm in the relative running vertical jump, which was behind midfielder Lachlan Tiziani (97cm) as the best at the combine.
But his leap matched Naitanui's absolute jumping record of 362cm, which was set in 2008 before the Eagles took the ruckman with pick two in that year's national draft.
A player's absolute jump refers to the highest point he can reach when jumping off the ground (measuring the distance from the ground to the highest point the prospect can reach with his arm).
A player's relative jump measures the height off the ground he has jumped (the distance between the player's feet and the ground).
The Sudan-born Nyuon also proved his athleticism in the 20m sprint test, running 2.95 seconds.
But it wasn't enough to displace Alex Morgan and Kurt Mutimer from the joint first position in the highly anticipated event, with the Victorian pair recording the best time for the combine at 2.88 seconds.
Click here for all the draft news
They beat Eastern Ranges utility Liam Jeffs and Northern Territory speedster Daniel Rioli, who both ran 2.89 seconds for the sprint.
Rioli, whose father is a cousin of Hawthorn premiership star Cyril Rioli, has enhanced his draft position in the past week after performing well for the Allies in the Grand Final morning curtain-raiser.
The 18-year-old won the repeat sprint test on Saturday, running 24.15 seconds for the six back-to-back 30m sprints.
Tasmanian midfielder Kieran Lovell claimed the honours in the agility test, running 7.90 seconds on the purpose-built floor at Etihad Stadium. An agility run under eight seconds puts him in elite company in combine history.
The final event of Saturday was the beep test, when hard-working West Australian midfielder Josh Schoenfeld reached level 16.2.
The 18-year-old's effort places him as the second best beep test in more than 20 years of combine testing behind Billy Hartung's record. Hartung ran level 16.6 in the beep test in 2013.
The national combine concludes on Sunday with the three-kilometre time trial.
LEADING PERFORMERS – COMBINE DAY THREE
Absolute standing vertical jump (cm)
Mabior Chol - 334cm
Gach Nyuon - 330
Jacob Weitering - 327
Andre Parrella - 325
Mitch King - 324
Jesse Glass-McCasker - 323
Jack Firns - 322
Matthew Flynn - 321
Callum Moore - 319
Eric Hipwood - 318
Absolute running vertical jump (cm)
Gach Nyuon - 362cm
Mabior Chol - 357
Jacob Weitering - 344
Andre Parrella - 342
Jesse Glass-McCasker - 340
Callum Moore - 340
Matthew Flynn - 339
Eric Hipwood - 338
Liam Jeffs - 338
Harry McKay - 337
Lachlan Tiziani - 337
Relative vertical jump (cm)
Jordan Snadden - 75cm
Alex Morgan - 71
Mitch King - 70
David Cuningham - 70
Lachlan Tiziani - 69
Oleg Markov - 69
Stephen Tahana - 69
Daniel Rioli - 69
Tom Doedee - 68
Jack Firns - 68
Matthew Kennedy - 68
Darcy Tucker - 68
Relative running vertical jump (cm)
Lachlan Tiziani - 97cm
Gach Nyuon - 94
Matthew Kennedy - 91
Mabior Chol - 90
Liam Jeffs - 90
Jordan Snadden - 90
Darcy MacPherson - 89
Blake Hardwick - 86
Hisham Kerbatieh - 86
Callum Moore - 86
Stephen Tahana - 86
Daniel Rioli was one of the quickest in the 20m sprint. Picture: AFL Media
20m sprint
Alex Morgan - 2.88 seconds
Kurt Mutimer - 2.88
Liam Jeffs - 2.89
Daniel Rioli - 2.89
Thomas Glen - 2.90
Declan Moutford - 2.90
Callum Moore - 2.91
David Cuningham - 2.91
Hisham Kerbatieh - 2.94
Jordan Snadden - 2.94
30m repeat sprints
Daniel Rioli - 24.15 seconds
Mabior Chol - 24.30
Oleg Markov - 24.32
Thomas Glen - 24.46
David Cuningham - 24.51
Jordan Snadden - 24.54
Wayne Milera - 24.61
Will Snelling - 24.64
Liam Jeffs - 24.74
Luke Partington - 24.76
Agility
Kieran Lovell - 7.90 seconds
Alex Morgan - 8.07
Clayton Oliver - 8.11
Aidyn Johnson - 8.15
Tom Doedee - 8.19
Jesse Glass-McCasker - 8.22
Oleg Markov - 8.23
Will Snelling - 8.24
Darcy MacPherson - 8.24
Ben Crocker - 8.25
Shuttle run (beep test level)
Joshua Schoenfeld -16.2 level
Mitchell Hibberd - 15.4
Darcy Tucker - 15.3
Declan Mountford -15.2
Jacob Weitering - 15.1
Matthew Kennedy - 14.12
Kieran Lovell - 14.10
Will Snelling - 14.10
Tom Cole - 14.10
Oleg Markov - 14.8
Darcy MacPherson - 14.8