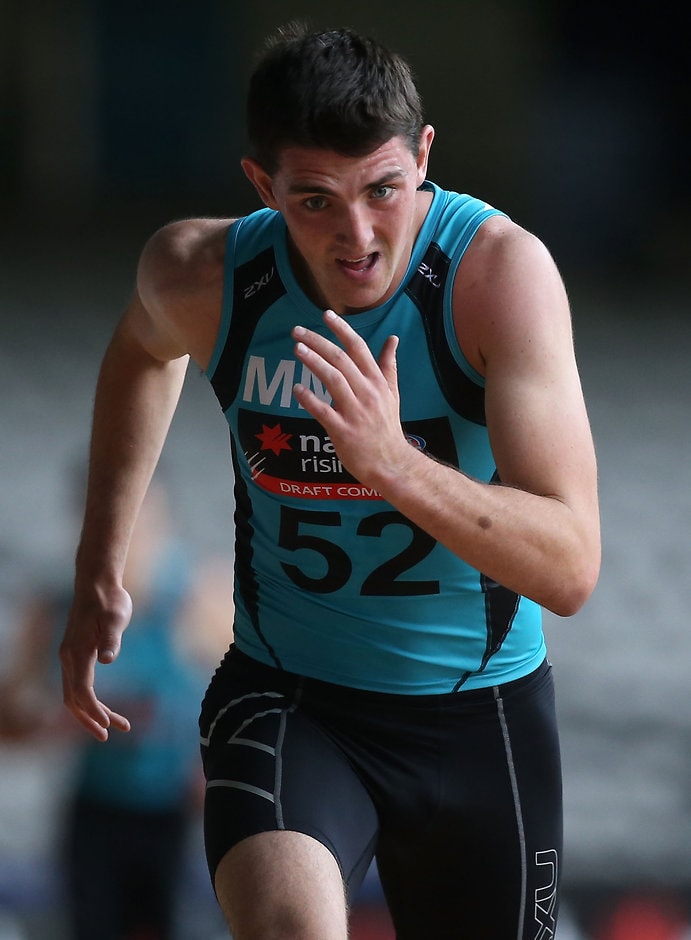 The second I stepped foot in Sydney I absolutely loved the place, the people there and the atmosphere, it was just something else
Colin O'Riordan
THE SYDNEY Swans won a three-way bidding war with St Kilda and Essendon to secure the services of Irish teen sensation Colin O'Riordan.
The 19-year-old was paraded before the media at the NAB AFL Draft Combine on Sunday, and AFL international academy manager Tadhg Kennelly said the County Tipperary product had faced a tough decision on his future.
Kennelly insisted he didn't cajole his compatriot into picking his former club and said the star Gaelic footballer's decision came down to "preference".
"He spent a day at the Swans, Saints and Bombers and they were jumping all over him as soon as they saw him," Kennelly told AFL.com.au.
"He decided at the end of the day Sydney was the best fit for him and I'm delighted, being a former Swan.
"It's no surprise really the way he conducts himself and his character, he's a real Sydney footballer."
While he's ecstatic to receive an AFL contract, O'Riordan says it might take time to get used to wearing the Swans colours.
"I grew at home hating the red and white because it's (rival county) Cork," he joked.
"The second I stepped foot in Sydney I absolutely loved the place, the people there and the atmosphere, it was just something else."
Swans recruiting manager Kinnear Beatson said the club had no hesitation in offering the Irishman a two-year international rookie contract.
He envisaged O'Riordan playing a similar role to the one Kennelly performed with aplomb.
"We think he'll play as a small-medium defender running off half-back," Beatson said.
"The thing that really impressed us is how well he kicks the footy for a guy that's grown up with a round ball, but also his hands were very good over his head and at ground level, and he's just so competitive."
O'Riordan's Irish compatriot Darragh Joyce was injured during the combine and appears to have missed out on winning a rookie spot.
He was no stranger to AFL recruiters, with the 18-year-old a standout at the International Combine in Dublin last December.
"I'm out here to do business and get a contract," Joyce told AFL.com.au earlier in the week.
"I've had interviews with the Swans, St Kilda, Essendon, Brisbane and the Bulldogs, so there has been a bit of interest.
"That's the whole reason I'm out here, because if a contract weren't on the cards I wouldn't be out here."
The 193cm County Kilkenny product has a predominately hurling background, but played Gaelic football at school.
When the opportunity presented to pursue a professional career in Australia and escape Ireland's economic gloom, Joyce didn't think twice.
"I've put college on hold to come out here and chase a dream," Joyce said.
"My father works abroad in London as a plasterer for the past four years because all the work has dried up in Ireland.
"I've had the footy in my hands every day back at home, but once we got knocked out of the hurling with Kilkenny, I've practised even more so.
"It's a fantastic opportunity.
"It's going to hard and I have a lot of work to do because I'm a good bit behind the Australian boys."