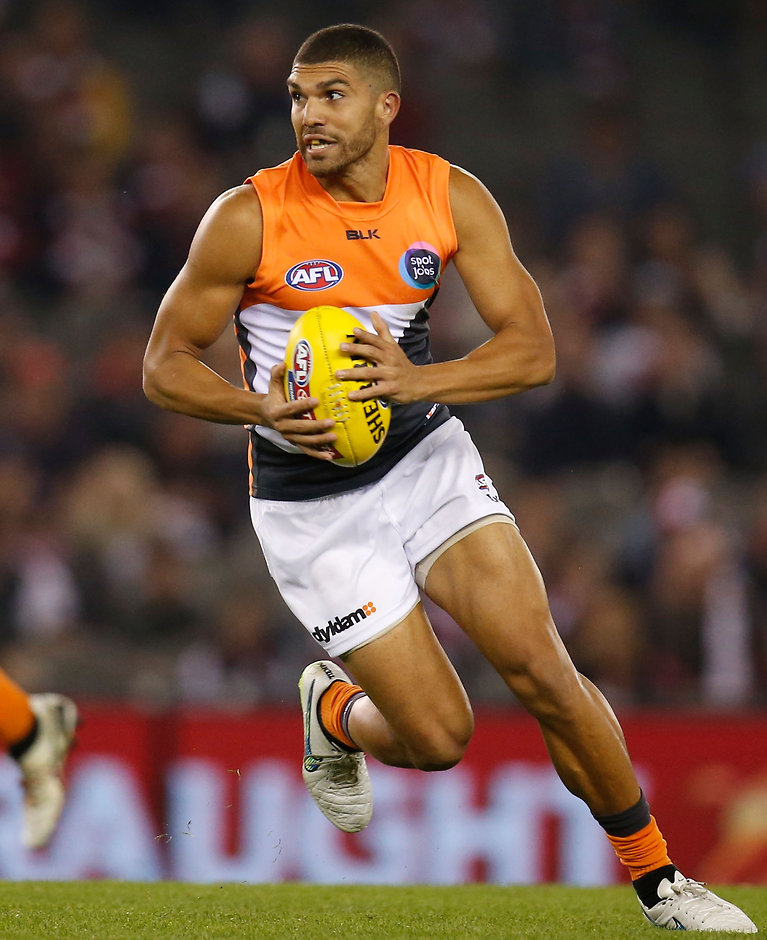 Name: Curtly Hampton
Height: 186cm
Weight: 88kg
Age: 22
Games: 51

Goals: 10
Drafted: Greater Western Sydney, 2011, Northern Territory zone selection.

2015 trade: Joined Adelaide for a future second round draft selection in 2016
What the 2015 AFL Season Guide said: Billed as one of the Giants' big improvers in the pre-season, Hampton backed that up with some polished performances off half-back n the first seven rounds of 2014. An ankle problem interrupted his progress before a serious shoulder injury ruled
him out for seven weeks. He made it back for one more senior appearance in round 23 and, if he can maintain his fitness, big things await the
smooth-moving defender.
Where will he play? Hampton is best suited to playing across half-back where his pace is invaluable, but he can also be used as a dashing wingman.
State league form: Hampton dominated the NEAFL in the league's top team as a rebounding defender, but never carried that form into the senior level. Played the opening game of the year in the AFL but was dropped for round two and wasn't seen again until round 14, despite regularly racking up big numbers for the GWS reserves. He played four consecutive games before being dropped after the Giants' round 17 loss to Geelong, which was his last senior game for the club.
Best season: The most consistent season of Hampton's time at GWS was in 2013 when he played 18 matches and averaged just under 16 possessions a game as a defender
Why Greater Western Sydney traded him: Hampton has not played regular senior footy since 2013 and with the Giants' defence now one of their strongest areas the opportunities just aren't there. The future pick is much more valuable to the club's future.
What is he good at? Hampton is loaded with talent and is a smooth mover with the footy in his hand, which he showed on a weekly basis in the reserves. He has a good leap and carries the ball at speed, making him the perfect running defender.
What does he need to work on? Hampton needs work on his contested ball and consistency at senior level. If he can close the gap between his potential and actual output, he can have a lengthy career at the Crows.