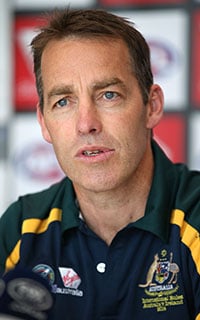 There's a huge Irish contingent here (in New York), and … we can sow a seed over the next couple of weeks about the concept of playing a game here
Alastair Clarkson
ALASTAIR Clarkson has a dream to turn the International Rules Series into a tri-nations affair, featuring a team from the United States.
Speaking to AFL.com.au at the team's training camp in New York, the Australian coach said he had wanted one test in the 2015 Virgin Australia International Rules Series to be played in the Big Apple.
"We'd love to do that, in actual fact we had plans to try and do it for this year, it didn't come off for this year," Clarkson said.
"We want to invest in this part of the world.
"There's a huge Irish contingent here (in New York), and … we can sow a seed over the next couple of weeks about the concept of playing a game here – and maybe even somewhere further down the track having a US-based side that can participate in a tri-series rather than just have us and Ireland playing."
Clarkson is adamant the combined brand of Gaelic and Australian football – with a round ball and rectangular pitch - has a huge future.
"The hybrid concept is actually working," Clarkson said.
"It's 10 series to nine I think in the overall outcome of the series (Ireland leads 14-11 with two drawn tests since 1998), so it means that no one country is actually significantly advantaged by the hybrid game," he explained.
"It'd be great to bring in another side into the competition so it'd become a tri-series, and then who knows where it expands from there.
"We really want showcase our game to the world, and the best opportunity of doing that is to take it to Europe, which are doing by playing at Croke Park, but if we could take it to the eastern side of America then that would be really exciting for our game."
Clarkson raised the prospect of a US clash after defeating Ireland in Perth last season but Ireland said it was too soon to entertain that prospect.
AFL CEO Gillon McLachlan will discuss future possibilities for the series with the Gaelic Athletic Association in Dublin this week.
After attending the thrilling NFL game between the New York Giants and the New England Patriots on Sunday afternoon, the Australian team will hold its final training session in New York on Monday morning.
The Australian squad travels to Dublin on Tuesday, ahead of a one-off test match against Ireland at Croke Park on Sunday morning Australian time.