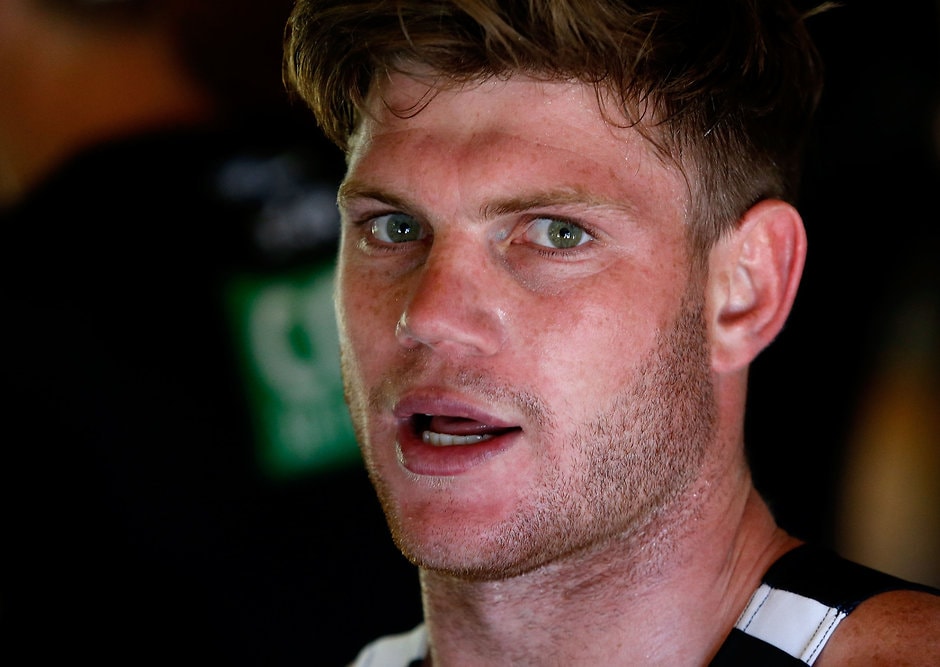 TAYLOR Adams is one of Collingwood's hardest trainers, described by Magpies fitness boss Bill Davoren as an "extremely determined young man".
AFL.com.au was granted exclusive access to the emerging midfielder as he and his first to fourth-year teammates took part in a gruelling week-long training camp at Falls Creek.
Media were given access to cover the camp on Wednesday and Thursday, where they were put through their paces in long-distance running, bike riding, a gym circuit session, boxing, as well as footy specific training.
Adams, 22, provided a unique insight into the mindset required to keep backing up for each session, no matter the level of exhaustion he may have been experiencing.
Tricep dips were one of up to 10 exercises in a tough 90-minute gym session Adams and his teammates completed at Falls Creek's Nordic Centre. The workout was designed as a cross training circuit, with deadlifts, kettlebell lifts, core work, lunges and squats all part of the program. Adams notes the Magpies have a key focus on "functional strength". Davoren, who says most teams now adopt this strategy when it comes to strength work, explained in more detail: "The way the game's going you have to have both the ability to win the contested ball and spread into space. I felt like we needed to marry the running program and strength program up, so we're putting the body in positions that are relevant to the game."
Four months out from the start of the season, most players' weights programs are about building strength and muscle size. Adams' is no different, with Davoren and his fitness staff putting together a program tailored specifically for him. Adams explains the club places a significant emphasis on 'prehab' work, which are exercises designed to prevent injuries before they happen. This includes glute activation exercises, as well as muscle strengthening to ensure the players are well equipped to handle the different movements their bodies are forced into on the football field.
Coach Nathan Buckley made the comment at his media conference on Thursday that there was a real connectedness and a drive to succeed among his younger players. That level of togetherness was clearly evident during the weights session, as Adams and Tom Langdon worked together on the incline bench. This exercise has a dual purpose with Adams raising Langdon off the ground by pulling him up with his own strength, while Langdon has the benefit of completing sit-ups simultaneously.
Described by second-year defender Brayden Maynard as "the hardest thing I have ever done," the Magpies' 22km bike ride on Wednesday evening was not an enjoyable one for the 19 players who took part. The ride, which included 11kms directly up hill, saw them tackle the route dubbed by locals as 'the grind' and there were not many secrets as to the origin of that tag. Adams and Jamie Elliott kept pace in second and third spot across the largely gravel route, about two minutes behind eventual winner Brodie Grundy.
Falls Creek is a spot suited to running. Olympic athletes have been known to use the mountain, in Victoria's alpine region, as a place to train at altitude. For those effects to take place you need to spend 10-15 days at the 1650m altitude, so Davoren says the benefits for the Magpies players are discovered in the picturesque terrain. "A change of scenery and a change of environment is really important over the course of three months and this is one of a number of different things we'll do," Davoren says.
It was clear to those watching that Adams was the player who relished Thursday's morning's 7am boxing session the most. His intensity and power while sparring with Jackson Ramsay during the 20-minute session was something to behold. Adams says boxing has a dual benefit for him, "I find boxing is a really good way to free my back up and to get a top-up aerobic session in. To put the gloves and pads on, rather than running, is a great change up and mentally refreshes us," Adams says.
The affects of three days of solid work are clearly starting to take their toll on Adams. To break up the boxing, Davoren decided to introduce some core work – by way of a front plank and side plank – into the morning program. Coach Nathan Buckley actually admonished some of his players earlier in the week, during a similar session, for not keeping their backs straight while hovering above the ground. The search for excellence, in all areas, was clear by the players' techniques on Thursday morning, "We're all hurting, we're all fatigued so it's just about getting each other through and encouraging each other to train our hardest," Adams says.
Gone are the days where players are able to complete extra running sessions on top of those in their set programs, according to Adams. Instead, he says, the one-percenters that give you an edge on the opposition come down to prehab, stretching, yoga, massage, sleep and diet. "It's not about doing more, it's about being as efficient as possible," Adams says. "There's no secret to it – the harder you work the more reward you get."
Running was, of course, a significant part of the training camp. On Thursday morning, the Collingwood players went for a 6km run. What made things tough was that the fartlek method of training was introduced. Fartlek is a system of training where the pace is constantly varied. Led by running coach Chris Howley, the session saw the players complete five intense efforts over 30 seconds, with 30 seconds of lower-intensity running (jogging) in between. The idea behind switching up the intensities is to replicate a game-like scenario: "Fartlek running is footy specific in that it's stop start," Adams explains. "You've got to train your body as much as possible and get your heart rate down as fast as you can."
With no footy ground on the mountain, the Magpies had to improvise and used double tennis courts for their football session. Much of the session was sharpening up the skills and making the right decision under pressure. While the Collingwood players enjoyed their break in the off-season, they were urged to get the footballs back out before heading back to pre-season training. "It was probably the most enjoyable thing about the whole camp," Adams said. "It's what we're paid to do and what we love to do so it gets pretty competitive."
Adams chooses to break his pre-season down into specific chunks. First there is the four to five-week block before Christmas, which encompasses the Falls Creek camp. Then the full squad is due to travel to Maroochydore for a January training camp. After they return to Melbourne, the club's focus will be on footy and the season ahead, "It's a long season and I like to split things up into months – I find that to be pretty effective," he says.
One Magpies staffer noted Adams' leadership had gone to the next level. During Wednesday's gym workout he was the one encouraging his teammates to keep going when they had little left and on Thursday morning he took a lead role when the coaching staff and playing group were discussing the game plan. In this shot, Adams is explaining to his teammates where they should be positioned when structuring up defensively. "There's a lot more to leadership than being vocal," Adams says. "We speak about having care and empathy for each other, for being as selfless and as team oriented as we can."
When speaking to Adams you are instantly struck by the level of confidence he has in his club and his teammates. On top of the obvious fitness benefits, he says the camp was a good opportunity to bond as a team and to get to know his teammates that little bit better. With the additions of Adam Treloar and James Aish, Adams is certain the Magpies are on the road to success. "We've got a group now who are in the right age bracket to play finals footy. In the next couple of years we can certainly contend for the top four, which is our goal."
The views in this article are those of the author and not necessarily those of the AFL or its clubs