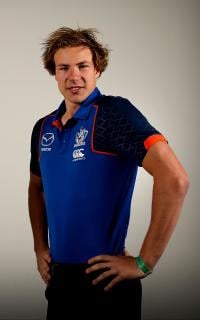 • 2015 NAB AFL Draft tracker: Profiles, pics and video highlights of every draftee
• Going places: Four extraordinary draft stories
• Every NAB AFL Draft pick ever
• Inside the Combine: the tests and top performers
IN BEN McKay, North Melbourne is hoping it has found Drew Petrie's successor
North claimed McKay with its first selection in Tuesday night's NAB AFL Draft, at pick No.21 overall, after Carlton had selected his twin brother, Harry, with pick No.10.
After initially turning his back on the TAC Cup earlier this year to play for his local club Warragul, McKay played 10 games for Gippsland Power in the second half of this season, alternating between defence and attack.
Some commentators viewed the 198cm 17-year-old as a more natural defender heading into the draft, but North recruiting manager Bryce Lewis told AFL.com.au the Roos saw him as a likely replacement for five-time club leading goalkicker Petrie.
"We think he's got the attributes and talent to develop into a power forward. He's certainly going to provide a physical presence and impact marking contests," Lewis said.
"Obviously, we have a positional need with Drew getting on (Petrie is 33) and we're hoping he can fill that gap.
"We definitely see him as a forward long term."
North also addressed its need for more midfield run on Tuesday night with its other four picks: Ryan Clarke, Mitchell Hibberd, Corey Wagner and Declan Mountford.
"We're really pleased to be able to get four runners into the club, and a couple of really elite runners in Clarke and Hibberd," Lewis said.
Selection No.21 – Ben McKay
"He's performed as a forward and a back in his short exposure in the NAB Cup – he only played the 10 games – but we think he's got the attributes to develop into a power forward. He's certainly going to provide a physical presence and impact marking contests. He's a highly competitive kid who has really improved over the second half of the year after playing senior footy at Warragul." - Bryce Lewis
Selection No.31 – Ryan Clarke
"Ryan is a really elite runner, who is an accumulator of the ball, winning it inside and out. He just wills himself to contests." - Bryce Lewis
Selection No.33 – Mitchell Hibberd
"Hibberd was coming off some injuries but he's shown that he's an exceptional aerobic athlete. He can play wing or in that seventh defender role and is noted for his marking." - Bryce Lewis
Selection No.43 – Corey Wagner
"He represented Queensland through all the state programs. He's a versatile ball-winner who's creative, is also a strong runner and shows a bit of toe exiting the contests. He's a mid/forward but can also play some roles potentially down back." - Bryce Lewis
Selection No.60 – Declan Mountford
"He's a hard-working midfielder again who performed very well at the combine both aerobically and for speed/power. Represented WA in the nationals this year and finished off the year strongly, playing some league (WAFL) footy for Claremont and was also a really good performer in their colts premierships side." - Bryce Lewis
The views in this article are those of the author and not necessarily those of the AFL or its clubs