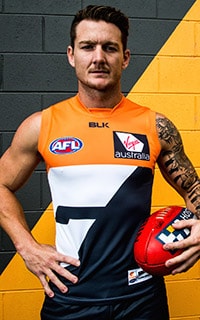 As a 23-year-old you think the opportunity is gone
Daniel Lloyd
NINE GOALS in a semi-final on the New South Wales central coast in front of Greater Western Sydney officials helped seal a rookie spot that was years in the making for new Giant Daniel Lloyd.
• Check out every pick with the Draft Tracker

GWS assistant coach Mark McVeigh spotted the forward playing for his old club Killarney Vale in the Black Diamond League in 2013 – the year Lloyd won the best and fairest – and kept an eye on the former New South Wales representative junior, who spent four years on a scholarship with the Western Bulldogs.
After no AFL career eventuated from his time with the Dogs, where he would train with the club during school holidays, Lloyd was happy to settle at Killarney Vale to play amateur footy with his mates.
But McVeigh's interest led him to speak to senior coach Leon Cameron about the prospect of drafting Lloyd, and he was in attendance to witness a match-winning performance in the Bombers' semi-final win over Warners Bay in August.
"That was the game they (GWS officials) came and watched me, so it was a perfect game for me to kick some goals," Lloyd told AFL.com.au.
"I knew that I had a good game and if they were there then I had a slight hope."
While the nine-goal haul might have helped, McVeigh said the club's decision to take a punt on Lloyd had little to do with the 23-year-old's feast that day and was more to do with the character and raw potential he saw in the aggressive forward.
"I'd seen him play probably 10-15 times over a three-year period, and I didn't really judge it on one game," McVeigh said.
"I'd seen bits and pieces of play where I thought, 'that's a really elite standard'.
"He's a really good person and the Giants are about getting good people into the club and it was a good fit."
Despite his form for Killarney Vale, where he added another club champion award this season, Lloyd said the initial conversation with McVeigh about a possible move to the Giants came out of the blue.
Daniel Lloyd fires out a handball at training. Picture: AFL Media


"I was shocked, I couldn't believe it," Lloyd said.
"You just think you're not going to get looked at playing in a league that isn't really focused on for players getting picked up.
"As a 23-year-old you think the opportunity is gone – it's definitely a shock sitting here knowing that I'm a part of GWS, but it's a good feeling, I can tell you that."
Lloyd will move to Sydney full time with his partner and two young children after the Christmas break and the carpenter says he had already discarded the tool belt.
"That's gone for now anyway, hopefully I don't have to go back to it," Lloyd said.
"The family is just as happy as I am, it's a big change for us and it's going to be a change for the better.
"Everyone is really happy."