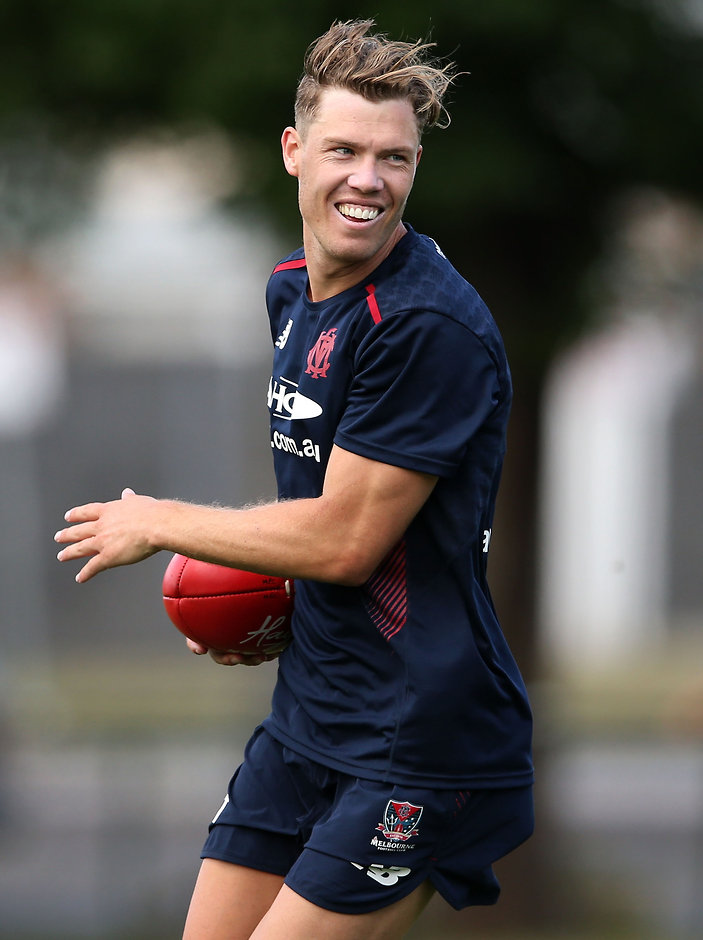 It got the ball rolling and I thought maybe a fresh start would be good for myself, so that's where it got started
Jake Melksham
JAKE Melksham says his friendship with Simon Goodwin was the decisive factor in his decision to seek a trade from Essendon to Melbourne.
After six seasons at the Bombers, Melksham decided the time was right to explore a fresh opportunity and it all came about after a meeting with Goodwin midway through this year.
Goodwin worked closely with Melksham when he was his midfield coach at the Bombers in 2014.
"He gave me a ring and could see I wasn't enjoying my footy or reaching the potential that I had. I'd go around [to his place] for dinner often [and one day] he said 'come around, we'll have a chat'," Melksham told the club's website.
"At the start, I thought it was just a normal dinner… and when we got there, he spoke about the possibility of coming to the club. He said, 'You need to ask yourself what you want to get out of your footy career? You need to find that passion and reignite yourself again'.
"He said 'I'm not going to pressure you into anything and it's not going to [change] our friendship if you do come [to Melbourne] or you don't. It'll still be the same – there will be no hard feelings, but I just want you to get the best out of yourself'.
"It got the ball rolling and I thought maybe a fresh start would be good for myself, so that's where it got started."
Melksham will be primarily stationed across half-back in 2016, with the Demons training him to play in that position.
Although, the 24-year-old understands he will invariably get some midfield time as well.
Melksham played 114 games for the Bombers and he admitted it was hard to leave his close mates.
"I explained to Melbourne that it was a really hard decision because I didn't really want to leave my teammates. I was pretty close to a fair few of the boys there and with the whole group really," Melksham said.
"But at the end of the day, speaking to my family and my partner, and also with Melbourne, sometimes you've got to do what's best for you – not so much worry about what other people want or what other people think.
"You've got to take that leap of faith and start with a bit of a change. I was thinking 'how am I going to approach this and how would I go not being at the club and not being with my good mates?' But in these times, you find out who your real mates are and who aren't, so there are no grudges there with any of the players."
Melksham said dealing with the ongoing supplements saga, that has plagued Essendon in recent years, had sapped his passion for the game.
"It's almost done and I've moved clubs, but I didn't read a paper for three years. Things like that, you push aside to cope with it," Melksham said.
"When I look back over my career, probably in 10 years time, when I'm a little bit older and a little bit wiser, I'll look at it a bit differently. But now it's something that we dealt with, when we had to, and when it wasn't a topic of conversation, we were just worrying about our football and our day-to-day lives.
"It's coming to an end now, I think, and it'll be a good day when we can all move on from it."