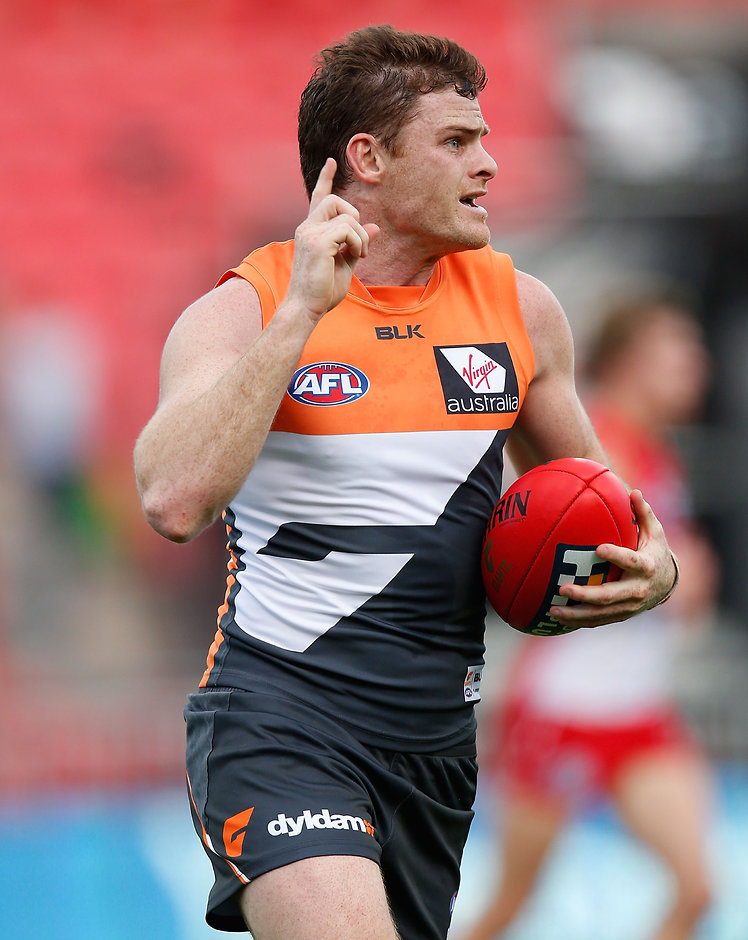 I think coaches and media can over-complicate the game … it's a pretty simple game
Heath Shaw
HEATH Shaw has had enough of hearing how young the Giants are.
He's also had enough of not making the finals.
If there's one thing you can rely on the veteran GWS defender to do, it's call a spade a shovel, and that's what he did during a recent chat with AFL.com.au.
After spending nine years with Collingwood, and making the finals in all but one of them, Shaw knows only winning.
Giant's 'wretched' run of injuries continues
He wasn't silly enough to think it would be easy at GWS, but after two seasons at the club, he is demanding more of his teammates ahead of 2016.
Shaw does not exclude himself from that, knowing he has to continue striking the leadership balance between nurturing and instructing.
"I hate when coaches and people talk about our young list and how young we are," he said.
"No other team cares how young or old they are. No-one cares.
"We are judged on how we perform, not how old we are.
"Last year, 11 wins was a good performance but we can't use the fact we were young (as an excuse) because we beat Hawthorn and Adelaide.
"But then we lost to Melbourne … that was consistency and performance and belief rather than how old we were."
Shaw is now 30, and despite coming off arguably his best season where he earned his first All Australian guernsey, knows the years are ticking by.
He takes a macro approach these days and focuses on the team, and how it can improve as a whole.
Interestingly, Shaw was happy to compare the current Giants with the Magpies 2010 premiership team, of which he was such an integral member.
"This group is more talented than our team in 2010," he said. "But the team in 2010, if I put it against this team now, would beat them convincingly.
"That team worked hard, knew their role, played their role, very, very simple, and that's how Mick (Malthouse) always picked his team.
"That's what we need to get into our team and I think we've started to do that.
"Guys understand we're not playing under-18s any more. You've got to do the team things to help the guy next to you be a better player."
Interchange cap will hurt all players: Mumford
Shaw took so many lessons from the Magpies, not least of all on how to become a leader.
Working in a backline with the likes of Nick Maxwell, Tarkyn Lockyer and James Clement, he had little choice.
Using his voice has never been a problem, but Shaw now believes he's found the right balance of how to deliver his message – something that didn't always come naturally.
"Sometimes you've got to be ruthless and sometimes you've got to nurture, and it's a tough thing to do on the field in the heat of the moment, but at the end of the day you're teammates and out there to win games of footy."
Premiership teammates of 2010 Dane Swan and Heath Shaw catch up at the MCG. Picture: AFL Media

After 11 seasons and 213 games, Shaw says he's figured out what works best for him.
It's a trait he's trying to encourage through the group, for players to think for themselves, and to help develop more on-field leadership when times get tough.
Consistency through quarters, consistency through games and consistency through the season – it's not rocket science.
"I think coaches and media can overcomplicate the game … it's a pretty simple game," Shaw said.
"There's a lot of things that go into AFL these days and you're looking at all different aspects to get the edge on someone else, but when you go out there, you're acting on instinct.
"Guys get drafted for a reason, because they're good at football. I think you've got to nurture that, work on things you need to, but you've got to tap into the fact they're good players."
It's a philosophy he hopes will take the Giants past August in 2016.
"It's about that consistency – if we do that, we play finals, if we're not, then we won't.
"I want to play finals every year, I want to win every game."
"I'd rather be taking my holidays in October and November than September, that's for sure."