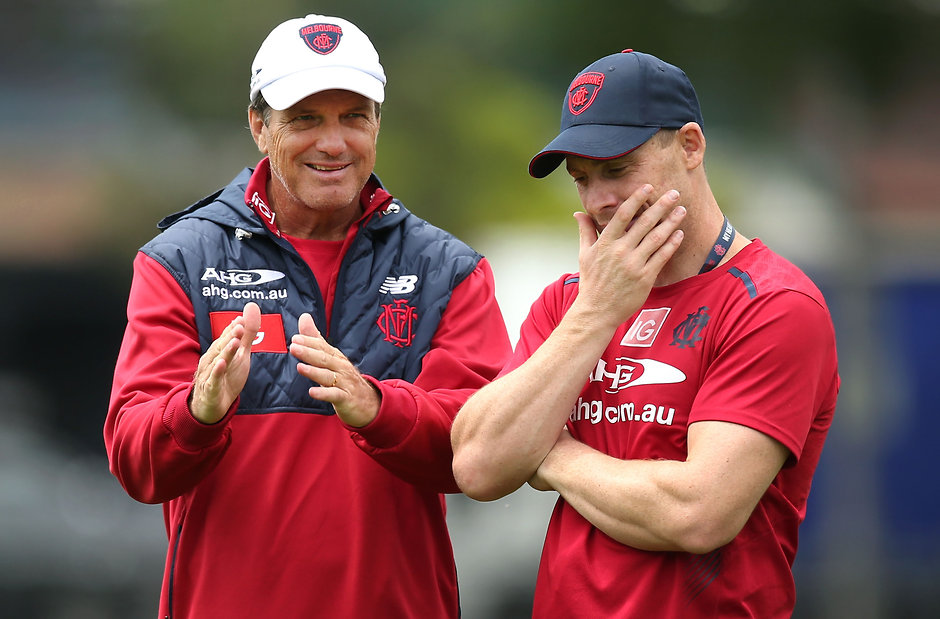 With the set-up we've got, I think it's important to get out of my office and get among the staff and get among the players and talk about what we want to achieve as a footy club
Paul Roos
PAUL Roos says he will spend more time working with Melbourne's fitness and medical staff next year as he prepares to hand over the reins to Simon Goodwin after the 2016 season.
Roos has already given some of the senior coach's duties to his successor and will continue developing other areas of the club in his third and final season at the helm.
"I'll be spending more time with the medical department and the fitness department (as part of the coaching transition)," Roos told the club's website.
"I'll be spending more time with the development department and general groups of players – whether that's younger players or the leadership group, which I was working with anyway last season.
"I'll be devoting more time with Jimmy Plunkett from Leading Teams and spending a lot more formal and informal time with staff. It's something that when the season gets underway, we tend to forget about and we get into our offices.
"With the set-up we've got, I think it's important to get out of my office and get among the staff and get among the players and talk about what we want to achieve as a footy club."
The Demons are aiming to climb up the ladder from 13th after showing some clear progress with seven wins last season.
It has been a decade since Melbourne last played finals, but the club's ambitious goal is to return to the top eight in 2016.
Improvement continues to come from a host of impressive young recruits, and Roos said a restructure of the club's football department led by football manager Josh Mahoney would help the Dees fast-track player development.
"We started talking about it with about a month to go in the season. Josh is terrifically proactive in making sure the footy department is at the cutting edge," Roos said.
"Development tends to focus on the first-, second- and third-year players, but we believe (assistant coach Brendan McCartney) can really head up the development department, which includes Nathan Jones and Bernie Vince.
"With Goody taking control of ball movement and training, plus some game style as well, Daniel McPherson's role now becomes critical. It's a role that exists at other clubs and we haven't had it here before.
"He's in charge of our game style for our VFL side, so it's almost a one-stop shop, where I can say, 'Frosty (McPherson), we need to work more on this', so that's a really, really important role.
"We've also seen this year how we've improved at Casey and the guys coming in were a lot better prepared."
The Demons recruited hardened players Jake Melksham (Essendon), Tomas Bugg (GWS) and Ben Kennedy (Collingwood) during the off-season with the intention of fielding "a team of competitors" next season.
"We want them to play at 100 per cent and master a game style that we think's going to be really sustainable for the long term. They're really the goals for next year," Roos said.
"We've shown we can defend really well and we can actually score a lot better, but it's the combination of the two that we need to get right – the balance. That's what good teams are able to do."