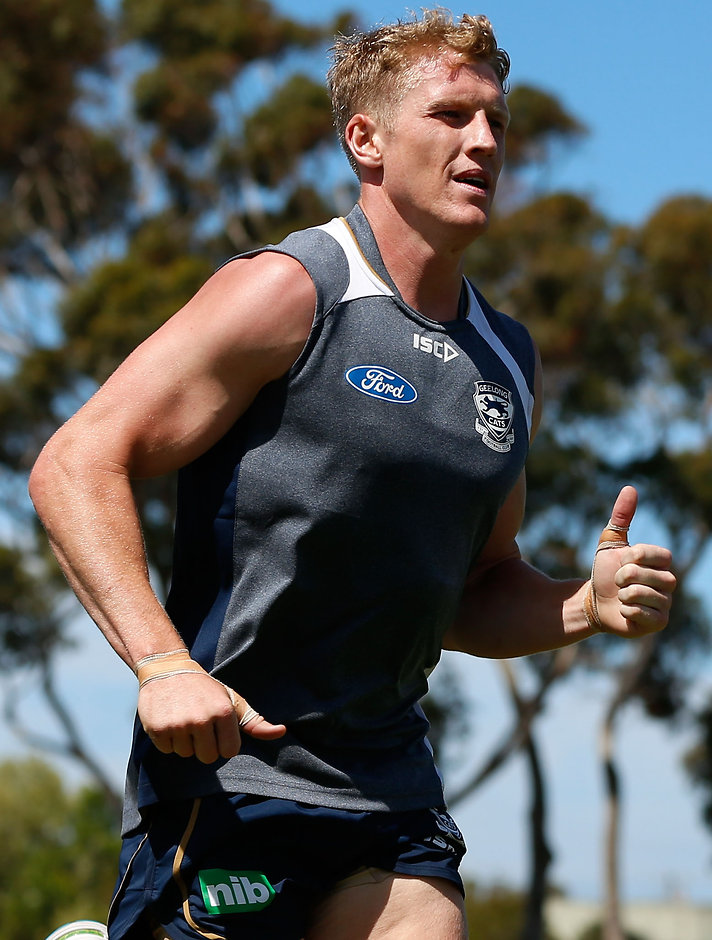 You've just got to be able to go and play a different position, and I think for me that's as a forward
Josh Caddy
WITH the addition of two star midfielders in Patrick Dangerfield and Scott Selwood, competition in Geelong's midfield is scorching this summer.
Throw in the likes of Scott's brother Joel, Josh Caddy, Cam Guthrie and Mitch Duncan as well as emerging talents George Horlin-Smith and Nakia Cockatoo – and the Cats have a midfield capable of leading the club back into the top eight.
There certainly won't be room for one-trick ponies and for Caddy that will likely mean extended stints up forward.
The 23-year-old has made a name for himself as a goal-kicking midfielder in recent seasons and booted 16 majors last year while averaging 20 disposals a game.
At 186cm and almost 90kg, Caddy has the size to play as a genuine forward and said he would relish the chance to help his side by hitting the scoreboard.
"I'm going into my sixth season so naturally the longer you're in the game the more responsibility you take on," Caddy told Cats TV.
"I'm just a cog in the chain … I know we've got some really big names, but it's going to take a whole group of us to be a good side.
"I'm hopefully going to be that midfielder that goes forward at times – along with Paddy [Dangerfield], Joel [Selwood] in the last few years has kicked some goals.
"You've just got to be able to go and play a different position, and I think for me that's as a forward."
Caddy managed to take part in most pre-season training sessions before Christmas – a relief given he missed the final two games of 2015 with a slight knee injury.
His aggression on the track hasn't gone unnoticed, and he said attacking the ball hard was crucial if he wanted to retain his place in the midfield pecking order.
"At the end of the day, you're fighting for a spot against these guys and that's what it's going to be like," Caddy said.
"There's really tough competition for a spot for everyone.
"[You] don't want to hurt anyone at the same time though so it's a bit of a fine line."