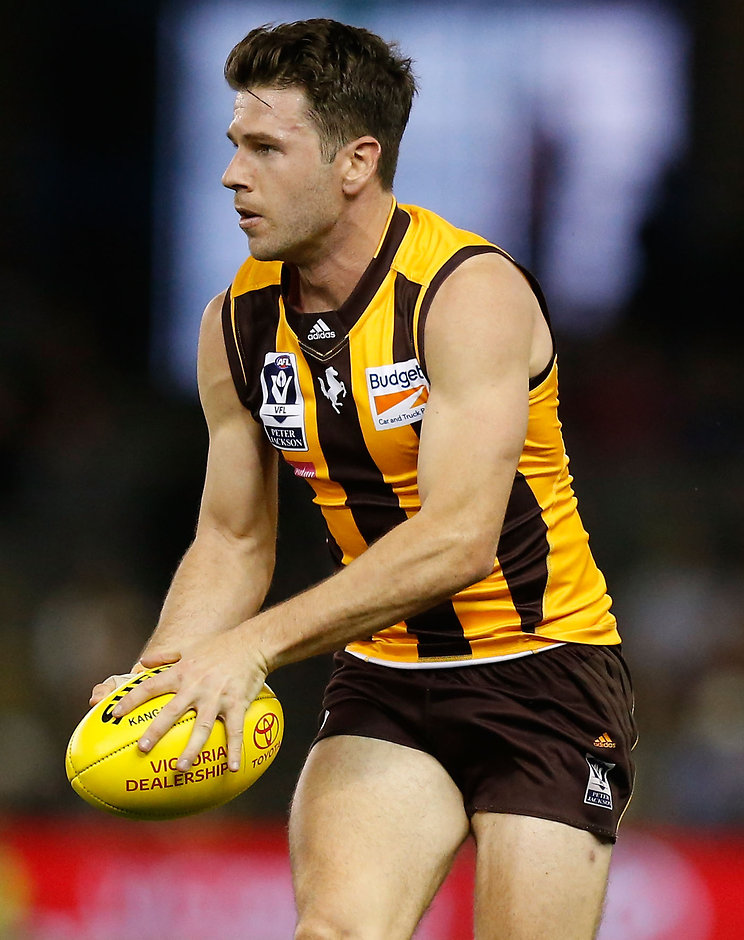 • Eight burning questions about the bans
• What the Dons' round one team could look like
• Timeline: Three years of turmoil for Essendon
• Where are the Essendon 34 now?

PLAYER managers sent Essendon lists of potential top-up players on Tuesday after the club had 12 key players suspended for 2016.
They are now waiting for the AFL to determine the specific rules relating to the contracting of up to 10 top-up players and for Essendon to develop its recruiting strategy in order to replenish a list the Court of Arbitration for Sport's ruling has decimated.
The AFL met with Essendon on Wednesday to begin thrashing out the rules now necessary because of the lengthy penalty.
There are varying schools of thought among managers as to the direction Essendon should take but AFL.com.au understands the Bombers are more than likely to recruit players to meet the specific roles left vacant.
The Bombers are missing:
- Three big-bodied midfielders (Jobe Watson, David Myers, Heath Hocking)
- Three running midfielders (Dyson Heppell, Brent Stanton, Travis Colyer)
- Two tall defenders (Michael Hurley, Cale Hooker)
- One small defender (Michael Hibberd)
- One small forward (Ben Howlett)
- One medium-sized defender (Tayte Pears)
- One ruckman (Tom Bellchambers)
It has upgraded five rookies but needs to fill several holes in the line-up.
Essendon rookies set to step up
AFL.com.au assessed the best options in each role:
Midfielders
On list: Brendon Goddard, David Zaharakis, Craig Bird, Will Hams, Adam Cooney, Martin Gleeson, Jayden Laverde, Jackson Merrett, Darcy Parish, Alex Morgan, Tom Wallis, Conor McKenna, Shaun Edwards.
Top-up options (big-bodied midfielders)
Jonathan Simpkin (28)
AFL games: 37. Goals: 16
He is an ideal fit - big-bodied, experienced, durable and from quality clubs in Hawthorn and Geelong. He has expressed a willingness to entertain an offer from Essendon.
Mat Arnott (22)
Games: 9. Goals: 1
On the fringes at Richmond in the past two seasons and only managed to string together solid performances at VFL level late in the season.
Jaryd Cachia (24)
Games: 14. Goals: 1
Captain of Richmond's VFL team in 2015 and is a rock solid performer. Moved to South Australia to play with Norwood.
Jacob Ballard (21)
Games: 1. Goals: 0
Unlucky not to be rookie-listed, he is an inside midfielder who showed his talent with Peel Thunder.
Nick O'Brien (22)
Games: 14. Goals: 4
Finished fifth in the Bombers' VFL best and fairest after playing nine senior games late in season. Knows the club, can win the ball and just needs to improve his disposal.
James Polkinghorne (26)
Games: 94. Goals: 53
Essendon's VFL best and fairest in 2015 has to come into calculations. A hard nut in the midfield, he played all but one game last season and averaged 20 disposals. He knows the club and system.
Nick Rippon (21)
The ball magnet won the J.J.Liston Trophy but AFL clubs overlooked the 176cm midfielder. He needs to improve his ability when not in possession.
Jordie McKenzie (25)
Games: 79. Goals: 10
Three-time best clubman at the Demons shows his character. He is a tough ball winner who struggled with his disposal. Has moved to South Australia to play.
Daniel Cross (32)
Games: 249. Goals: 34
Cross played every game in 2015 but the Demons needed to find a spot for younger players. Has a job at the Demons but the football fanatic might not be able to resist the chance.
Running midfielders
Sam Dwyer (29)
Games: 39. Goals: 22
Respected former Magpie who was one of their best at VFL level but struggled to break into seniors. He is reliable and solid without being spectacular.
Dwyer keen to resume AFL career with Dons
James Kelly (32)
Games: 273. Goals: 88
Has not played fewer than 17 games in a season since 2006. Had an inconsistent final year, either playing well or completely battling but he is an exceptional leader.
Sam Dunell (25)
Games: 12. Goals 1
Made the VFL team of the year and is son of former Essendon player Frank Dunell. Played well against Essendon VFL in 2015 and could be at home on a wing.
Eight burning questions for the Essendon 34
Tall/medium defenders
On list: James Gwilt, Mark Baguley, Mitch Brown, Aaron Francis, Anthony McDonald-Tipungwuti, Michael Hartley, Jason Ashby, Courtenay Dempsey, Jake Long
Top-up options
Tom Simpkin (25)
Games: 31. Goals: 2
Defender could grab a second chance and do the work required to maximise his potential as a key defender.
Clinton Young (29)
Games: 137. Goals: 69
Cards seemed marked at Collingwood after making a few crucial mistakes and battling injury. The long-kicking wingman would have a point to prove.
Matt Watson (23)
Games: 23 Goals: 10
If ever there was an unrealised talent it is Matt Watson. Despite a booming left-foot kick, his confidence deserted him at Carlton. Faith might be all he needs.
Mitch Golby (24)
Games: 56. Goals: 6
The running defender finished the season brilliantly in the NEAFL but was out of favour by then. He has plenty to offer a new club and was unlucky to not find a spot on a list for 2016, with Essendon understood to have met with him during the exchange period.
Scott McMahon (28)
Games: 124. Goals: 28
Somewhat underrated, the veteran defender has coaching aspirations. He works hard at his game and was a permanent fixture until 2013 with the Kangaroos.
Paul Duffield (30)
Games: 171. Goals: 33
Comes from a good system and had played no fewer than 20 games a season between 2009 and 2014 before playing 14 this year.
Medium/small forward
On list: Mason Redman, Yestin Eades, Nicholas Kommer, Jayden Laverde, Kyle Langford, Zach Merrett, Orazio Fantasia
Top-up options
Mathew Stokes (31)
Games: 189. Goals: 203
Dual premiership player at Geelong who struggled for consistency after an ankle injury in 2014 but was brilliant before then. Definitely capable at AFL level and can kick goals.
Arryn Siposs (23)
Games: 28. Goals: 22
Has class but would need to prove he can do the work required to revive his career.
Kieran Harper (23)
Games: 40. Goals: 37
Another player who looked as though he could be anything early in his career but then dropped off.
Justin Van Unen (25)
Mornington Peninsula goalkicker was close to being with Richmond after his TAC Cup career with Oakleigh Chargers. A freak in front of goal in recent seasons, he might be the mid-sized goalkicker the Bombers need.
Rohan Bail (27)
Games: 71. Goals: 28
A coaches' dream, he will give everything for the team. An exceptional runner who still has the desire to play AFL football.
Ahmed Saad (26)
Games: 33. Goals: 48
Hungry, quick and can kick goals. Served his time for anti-doping violation and can have an impact.
Hisham Kerbatieh (18)
A left-field option but unlucky to miss a spot on an AFL list. He is explosive and can kick goals.
Tall forwards
On list: Joe Daniher, Patrick Ambrose, Shaun McKernan
Top-up options
Ayce Cordy (25)
Games: 27. Goals: 15
Was given a chance last season but could not make an impression at AFL level.
Jordan Lisle (25)
Games: 23. Goals 16
Tall forward but didn't show enough at AFL level despite many opportunities.
Ruckmen
On list: Matthew Leuenberger, Gach Nyuon
Top-up options
Mark Jamar (32)
Games: 155. Goals: 56
Did little wrong with the Demons under Paul Roos but they needed to blood Max Gawn. He is a big body who knows how to throw his weight around.
Darcy Cameron (20)
Big ruckman in the WAFL who was overlooked in the NAB AFL Drafts despite being a mobile prospect with good hands who has shown he can play forward.
The views in this article are those of the author and not necessarily those of the AFL or its clubs