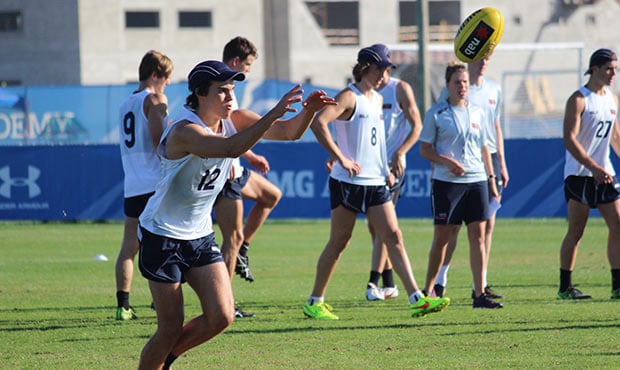 It was hard to leave all my mates and start year 12 at a new school, but I enjoyed it and it's been really good
Jack Bowes
OF THE four northern clubs with zone academies, Gold Coast was the only not to take one of their local products in the first round of last year's NAB AFL Draft. Things look likely to change on that front in 2016.
The Sydney Swans (with Callum Mills), Brisbane Lions (Eric Hipwood) and Greater Western Sydney (Jacob Hopper, Matthew Kennedy and Harrison Himmelberg) were beneficiaries of the academy system in the opening 23 selections, under a new bidding process that saw the clubs paying closer to market value for early picks.
This season might be Gold Coast's turn.
The Suns are yet to have access to a top-line academy prospect since entering the competition, but this year have first call on midfielder Jack Bowes, who moved from Cairns to the Gold Coast last year to enhance his draft hopes.
The 17-year-old is strong overhead, has excellent awareness and at 187cm can play all over the ground, making for a combination of traits that will appeal to clubs.
Bowes said the shift closer to the Suns' headquarters had benefited his development, having joined the club's academy program as a 13-year-old at home.
"I had played a year of senior footy in Cairns when I was 16, so it was either do that for another year or try to challenge myself and really push myself down south and see how I go," Bowes told AFL.com.au in Florida, where he is training with the NAB AFL Academy.
"Moving to Gold Coast cut my travelling and I am living with my grandparents there, so it was the right decision to make. It was hard to leave all my mates and start year 12 at a new school, but I enjoyed it and it's been really good."
It was also an advantage in ways Bowes wouldn't have anticipated.
After debuting for the Gold Coast reserves side in the NEAFL and collecting 22 possessions and booting a goal, he suffered a knee injury that setback his year and ruled him out of playing for Queensland at the NAB AFL Under-18 Championships.
Being near the Suns' facilities meant he could access their resources during his recovery, and he saw the way injured Gold Coast pair Jaeger O'Meara and David Swallow tackled their own rehab programs to overcome respective knee issues.
Bowes is now past the knee problem and training fully with the AFL Academy at the IMG Academy in Bradenton, Florida, as he enters his biggest and busiest football season.
He has his sights on a more productive 2016 campaign, including playing for the Allies side – made up of the best prospects from Queensland, NSW-ACT, Tasmania and the Northern Territory – that will take on the division one teams at the under-18 carnival.
"Hopefully I can make that team and play against the division one boys, which I've always wanted to do," Bowes said.
"You get to challenge yourself against the best and there's no way better than doing it in division one, so we'll see how we go."
Queensland will be aiming to win back-to-back division two championships when its carnival gets underway in May, with Bowes one of four players from the state selection in the national academy.
Brad Scheer and Bowes are tied to the Suns, while Jack Rolls and Jacob Allison are members of the Brisbane Lions academy. Allison is already highly rated after his championships last year saw him win All Australian honours as a bottom-ager.