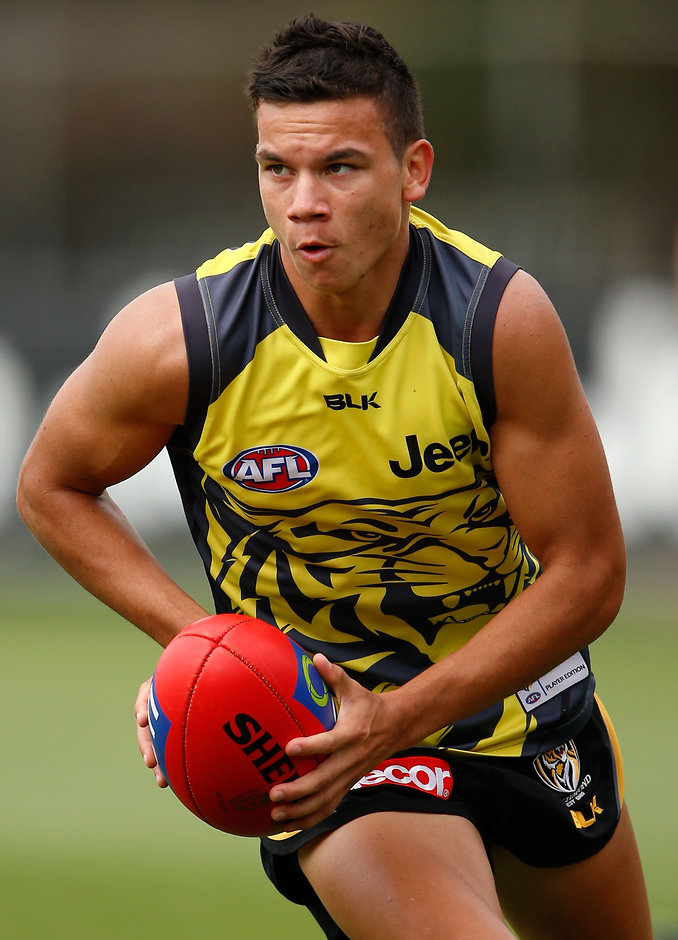 Unlike my 19-year-old son he makes his bed at stages, which is a positive
Damien Hardwick on Daniel Rioli
RICHMOND draftee Daniel Rioli will enter his first season under the watchful eye of his coach after moving in to Damien Hardwick's family home.
Rioli was snared with the Tigers' prized No.15 pick at last year's NAB AFL Draft and moved into the Hardwick residence, temporarily along with rookie Mabior Chol.
Former Tiger to don the red and black
The cousin of Hawthorn star Cyril Rioli has since stayed on with the Hardwicks as he launches what the club hopes will be another chapter in his extended family's rich football history.
"We decided to offer Daniel a place to stay, and we would have offered Mabior a place too if we had room. They're both terrific kids," Hardwick told AFL.com.au.
"Whether it's short-term or long-term we're not too sure at this stage, but he's slotted into the Hardwick house very well.
"For an 18-year-old he's very self-sufficient with the things he does, and unlike my 19-year-old son he makes his bed at stages, which is a positive!
"He's just very well-balanced in his life."
Rioli will likely be unveiled early in the NAB Challenge, with Hardwick seeking to expose his young talent to AFL football before assembling his best team in the later pre-season matches.
There is "every chance" the youngster could make his debut against Carlton in round one if he continues a promising pre-season.
"The positives for us is our draftees have all shown us why we drafted them," Hardwick said.
"At various stages they've all had very good weeks."
Mature-age recruit Nathan Broad has been particularly impressive, continuing a trend of older draftees to make their mark at Punt Road Oval.
The 22-year-old defender looks a "ready-made AFL player", Hardwick said.
"It's amazing those guys who have missed out on drafts, (Kane) Lambert was the same, you wonder how these guys don't get drafted," the coach said.
"They work incredibly hard and they're very thankful for the opportunity.
"You just hope they repay the faith."
The Tigers started the pre-season with nine players in the rehab group, but that has since shrunk, with only Shaun Hampson (ankle), Taylor Hunt (knee) and Nathan Drummond (knee) being managed.
With only two players on the list aged 30 or over, Hardwick said the club had been able top get a significant amount of work into its players before pre-season matches start.
"Overall, the amount of work we've been able to get into the players from a football and running point of view, we've been very happy with," he said.
"We've had great numbers on track and the fitness of our players has gone to a high level.
"The age demographic of our list is at a point where they've played a lot of football together and I've got no doubt we'll get better again."