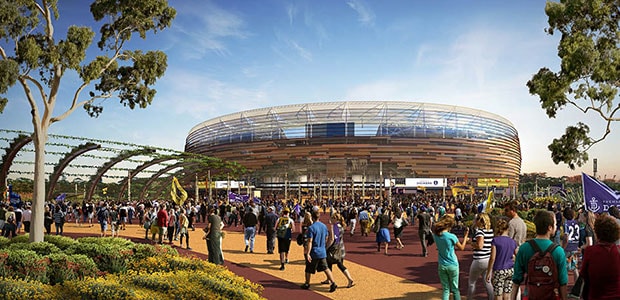 WEST Australian football faces an uncertain financial future after Perth Stadium Management missed out on the contract to operate the state's new home of football.
The WA government on Monday announced that Stadium Australian Operations, the operators of ANZ Stadium in Sydney, was preferred to Domain Stadium operators Perth Stadium Management, the stadium operating arm of the Western Australian Football Commission.
The WAFC yields roughly $15 million net revenue from its current ownership of Domain Stadium that is directly invested back into football development in WA.
WAFC Chairman Murray McHenry said the decision was a major blow.
"We are deeply disappointed about this decision and believe that football and its major international partners have the experience, skills and imagination to operate Perth Stadium on behalf of all West Australians," McHenry said.
"We are now deeply concerned about the future financial model for WA football because stadium operations have been critical to the development and success of the game.
"At all times during the development of Perth Stadium the state government has reassured football that the sport will be no worse off as a result of the new venue. We now need the government to show how this will be the case in order to safeguard the future of our game.
"We need the state government to progress discussions on how to preserve football's financial future as the sport now has no certainty for its future.
"We will immediately start re-assessing how to sustain the ongoing growth and development of football and its various operations like Auskick, community football, WAFL, female football, indigenous and multicultural programs.
"This decision also presents us with a range of concerns about the potential user agreements for our two AFL clubs at Perth Stadium and whether they will generate sufficient returns to sustain football in Western Australia."
WA Premier Colin Barnett made the announcement at Burswood and said that Stadium Australia Operations was the best choice of the four shortlisted operators based on value for money, operating approach and experience.
"It was an exacting process of selection but Stadium Australia were significantly the best proposal," Mr Barnett said.

"There is still probably two to three months of work to finalise the contract but we expect that to go through in a smooth way."

The Premier also said that WA football would continue to be funded via a revenue stream generated from the stadium despite football not operating the venue.

"Out of this contract, to be finalised, there will be a profit sharing arrangement and a revenue flow for the state government," he said.

"Out of that we will be able to maintain funding for the WA football commission and local football. Obviously still some work to be done but a big step forward for the stadium."

WA's sport and recreation minister Mia Davies was confident WA's AFL clubs, Fremantle and West Coast, would have no issues negotiating user agreements with Stadium Australia Operations.

"We are very confident they will be able to continue to negotiate along with the state," Ms Davies said.

"Obviously football and cricket as two of those key user groups will need to be taken into account and they will have to work very closely with them but we are confident that they will be able to do that.

"We are very confident that this stadium presents a wonderful opportunity for football to grow and thrive in WA. We are not about making it harder for football.

"I can't see any future in WA where football doesn't see this as a great outcome."
Artist's impression of new Perth Stadium on match day
AEG Ogden and Nationwide Venue Management were the other two shortlisted operators.
AEG Ogden has been announced as the reserve respondent should negotiations between the WA government and Stadium Australians Operations fail.
AFL football is set to move from Domain Stadium to the new Perth Stadium at the start of 2018 premiership season although construction is currently ahead of schedule and it is possible that the stadium could be ready to host finals in 2017.
The WAFC administration is also currently housed at Domain Stadium along with the West Coast Eagles.
The Eagles are planning to move to a new purpose-built administration and training base at Lathlain Park with construction of that facility is currently in the planning phase.
There had been major concerns within the WAFC for the future financial model of WA football if Perth Stadium Management did not win the operating rights to the new stadium.
The WAFC now faces that reality whilst going through the process of appointing a new chief executive after Gary Walton resigned at the end of January following four years in the role.