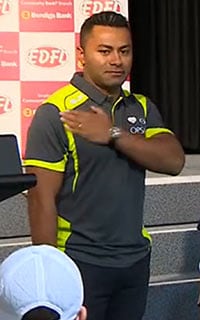 FORMER midfielder David Rodan is aiming to be an AFL-listed goal umpire by 2017 as he embarks on a new career this year.
The ex-Port Adelaide, Richmond and Melbourne player will start as a VFL goal umpire this season as he targets an AFL debut next year.
"It's up to [AFL umpires boss] Wayne (Campbell) to decide due to my performance, so hopefully sooner rather than later [I'll be able to goal umpire an AFL game]," Rodan said on Wednesday.
"We'll see how I go. I'll obviously develop this year and then hopefully next year [I can umpire at the top level]."
Rodan and former Carlton midfielder Andrew Carrazzo were on hand as AFL chief executive Gillon McLachlan announced the League would have 10 diversity academies for umpires this season.
The support of the Scanlon Foundation, headed by former VFL commissioner Peter Scanlon, helped set up the program.
"The aim for the diversity academies is to introduce people from indigenous and multicultural backgrounds to umpiring with a 10-week course in the basics of umpiring Australian football," Scanlon said.
"Each of the courses is linked to a local umpiring group so that we aim to see new umpires progress into the game."
Carrazzo, who retired last year after 194 games with the Blues, recently umpired an Essendon intraclub match. He will umpire in the Victorian Amateurs league this year before hoping to progress through the ranks.
"It's going to be a couple of years [before I get to the AFL stage]. At the moment I'll be in the Amateurs and maybe some TAC Cup at the end of the year, and then VFL the following year," Carrazzo said.
"Depending on how I'm going, I'll put my hand up hopefully for the AFL the following year. At the moment it's going really well and I'm really enjoying it.
"It's very similar to a footy club environment training with all the guys and there's a good camaraderie. It's good fun and really challenging."