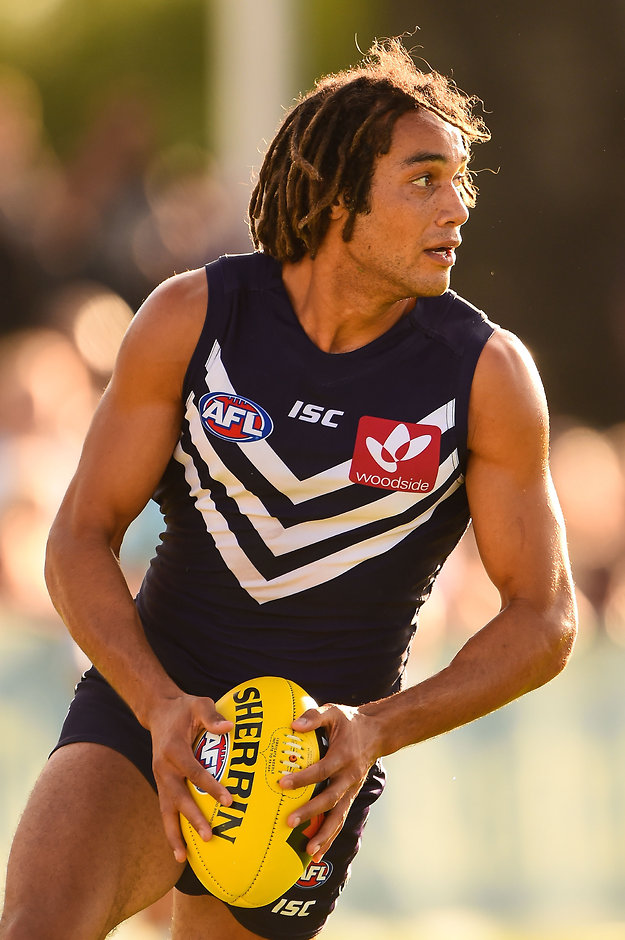 I don't see it as do or die this week or next week
Tendai Mzungu
FREMANTLE utility Tendai Mzungu is keeping it simple as he bids to again become a regular in the Dockers' best 22, after a 2015 season in which he fell from selection favour.
Mzungu, 30, had been a fixture in the Dockers' side between 2012 and 2014, playing 72 out of a possible 73 games and only missing one through injury.
But an untimely minor hamstring strain late in the 2015 pre-season saw him named emergency for round one and he was only sighted at senior level just three times in the first 16 rounds despite being fully fit.
Mzungu played the last eight games of the season including the Dockers' two finals.
He has had an excellent summer with strong performances in all three NAB Challenge games in a variety of roles and looks set to start against the Western Bulldogs this week, but he does not feel any pressure to perform.
"I don't see it as do or die this week or next week," Mzungu said.
"I'll just keep working incredibly hard and trying to do what the team requires and the rest will take of itself."
Mzungu takes each year as it comes after being drafted as a 24-year-old in 2010 following an unconventional path to the AFL via amateur and WAFL football.
He is the Dockers' best endurance runner but he said he has spent the summer sharpening other areas of his game.
"Running is obviously a strength of mine and something that I work incredibly hard at as well," Mzungu said.
"But also I've got to get better with my skills and my decision making and things like that.
"That's always at the forefront of my mind and also being able to play inside, a bit more contested stuff, so I'll keep working on that. There are many facets of the game that I'm trying to improve on."
He is likely to push forward more in 2016 after spending some time forward during the NAB Challenge.
Mzungu said it was disappointing not to have star recruit Harley Bennell lining up for his Dockers debut this week after he was ruled out with a calf injury. But Mzungu was excited about what former Sun might bring to the side when he was available.
"He's smooth with the ball and makes really good decisions," Mzungu said.
"He gives a little bit of X-factor that we might have lacked in recent times. He works incredibly hard as well. Hopefully he gets to show that, his offensive and defensive side of the game, when he gets unleashed for the Dockers."
Mzungu was speaking at a football clinic for a group of kids from multicultural backgrounds in the southern suburbs of Perth. Mzungu, whose father was born and raised in Zimbabwe before migrating to Australia, is a multicultural ambassador for the AFL this season.
Mzungu said he was honoured to take on the role.
"It's something that I probably haven't given a lot of thought to previously but when approached about it, it's something that I was pretty keen to get involved in," he said.
"I think inclusion in the game is important. Everyone should have an opportunity to play, not just football but sport in general."