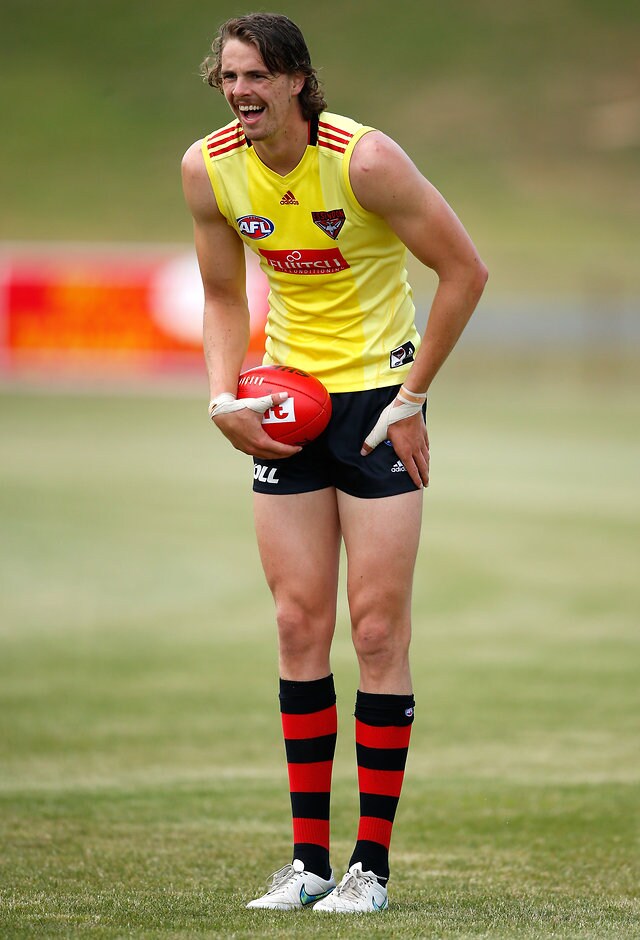 EMERGING Bombers Zach Merrett and Joe Daniher have been named in the club's rejigged leadership group, which will feature rotating top-up players throughout the season.

Essendon was forced to change its leadership group when five members – captain Jobe Watson, vice-captain Dyson Heppell, David Myers, Cale Hooker and Michael Hurley – were suspended for the season for anti-doping breaches.

The remaining two members of the group that was announced in December, Brendon Goddard and Mark Baguley, have taken on the respective captain and vice-captaincy duties this year.

The bans left several vacancies, with Merrett, Daniher and James Gwilt added to leadership positions, and David Zaharakis reinstalled into the leadership group after being cut at the end of last season.

The club's football manager Rob Kerr said the Bombers saw it as an opportunity to upgrade Merrett and Daniher, two of their brightest young talents.

"Obviously development of our youngsters is a bit of a priority this year so it makes sense that we've got a couple of younger players who are held in pretty high regard by the group and they're emerging leaders," Kerr told AFL.com.au.

"Given the circumstances and given the exposure to the full leadership repertoire and what's involved in the senior leadership group level will no doubt hold them in good stead and fast-track their progress."

Merrett, who will start his third AFL season on Saturday when the Bombers take on Gold Coast at Metricon Stadium, was on track for a top-three finish in the club's best and fairest last year before a foot injury cut short his season.

He has been a brilliant addition to the Bombers' midfield since they selected him with pick No.26 in the 2013 NAB AFL Draft (the draft choice they received from the Western Bulldogs for Stewart Crameri).

"Zach sets himself really high standards and is always looking to improve. He sets a very good example for everyone around the club in terms of his approach," Kerr said.

While the group will only have six permanent members (down from seven before the suspensions), the experienced top-up players the club has recruited in the past two months will roll through offering their nous.

"Those boys will come in and be part of the leadership group for three or four-week stints," Kerr said.

"Ryan Crowley has done the first month and James Kelly will do the next month. It's the blokes who have been at other clubs and have seen other systems and have experience under their belt. Some of them have been at very successful clubs and can help our leadership."

The Essendon players went through a detailed voting process to pick their initial leadership group late last year under new coach John Worsfold, and the new members of the group were picked largely from those results.

Zaharakis was first added to the leadership group after his best and fairest winning season of 2011. He was pushed out for 2014, won back his place in 2015 and then lost it again for the initial 2016 leadership group.

After a disappointing year in 2015, Kerr said the 26-year-old had enjoyed a strong pre-season.

"He worked really hard in the pre-Christmas period and even John had noticed in that period that 'Zacka', whether he had done it consciously or not, had had a good presence and was happy to speak up and was training really well," Kerr said.

"John [Worsfold] has set up a bit of a system to evaluate how players are training and that was transparent in how their pre-season was tracking and Zacka was always pretty high on that all the way through."