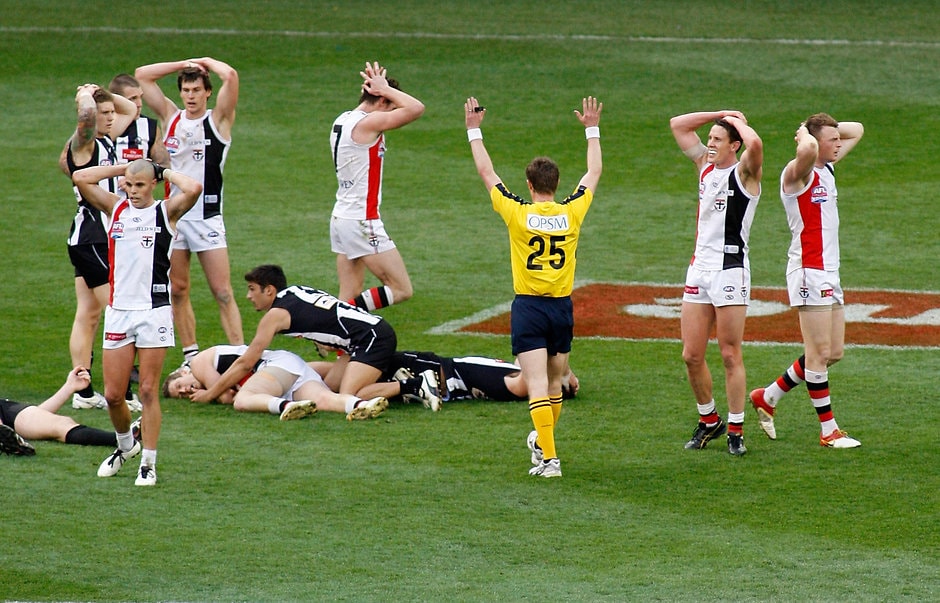 I don't think you'll find a player who played in that Grand Final who wanted to play a replay
Leigh Montagna
FOOTY fans have spoken, with more than 70 per cent of people surveyed calling for an end to the Grand Final replay.
More than 20,000 fans voted on AFL.com.au and social media, and an overwhelming majority have called for the introduction of extra time in the premiership decider.
Key players from the last drawn premiership decider Leigh Montagna and Travis Cloke have endorsed a push to abolish the Grand Final replay.
The AFL Commission will soon be presented with a document outlining pros and cons of the replay, which is one of the VFL/AFL's longest standing traditions.
With several clubs and an overwhelming majority of players wanting a drawn Grand Final to be decided with extra time, as per the first three weeks of the AFL finals series, the Commission could vote to enact change as early as this year.
Unfairness around the travel requirements of non-Victorian teams, particularly the two WA outfits, and player welfare matters are behind the now concerted industry push for change.
It is believed that the document to be presented to the Commission highlights the uniqueness of playing a fresh Grand Final after a drawn match, as well as a respect for the history of the replay concept are the strongest reasons being pushed to keep the status quo.
A Grand Final replay has taken place three times – 1948, 1977 and most recently in 2010 when Montagna's St Kilda lost to Collingwood.
"I don't think you'll find a player who played in that Grand Final who wanted to play a replay," Montagna told Channel Nine.
"I think extra time, it's common sense.
"I think it's inevitable, it's a national competition, it should be fair for all clubs.
"I know the feeling as players in that game was a very bizarre, hollow feeling.
"To know you're going out there to play your final game in a Grand Final and to have to be told you're coming back the next week, I don't think that should happen to any other player ever again."
Jee they could have scrapped the replay 6 years ago

— Farren Ray (@farrenray1) April 7, 2016
Cloke's Magpies won the next week by 56 points, but even he as a member of the winning team would have preferred a result on the same day.
"On the day everyone's there, everyone's ready to go," he said.
"It'll be interesting to see what actually goes on in the last minute of the game if that's the situation.
"If it's 10 minutes each way, five minutes, whatever it is, finish it on the day, everyone gets up and about and that's the end of the season. It'd be great."
The prospect of a Fremantle-West Coast Grand Final, which loomed last year when the two sides finished first and second following the home-and-away season, would have presented the AFL, those clubs and their supporters with near-insurmountable logistical issues pertaining to playing a replay at the MCG.
West Coast Eagles CEO Trevor Nisbett told Channel Nine: "Our preferred position is to not have a replay. It is difficult enough without having to come back the following week. We would like for it to be resolved on the day."