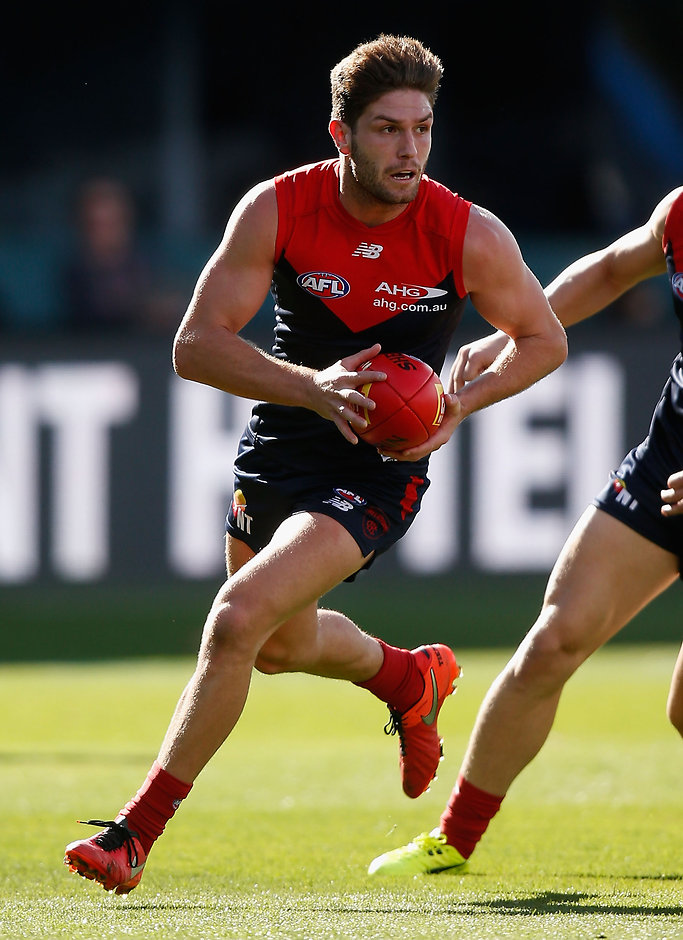 (Melbourne) has a bright future and were looking for players that fitted my description
Tomas Bugg
MELBOURNE'S Tomas Bugg finds the way many outsiders perceive him as a player as humorous.
A pest, antagonistic, annoying or someone who gets under his opponent's skin are all labels that have sat alongside a surname that also seemed, at times, to serve the dual purpose of a nickname.
But now with Melbourne after four years with Greater Western Sydney, settled back in the state he was born and raised, and looking to turn his good start to the season into a consistent year, Bugg laughs when asked what he thinks of the way some view him.

Will Melbourne bring a Top End game home?
"It doesn't really bother me, I find it pretty funny if anything," Bugg told AFL.com.au.

"You can't do anything about that sort of stuff,".
It is a healthy attitude from the 23-year-old who, at the start of his career, took to heart the urging of former Giants' assistant coach Mark Williams when he told the fledgling team to never back down.
"He wanted us to stick up for ourselves and that was pretty evident [and] probably why we came across at times as overconfident or arrogant," Bugg said.
From a personal perspective Bugg, who grew up in Pakenham Upper but finished his schooling as a boarder at Caulfield Grammar, says he learned early on he had to find a way to at least break even with his more experienced opponents regardless of the response.
"It is all about getting an edge on your opponent and I was playing on some really good players, so that [been in his opponent's face] is the best way I found to get the mental edge and hopefully put them off their game," Bugg said.
"That just comes down to my competitiveness."
Such competitiveness was what endeared him to Melbourne when it became clear he was open to a move back to Victoria after 65 games with the Giants.

That competitiveness, however, should not be mistaken for false bravado.

Tomas Bugg is enjoying his start at Melbourne. Picture: AFL Media

It's about doing what is best for the team and being, in Bugg's words, "tough at the ball".
Last Sunday, in his best game with Melbourne, Bugg laid nine tackles, had 29 disposals and created opportunities from the midfield and wing showing he could combine class with grunt.
He celebrated the win minus the bomber jacket he wore when singing the song after the Demons narrow victory over the Giants in round one.
That unusual choice of attire earned him some attention, but he had decided to wear the jacket post-game after buying the jacket for his Dad, Jim, who had worn an Essendon bomber jacket every week during winter before Bugg started playing AFL.

Bugg celebrating his first win as a Demon in a jacket meant for his father. Picture: AFL Media

Bugg thought it would be a nice touch to celebrate the win in the jacket before handing it over to his Dad, but says the celebration was a one-off.
Such a connection to family and friends meant returning to Victoria was easy but it wasn't the only motivation.
He wanted to find a club that could provide a future for him, and Melbourne impressed.
"I didn't want to just come back from Sydney for the sake of it," Bugg said.
"The club has a bright future and were looking for players that fitted my description."
Bugg says the diverse mix of people in his life in Victoria gives him "a healthy lens" with which to enjoy life.
His mum, Kerry, came from a family that knew about football, with her Dad, John Ramage, a famous defender with Gembrook football club, and Bugg has three sisters, Naomi, Lisa and Chloe.
Despite those positives he still has many friends at the Giants and says the opportunity to play so much senior football so early was a real bonus of being part of the club.
Unfortunately a last hurrah, post-season jaunt to America with former teammates Jonathan Patton and Stephen Coniglio hit a snag when Patton was a victim of an unprovoked attack in Los Angeles while out with Bugg.
"It was one of those coward punches, a random attack and Johnny is really lucky he is all right," Bugg said.
Now that period of Bugg's life is behind him he is looking forward, starting to find his feet with the Demons as he settles into a defined role after chopping and changing in and out of roles at the Giants.
He hopes such stability will ensure he overcomes a mid-season flat patch that became a trend in his past three seasons with the Giants.

Tackling challenges, and opponents, head-on has been Bugg's intention from day one. Picture: AFL Media

He knows no heroics are required and he is happy just to play his role.
"All we want is consistent contributors and competitive players," Bugg said.
Sunday night provides another test for Melbourne's consistency.
The Demons have not won consecutive games since 2011, the year before Bugg's former team entered the competition.
They face Richmond on Anzac Eve, in front of the biggest crowd Bugg has ever experienced, with even more watching on television.
He can't wait.
"I've seen a bit of footage of last year… and it looks really good," Bugg said.