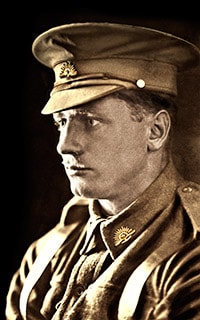 FORMER League footballer Dick Gibbs was one of almost 2000 Australians killed in the battle of Fromelles in 1916, during the most disastrous 24 hours in Australian military history.
His bravery in the face of a German onslaught was unfathomable, but the story goes deeper as the Gibbs family lost two brothers and their father within the space of three years.
The round five edition of the AFL Record features the tragic Gibbs family story.
Gibbs played for University, the Victorian Football League club forced to fold due to the sheer weight of young men offering their services to the war effort.
At 24, he had everything to live for. He had been a medical student at Melbourne University, a high-achieving graduate from Caulfield Grammar School in Melbourne's south-east, as well as a sportsman of some note.
As an aspiring doctor, he planned to serve the community, just as his father, Richard, had done in Victoria's western district.
Gibbs represented the Students in 35 games across three seasons. His last game, against Richmond, was in round 14, 1914, two weeks before Australia declared war on Germany.
That he was killed at war was beyond doubt, as several eyewitnesses attested, but his body was never found. The pain for the Gibbs family was almost unspeakable, but it only got worse.
Gibbs' brother, Jack, had served in Egypt and Gallipoli. He took ill on the Peninsula and was evacuated back to Egypt. As part of his recovery, he was sent to England to work with the Army Pay Corps, but caught a severe cold in the first month of 1917. Soon after, he was diagnosed with pulmonary tuberculosis. He would return to Australia, but died in October that year.
Richard and his wife, Helen, had lost a second son. At least this time they could provide a proper burial. Not long after, Richard – who gave general practice help to returned servicemen as a tribute to his sons – was killed after he fell from a cable car in St Kilda.
In the space of two years, the Gibbs family had lost a father and two sons, one of them a Military Cross winner who had played League football.
OTHER VFL PLAYERS KILLED AT FROMELLES
Thornton Clarke, Fitzroy
Bill Landy, Geelong
Bill Nolan, Richmond
Hugh Plowman, South Melbourne/St Kilda
George Challis, Carlton (killed four days before the battle)
Read the full feature story of the Gibbs family in the round five edition of the AFL Record, available at all venues.